Reviews
Amor Wedding,I want to send a big thank you to Amor wedding! They are one of the most professional and talented teams that I have had a chance to work with. In the earlier stages of the wedding planning process, we did not too many ideas on how we wanted the dcor set up. Amor wedding was able to provide valuable recommendations and feedback, as well as customize accessories in order to guide me to the vision I was looking to achieve. They were responsible for decorating both my ceremony at the chapel as well as at the reception with top notch execution skills. As there was an event in the same venue hours before, Joe and his team was left with only 2 hours to complete the entire set up from the beginning to end. When I opened the doors to the reception hall, I was amazed by what a fantastic job they have done. Growing up I never had a clear vision in mind for my dream wedding but Joe and his team had done it. They had given me the perfect wedding I never could have imagined. Not only were they able to flawlessly set up all the dcor, the cleanup was also fully taken care of by his team with efficiency. The entire process was extremely pleasurable working with Amor wedding and I would highly recommend them to any couple whos looking for a dedicated, friendly, and extremely capable team to make their dreams a reality!
The Amor team's pure sincerity, passion, and absolute professionalism were felt throughout every interaction. You three, Joe, Zoe, and Stephanie, were a pleasure to collaborate with. Beyond just sharing decades of expertise to create a package to reflect our desires, your group's talented and capable hands brought our visions from concept to reality. Despite the potential setback at the venue as a result of the weather, you three readily provided solutions and gave us your wholehearted support. Everyone noticed your sincerity and dedication. The venue was perfect in every way imaginable. The floral arch during the ceremony was exquisite and the overall decoration of the reception was just the way we wanted, elegant and romantic. The beauty you brought to our wedding through your floral arrangements and decorations added another level of enjoyment and fun memories for us and the guests, we are forever grateful. Amor Wedding's involvement played a crucial role in our special day. Our wedding could not have been as blissful, magical, and memorable as it truly was without your tremendous talent and dedication.
Devin Zhao
September 2019
Our experience with everyone at Amor has been nothing but exceptional. They were able to provide us with decor that was both modern/western but also met the needs of our parents more traditional Chinese wedding. The day of the wedding was also perfect and we received many compliments on the floral and how state was set up. Everyone was friendly and they listened to our opinions but also provided their professional input. I would recommend Amor to all my friends, relatives and anyone looking for perfect wedding.
Yanni Wang
September 2019
Amor Wedding did all of our wedding decorations for us. The team is super friendly and communicated a lot with us, we even visited the venue together to discuss design ideas. They made their designs according to our needs and gave us professional advice on details we were not familiar with. We felt really assured and left everything up to them, and the results turned out amazing! We loved every single detail and we received many compliments on our decor. Thanks Amor for making our special day more beautiful!
A million thanks to our Wedding decoration team Amor wedding for the service that they provided. My wedding was held at a local Chinese restaurant, its really hard to find a decor that could totally fit it or even changed the place to what you would imagine in those fancy venue until I found Amor wedding. The first initial meeting, they would sit with us and talked to us get to know us and generate some ideas what we could use for our wedding. They also gave us a lot of professional advice, ideas and also pictures of others wedding. Specially Joe, Stephanie and Zoe, they were super helpful and constantly update us about the wedding decor or even send us pictures if there're anything need to be change for the decor. Before finalizing they would send us the final floor plan of how it would looks like during that day. On my wedding day, after they finished decorating, I was so satisfied, it was incredibly beautiful! I wouldn't have imagine a Chinese restaurant could turn out to what i imagine at those fancy high end venue. I highly recommended Amor Wedding to all of those out there that looking for a wedding decoration team!
Amor Wedding has been mentioned inside these other vendor profiles:
Company Overview
Company Overview
Deals & Packages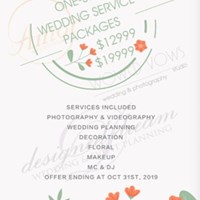 One-stop wedding service
Price $12,999
---
---
What services are included with this Package:
Service included: photography & videography wedding planning decoration floral makeup ma&dj
---
Here's the Fine Print:
This package is exclusive to EventSource.ca visitors. To redeem, you must mention you found this package on EventSource.ca.
Map
280 Yorktech Dr Unit 23,, Markham, ON L6G 0A6