Gallery
This content requires HTML5/CSS3, WebGL, or Adobe Flash Player Version 9 or higher.
Reviews
john Nithanam
January 2020
Went to this place to attend elevation church. And I loved the time of worship and Christmas Eve time with elevation church.
Anthony Lewis
December 2019
Great space for an event! I do wish that the audio tech team showed a bit more interest in their work though. The sound during both piano/vocal duet and the DJ sets was sub par at absolute best but a little initiative could have turned that around.
Mark Calixterio
October 2019
Elevation worship experience Mondays!
David Pietrobon
August 2019
Excellent staff. Flexible and accommodating. The space is what you make it.
From the moment I picked up the phone and Darcey Maher answered, I knew I was in good hands. I was trying to decide between a few venues to host our event, but Darcey was so encouraging and accomodating to our needs that I decided immediately we were going to go with the Artscape Sandbox. We were under the gun, trying to pull the event together in 7 days, and Meagan Barnes our event coordinator patiently and expertly guided us to the finish line and we couldn't be happier with the results. Thank you to everyone at the Artscape for helping us to put this together, I can't wait to work with you again!
Artscape Sandbox has been mentioned inside these other vendor profiles:
Company Overview
Company Overview
Deals & Packages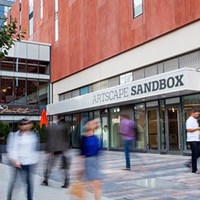 $1,200 off venue fee!
Price $2,500
---
---
What services are included with this Package:
Staffing, equipment and HST additional
---
Here's the Fine Print:
Valid for inquiries made in the month of May. Events must load out by 6pm.
This package is exclusive to EventSource.ca visitors. To redeem, you must mention you found this package on EventSource.ca.
Map
301 Adelaide St. West, Toronto, ON