One of the most important vendors you will book for your wedding day has gotta be your photographer! You're trusting them to capture all of the intimate and special moments of your day and there are no do overs. Chances are, you've already some amazing photographers whose work appeals to you, so how do you make sure they are the perfect fit for you?
We reached out to seven of Toronto's top photographers to find out some of the best questions you should ask your photographer before handing over that deposit.
What is your process for getting to know the couple and discussing the types of photos they want?
Photo Courtesy of Jono & Laynie Co.
"As photographers, we love capturing love stories. From extravagant to simple, each story is delightful in its uniqueness so one of the first things we do when we meet up with a couple is ask them about their story. Jono and I end up spending a lot of time with our couples, so it's important to determine during that first meeting if our personalities will mesh. We want our couples to feel comfortable and at ease with us so that we can capture their emotions and memories in a real and unique way.
From a logistical standpoint, we want to talk the couple through the outline of the day, get a sense of what photos are important to the couple, and answer any questions they may have, such as what family photos will look like, etc. We also want to know about any little details we need to capture that we might not know about just from observation like the stitching on the underside of her dress with their wedding date or his Grandpa's kerchief he's carrying in his pocket.
We talk through the feel of their wedding and The Look they are going for. They are bringing us on board for their wedding day because they trust us and like our style, so we don't spend much time talking through the specific photos they want (i.e. "I want a photo of me walking down the aisle"-because they know, as professionals, we'll be three steps ahead of them in thinking of this.)"
 – Layne, Jono & Laynie Co.
---
Every photographer has their own style of photography. Can you explain the differences between the styles (i.e. traditional vs. photojournalistic, etc.)?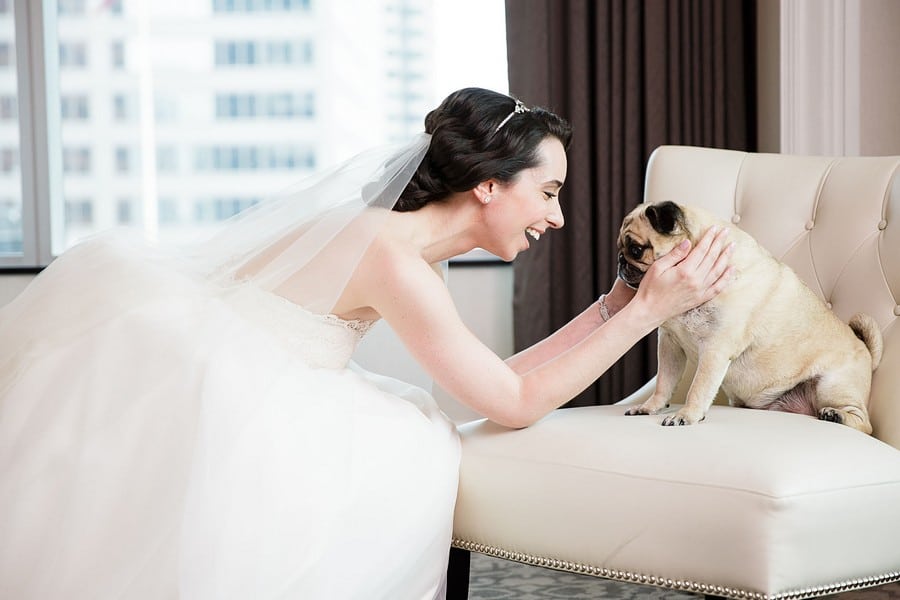 Photo Courtesy of Avenue Photo
"There are so many styles of wedding photography out there. I think it is so important to choose a photographer who specializes and has a portfolio of work which you are drawn to. I think that each photographer has a way of shooting and approaching a wedding so it's important for couples to know which style of photography they like.
The traditional style of photography will be posed and generally have a formal feel to them. A good example of these are the wedding of Prince William & Kate Middleton – if you love those images, you are definitely more drawn to the traditional/classic style of shooting. Photojournalistic/documentary photographers capture the day as it happens. This means very little to no direction. The photographer will be a fly on the wall capturing your day as it unfolds. This creates some beautifully raw and unscripted moments.
Lifestyle wedding photography is a nice combination of photojournalism as well as 'lightly' posed photos. For me this is where the photographer takes charge to make candid moments happen with some direction and finessing. You also have your fine art/artistic style of photography: this is all about creating images which are not your traditional portraits and are definitely out of the box in terms of what and who the focus is in the images.
I don't think there are any drawbacks or benefits to the styles, each couple is unique and each couple will envision their wedding photos in a particular way. I think as wedding photographers, we have a mixture of styles. When choosing a photographer, couples should make sure they have a connection with the photographer as well as their work. Couples should be excited and inspired by the photographer's images and see themselves in those photos." – Margaret, Avenue Photo
Vendors Featured in this Article
---
What is the purpose of an engagement shoot? Why should we have one?
Photo Courtesy of Rhythm Photography
"Engagement sessions are really just about celebrating the couple's life and love together.  It is a chance to capture the love that the couple share, showcase creativity and embrace the couple's individuality.  This session also allows photographers and couples to get to know each other better and also gives couples a chance to get a sense of how their photographer will use directions to capture their moments together on the big day.  The resulting images from an engagement shoot are also perfect for Save-the-Dates, guest books and slide shows for the wedding day. 
Generally, we recommend scheduling the engagement session at least five months out from a couple's wedding day for Save-the-Date purposes. Our shoots typically last 1.5 hours and we'll start around two hours before sunset…basically, it'll just be us hanging out with our couple and having lots of fun!  
We love helping our couples prepare for their session and craft images that radiate with love. Our couples select the season they want to do the shoot in (although we absolutely LOVE winter engagements because winter is so romantic) and a location that's reflective of the couple.  We absolutely love it when couples bring items or props that relate to their common interests/hobbies – these little elements help translate the session into a beautiful story." – Anita, Rhythm Photography 
---
How can we look great (and natural) in our wedding photos? Do you have tips for couples who are nervous about being photographed?
Photo Courtesy of Lisa Mark Photography
"If you're getting married, but aren't sure how comfortable you'll feel in front of the camera, having an engagement session with your chosen wedding photographer is a must!  It will give you a great chance to get to know your photographer and the resulting photos will give you a boost of confidence when you see how beautiful you & your partner look when directed by a professional photographer.  Professional photographers know how to use light & posing to your greatest advantage, and great photographers evoke the best emotion in their work as well.
Another way to ensure you are comfortable is to choose the right photographer for you from the outset.  The connection between you & your photographer is huge!  You will be spending a LOT of time with this person on your wedding day so forging a personal connection really helps ensure you can relax in your photographs.
I think couples who are styled well have a great head-start to feeling confident. Ladies, get your hair & make-up professionally done for BOTH your engagement and wedding day!  Nothing makes me feel better on-camera knowing I've been professionally styled.  A tip I share with my clients – have your wedding hair & make-up trial done on the same day as your engagement shoot to kill two birds with one stone!  You should also consider having a manicure so your nails look beautiful, and ensure your engagement ring is sparkling clean.  Your clothing should be comfortable, and if you're wearing heels, you should bring along a pair of walking shoes to wear in between shots to ensure your feet don't get sore. Gentlemen, you don't need professional styling, but you should be well groomed.  Please ensure your nails are clean & trimmed in case we shoot any close-ups." – Lisa, Lisa Mark Photography
---
What is your back up plan for equipment or if you're not able to shoot a wedding?
Photo Courtesy of Julia Park Photography
"One of the big things that sets professional apart from an amateur is a back up plan. Every respectable photographer has a back up camera body with him. Professional photographers know how important the wedding day is and even though we use latest cameras and have them checked and serviced regularly, we have enough experience to know that you never know what might go wrong. We are also acutely aware of the fact that it is our couple's wedding day and that there is no do over. 
Since we are a husband and wife team, our back up plan tends to be pretty easy. If something happens to me, I send Anton (my husband) to be the main shooter instead of me, and I hire someone else to help him out. We've been shooting together since day one, so it's really comforting to know that there is someone who you can trust to get photos that are consistent with our style. We also have an amazing network of other photographers who are always filling to help out, if anything goes awry. – Juila, Julia Park Photography
---
What types of touch ups are done with Photoshop?
Photo Credit Phototerra
"Photoshop retouching can be overdone so easily and is a delicate process for us, requiring the same sensibilities as were present when making the original image. Basically it comes down to retouching as much as needed so that it doesn't look like it was retouched in the first place.  We strive for our work to be seamless enough that you can never tell it was done. A picture of someone can be worked on for hours – you can slim a bit, clean up skin – but at the end of the day it still has to look like the person does in real life. It has to be believable.
Primarily, we use retouching to capture the specific look and feel of the day that our photographers were going after. To give an example: we may add warm tones to a series of church images (see the above photo). The surface content within the images remain virtually intact, however the feeling is enhanced. It is a subtle modification, but one that changes the tone and ultimately the meaning conveyed from what was originally captured. Photoshop is a very specific skill in this way: it has the potential to make a shot look much better if used judiciously, or totally ruin a shot if used in excess." – Adam, Phototerra
---
How long does it take after the wedding to receive the photos?
Photo Courtesy of Toronto Wedding Studios
"Typically it will take a few weeks before the client receives their photos. Some photographers take bit longer some are a bit faster. At Toronto Wedding Studios, we tell our clients to expect delivery of their wedding photos 4 weeks after the big day.  Why does it take 4 weeks? Well, the first thing couples should know is that any good professional photographer will not "shoot and burn".   In other words, professional photographer won't take your photos in JPEG quality and then burn them on a DVD the next day.
Professional photographers will take photos in a RAW format and develop the photos on a computer using professional software. Good photographers will then edit all the files for colour balance, brightness and density – ensuring that there is a consistent look to all the photos. This editing process is a time-consuming task and can only be done one photo at a time – no shortcuts here!  Good photographers will also organize all the photos in a correct timeflow for the couple – again, another time consuming process when you are dealing with an average of 1500 photos per wedding but totally worth it in the end!" – Rudo, Toronto Wedding Studios
---
Are there any other questions have for photographers? Let us know in the comments and we'll be sure to feature them in our next blog post!