When we received our invitation to Encore Catering's Blogger Bites event, we anxiously began counting down the days to "go-time". The event was hosted at Encore's meticulous 10,000 square foot catering kitchen. Known for preparing beautifully crafted, mouth-watering creations, we knew we were in for a treat! With Encore's president Cary Silber hosting the evening, my colleague and I felt spoiled with promises of sumptuous cuisine and the most gracious hospitality!
The event was an intimate affair: all guests were invited to sit down, mix, mingle and enjoy the seemingly endless small-format samples of Chef Roshan Wanasingha's delicious creations.
Vendors Featured in this Article
Joined by a number of fellow Toronto-based food bloggers, Encore made everyone feel at home. Guests were encouraged to walk around and explore the kitchen prep area and to view the cooks in action. Camera's in tow, we all jumped right in, snapping photos of the amazing setup and the culinary artists at work.
Chef kicked off the evening with a Lobster BELT, an amuse-bouche with sliced eggs, tomato, provolone and lettuce, served on a delectable open faced brioche bun, setting the perfect tone (pictured below). This was just the beginning to what was to follow: pastrami salmon maki tempura, smoking beet tian with chèvre foam, sweet & spicy cashews and Russian kale, Chateaubriand taco, Duck Confit Beignets. Each dish was superbly plated and meticulously plated – a true culinary work of art. The room had a quiet warmth as guests enjoyed each delicious morsel.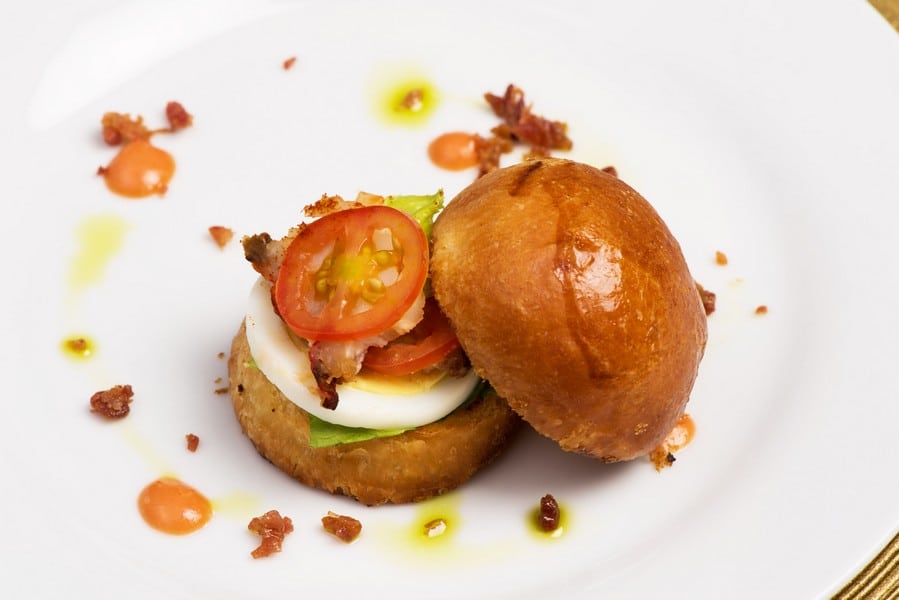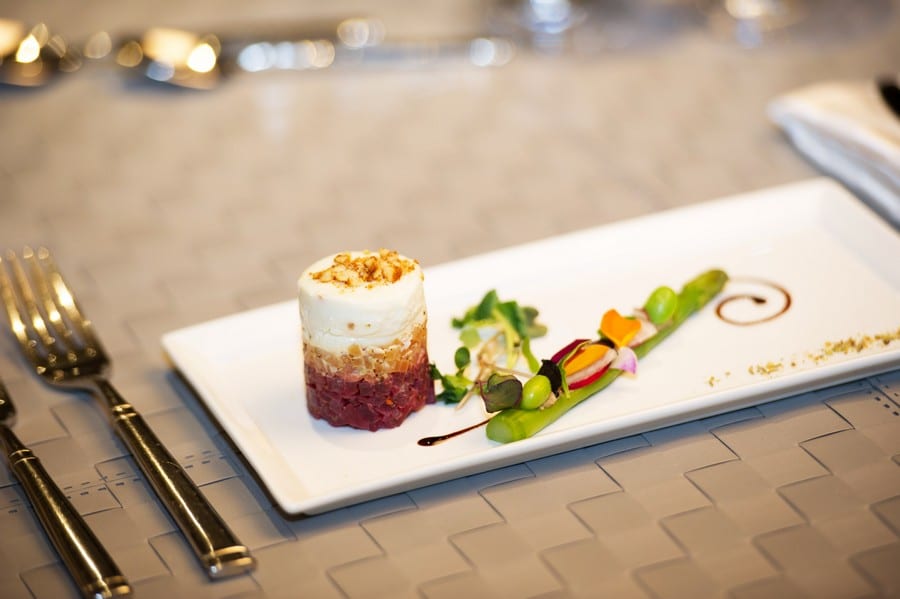 Too-pretty-to-eat Smoking Beet Tian with Chèvre Foam, Sweet & Spicy Cashews and Russian Kale
Each dish was superbly balanced and meticulously plated – a true culinary work of art. The room had a quiet warmth as guests enjoyed each delicious morsel.
The Eurasian-inspired warm tapas (pictured above) were a definitive crowd pleaser: Braised Pork Belly Cube, with pickled celery, skiitake, enoki, and chili kewpie, Serrano Ham, Caramalized Fennel and Quail Egg Bruschetta served with rapini, fried lotus and basil pesto. And of course, we have to mention the Mango Chipotle Spiced Seared Ahi Tuna paired with Shrimp & Jumbo Scallop Cucumber, Watermelon and Peach Gazpacho, this dish (below) – like all the others – was truly to die for.
Just wait until we tell you about these desserts!  The Gorgonzola and pear Pana Cotta served in an egg shell and garnished with chocolate stole this writer's heart. I am still dreaming of that dish!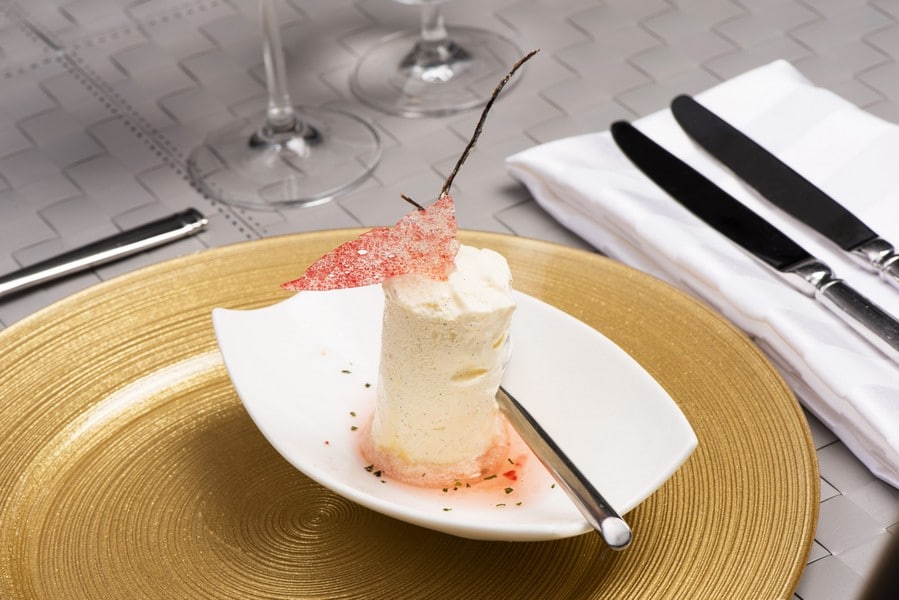 The Vanilla Semi Freddo with strawberry Rose Consomme was so smooth and light
This was truly an evening to remember: the sheer amounts of artistry, labour, talent and thought that went into each and every dish did not go unnoticed. Many thanks to the Encore Catering team for their generous and warm hospitality, outstanding execution and of course, delightful catering. We could not have asked for a better evening and have not stopped raving about the food since!