Where was it written that cocktail music was made to be dull?  The very purpose of cocktail music is to help guests loosen up and feel at home at the party they were invited to and what better way to make someone feel at home than with music they love?
Now I am not condoning blowing the roof off of Sunnybrook Estates at 5:30PM as they pass around delicately composed canapés, but I do advocate musical selections that are slightly more colorful than the napkins being passed around with the hors d'oeuvres.
This article takes a look at a few of the alternative ideas I have come up with over my many evenings spent performing music during cocktails.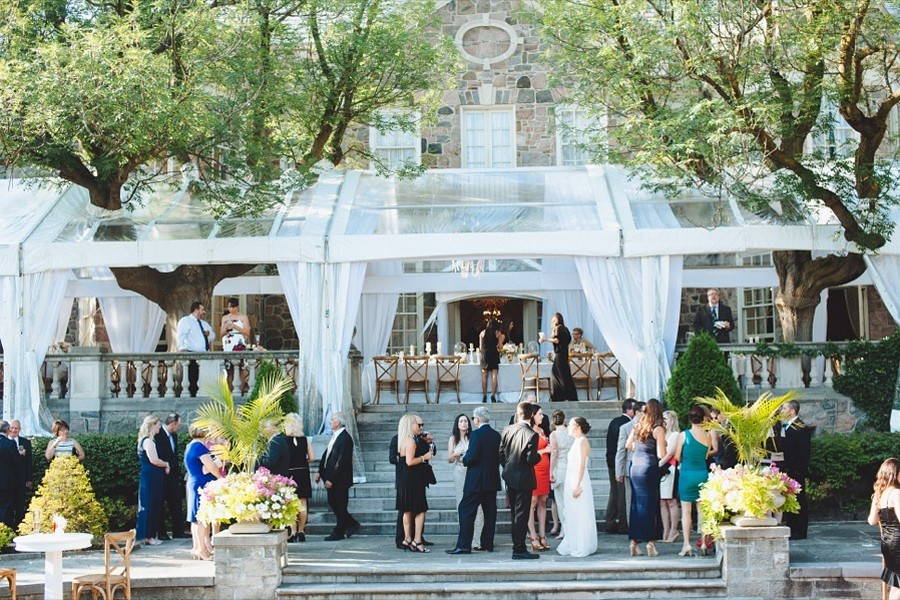 Photo Courtesy of Mango Studios. Location: Graydon Hall Manor
Dance Hits
In my opinion there is nothing finer than taking a cheesy modern dance hit and turning it into a jazzy or classical masterpiece.  From Kie$ha's Timber to Katy Perry's Teenage Dream, no song is too random to fit into this model.  To the party goers that are not familiar with the song, it simply sounds like classy background music, but to those who pick out the familiar melodies it is a license to sing along with cheese and crackers in hand.
There is no need to limit these selections to new dance music only.  Feel free to venture as far back as you think may interest your particular cocktail party.  Kylie Miniogue, Technotronic, Cece Peniston, Aqua, no dance hit is too ridiculous.  Do take caution: Playing any one of these songs instead of old jazz standards WILL result in many more requests from guests, those who wish to remain anonymous should stick to Duke Ellington.
Rock Favourites
While this category seems obvious at first glance I assure you it is more neglected than you might imagine.  While Sweet Caroline and Don't Stop Believin are part of almost every music list I have ever heard, I am talking about the real favourites that are often neglected by regular wedding and event standards.
The trick is to match to the taste of the party.  If it is a couple in their early 30`s getting married, chances are some early 90s alternative rock standards will go much further than hearing Fly Me To The Moon for the 5 bazillionth time.  For examples lets take Green Day`s, "When I Come Around", Smashing Pumpkins "Tonight Tonight" or Counting Crows "Mr. Jones", all anthems by every measure from the era in which they came.  Or take a younger wedding party that is closer to their mid 20's in age.  Songs like Red Hot Chili Peppers "Can't Stop", Foo Fighters "Times Like These" and White Stripes "Seven Nation Army" are way more popular for that generation of listeners than Dean Martin can ever hope to be!  And let's not even get started on the people in their late thirties; Hearing songs like Def Leppard's "Pour Some Sugar On Me", Motley Crue's "Kickstart My Heart" and Van Halen's "Jump" will put them into immediate party mode!
Do note, age very much does matter!  If at first you don't succeed, keep fishing.  If Pearl Jam's "Elderly Woman From a Small Town" is a bust, feel free to go younger with Jimmy Eat World's "The Middle" or older with Guns N Roses' "Paradise City".   Use at your own discretion.
Showtunes!
This is a category that I misrepresented intentionally. By Showtunes I do not mean songs from Broadway musicals, but rather a far more well-known genre of music that has permeated our minds and hearts, those being the songs from popular TV shows!

You can't beat the familiar.  Friends, How I Met Your Mother, Cheers, Full House, The Office, all are songs that we have heard literally hundreds of times, but so rarely played by a live musician!  Turn pop art into high art by performing a jazzy rendition of the Seinfeld theme; I promise it will elevate the mood without coming on to the party too strong.
Random Favourites
There is a certain magic to potpourri.  For me it ranges from the Super Mario World stage music to the Peanuts' anthem "Linus and Lucy".  Played with either an elegant or jazzy style all of these do their job to create happy ambient music while by blowing the minds of all those lucky people in the know. No category is too strange so long as it is performed right.  Feel free to use your imagination…that is what being a musical artist is all about!
Take a chance!  While you may be a little less popular with Grandpa Willie in the corner who has every Sammy Davis Jr. record ever released, you will be a legend in the minds of the people who actually paid for you to be there!  Not to mention that you will have made that party just a little bit cooler than it otherwise would have been.