Tracey Manailescu & Danielle Andrews Sunkel, co-founders of The Wedding Planners Institute of Canada, brought their first-ever Wedding Professional Workshop to Toronto this past weekend at the Pantages Hotel Toronto Centre. Bringing along with them some of the heavy hitters of wedding industry, the day was a jam-packed education session designed to provide attendees with real, actionable tools and skills all wedding professionals can use to immediately elevate their business, inspiring us all to "shine on" like big bright stars!
We were dazzled from the minute we stepped inside: beautiful gold and pink decor and linens paired with beautiful floral arrangements – this is what I call higher learning! As the first speaker took to stage, all in attendance knew they were going to be a part of something special that day.
Talented photographer Enrique of Decordova Photography captured every detail of this gorgeous AND incredibly informative event!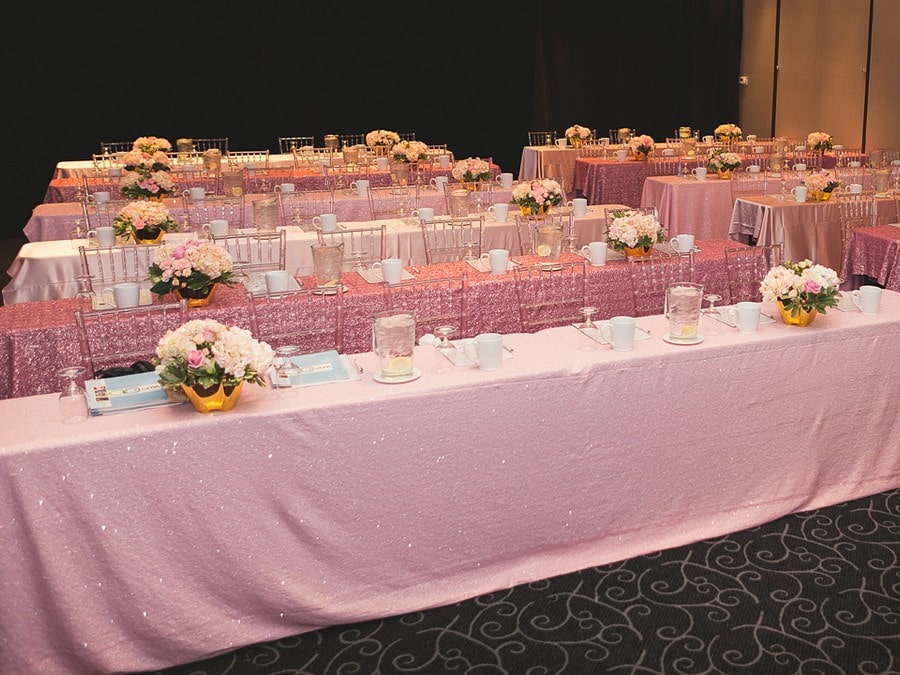 If only all classrooms could look like this!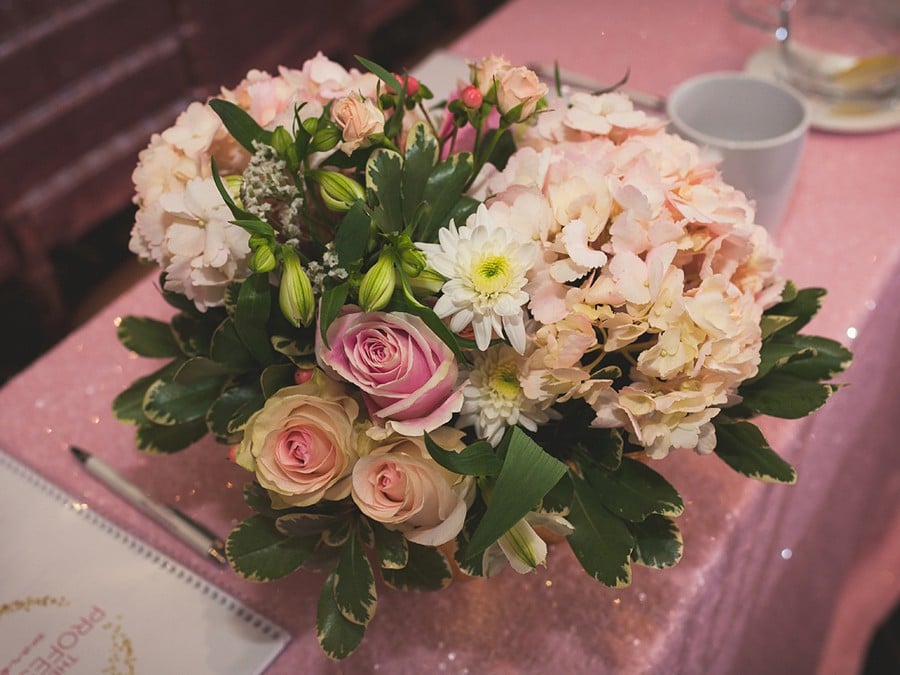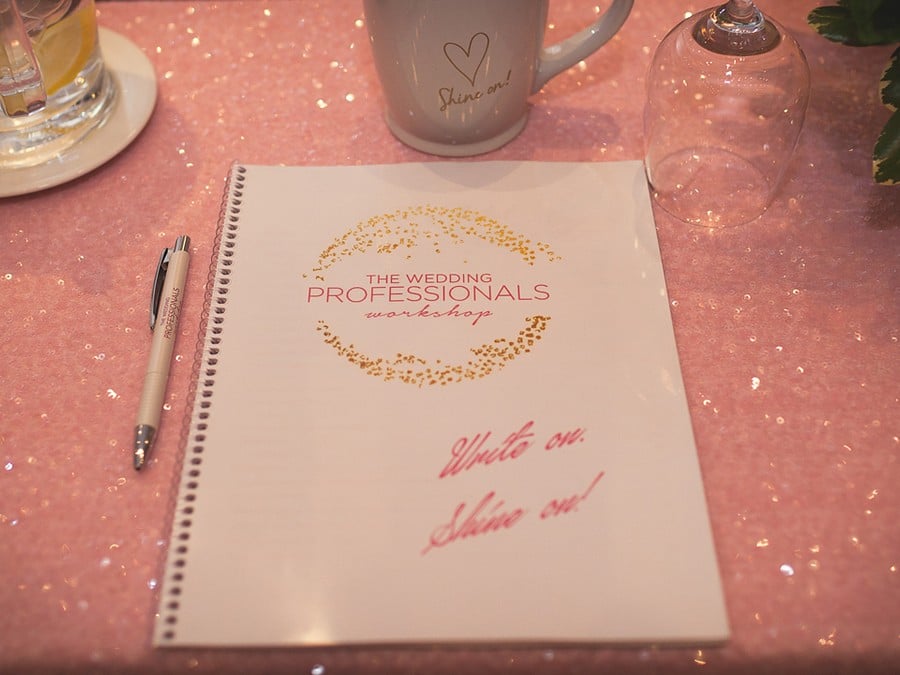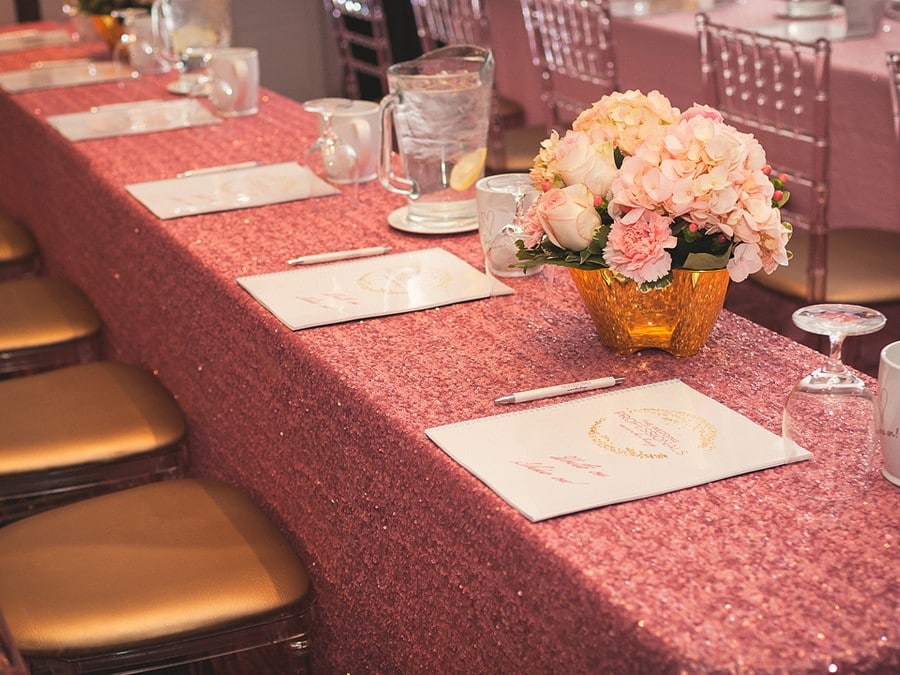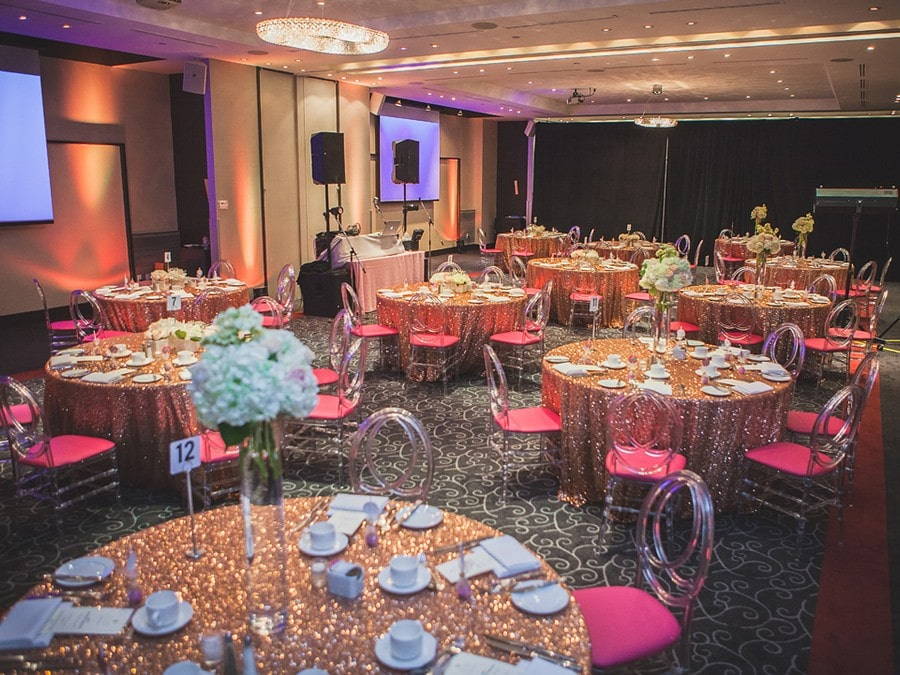 Vendors Featured in this Article
The amazing line up of guest speakers kicked off with Jen O'Brien, editor of Weddingbells. She engaged the group with fast facts on who today's bride is and how wedding professionals should market and engage with her.
Sharing his tips on providing clients with "WOW" factor catering was Encore Catering president, Cary Silber. Speaking of "wow", Cary surprised all in attendance with one of Encore's Signature colossal cookies – this thing was HUGE! and had everyone in the room wishing for more samples when he began describing some of the other amazing dishes that Encore prepares for their clients!
The lights dimmed and it was time for the one and only, celebrity wedding planner Diann Valentine to share her oh-so-many pearls of wisdom.  So many  great stories!
The first panel of the day featured four of Toronto's top wedding planners sharing their collective insight on the state of the industry. Their knowledge covered the gamut: what it's like having worked on a reality TV show, tips on planning gigantic South Asian weddings, coordinating a wedding while staying true to cultural expectations and planning a lavish wedding in Italy.
Laura Atendido (Laura & Co. Events), Jagdish Brar (My Big Day), Michelle Garber ( Fab Fête Event Planning Boutique), Carmen Luk (Devoted To You) – all WPIC alumni
Samuel Fleming of Evolved Entertainment gave us insight into the technical side of events: from how to use lighting to add drama and enhance your theme to where best to place the speakers on a floor plan to ensure the enjoyment of all guests.
The next Q&A panel included EventSource's very own Amy Stevenson – that's me!
Among the questions posed: with all the hard work and attention to detail involved in organizing and arranging exceptional wedding and events, how do industry professionals go about getting gaining maximum publicity and exposure through magazines and online blogs (like the one you're reading right now)?  I had a great time!
Branding expert Meghan Ely of OFD Consulting asked attendees "who do you think you are?" and shared her tips on how to effectively brand your business.
What would a conference be without a look at trends as well as the direction of the industry? Patricia Drewnowska of Patricia's Cake Creations showed us some of the top trends in wedding cakes and samples of her exquisite work.
Tracey and Danielle shared that their prediction as well:  2015 will be the "year of the guest" at weddings and shared two unique entertainment options – dancing queens and flair bartending!
The Wedding Professionals workshop was a day jam-packed with speakers and networking opportunities!  Judging by the feedback I heard from attendees, everyone will be back in 2015 for part two!
Danielle, Diann & Tracey