With the days getting shorter and evenings getting cooler, we wanted to find out what Toronto's top caterers had in store for fall 2015. To keep you in the know, we reached out to a select panel of Toronto's top caterers to share their opinions on what is trending in the culinary world this fall. From hearty home cooked dishes with a twist, to seasonal favorites, we've gathered all this seasons must-eat treats.
---
Familiar & Comforting with a Twist: Braised Beef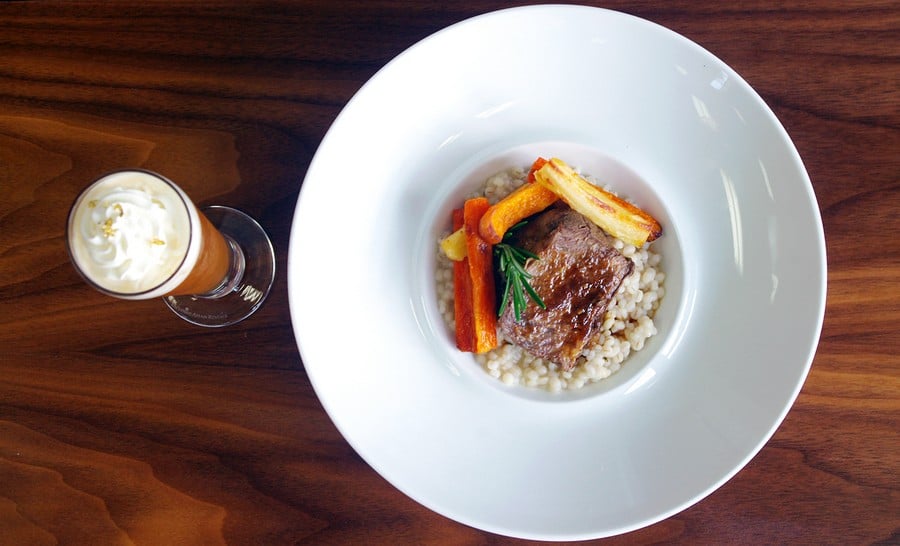 Image Courtesy of en Ville Event Design and Catering
"There's nothing like some warming and hearty braised beef, delicious with a well prepared risotto, washed down with a nice glass of beer. However, things aren't always what they appear to be!  Our risotto is actually Saskatchewan barley, served with BC Pinot Noir braised Alberta Bison Short Rib, finished with Ontario Heirloom Root Vegetables roasted with Quebec Maple Syrup. Something to highlight the best of seasonal produce from all over Canada!  What looks like a frosty glass of beer is immediately a surprise to anyone picking it up. First, the warmth from the glass, then the familiar aroma of winter spices, apple and cream. The base is en Ville's traditional mulled apple cider, spiked with cinnamon scented Goldschlager, topped off with spice infused whipped cream, and sprinkled with 24 karat edible gold flakes." – Andrew, en Ville Event Design and Catering
---
Rabbit Season
"Rabbit has become the replacement to pork, chicken and beef. Accompanied by our second choice for fall food trends, fresh picked vegetables with our Italian 'sotto olio' (under oil) pickled garden vegetables. Delicious with polenta and pan roasted olives and cherry tomatoes!"
– Natalie,  La Cantina Catering
---
Keepin' it Classic, Mac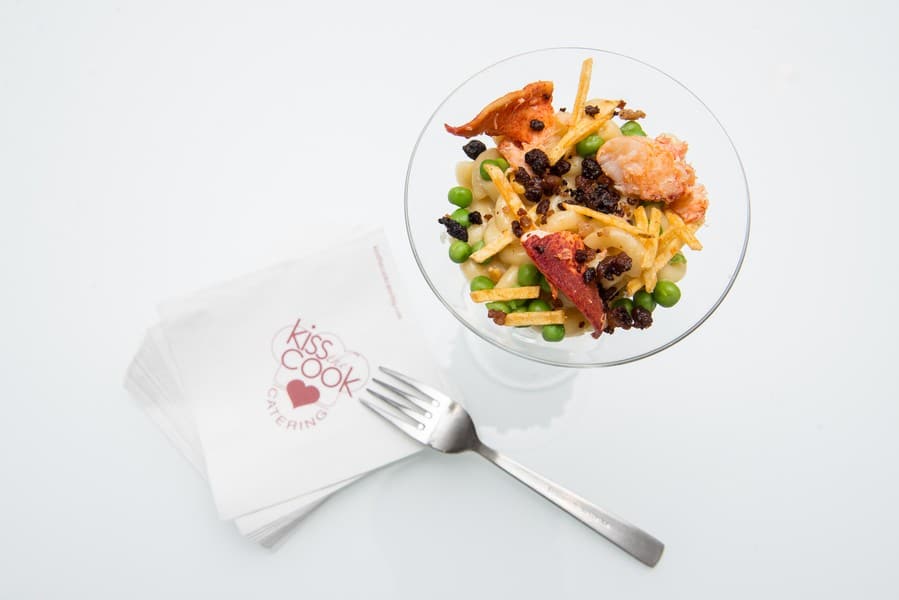 Image Courtesy of Kiss The Cook Catering
"Comfort foods are back in full swing this Autumn and we predict that these will be a sought after menu item for special events this season. What makes the dish so buzz-worthy?  What's the secret recipe? We won't give it away, but we'll admit that there are truffles in the cheese sauce – yum! Signature pasta elegantly served into a martini glass, topped with your choice of ingredients including butter-poached lobster, pulled pork, smoked bacon, peas, caramelized onions, parmesan cheese, hickory sticks, chives, and much more. To honour the seasonal flavours, we added pumpkin mac n' cheese to the menu: mac n' cheese literally baked in a pumpkin – infusing all that amazing flavour! The brown-butter breadcrumb topping is to die for." – Fia, Kiss the Cook Catering
---
Stay Close to your Roots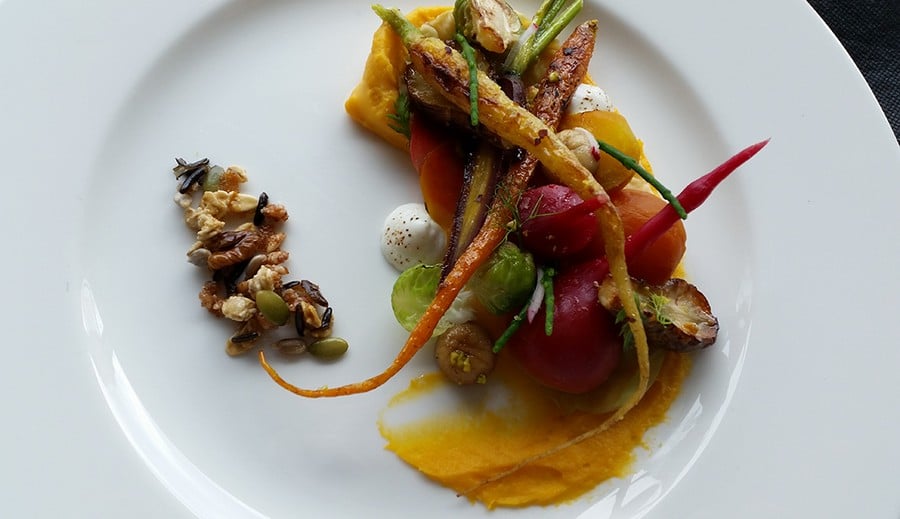 Image Courtesy of Cookery Catering
"Our choice for this season's trend is the Roasted Roots w/ Butternut Squash, Heirloom Carrots & Baby Beets Dressed in Pistachio Apple Cider Honey with Crushed Sweet & Salty Wild Rice Rolled Oat Brittle. Fall root vegetables and squash served among many seasonal ingredients used by our chefs while preparing autumn menu creations.
With a little digging in your local area, it truly is easy to source a massive variety of produce available within a short distance from where you live or work. Start with thinking seasonally, as we transition into the beginning of fall, a whole new world of bounty is becoming available that screams new flavor of robust, rich and earthy ingredients. Luckily, we are surrounded by some of Canada's best producers of fruits, vegetables, grains, proteins and dairy from our pride-driven Ontario Farmers, season after season. It does not end here though, along with our passionate farmers, think about the regional artisans, brewers, wine makers, charcuterie masters, cheese makers, fishermen and hunters. We love creating local relationships to source our company's best available products and ingredients. You'll be inspired from supporting the men and women of the industry who devote their lives to creating what is best for all of us. It's not hard to source, just think local and seasonal." – Mat & Andrew, Cookery Catering
---
You'll Fig-ure it out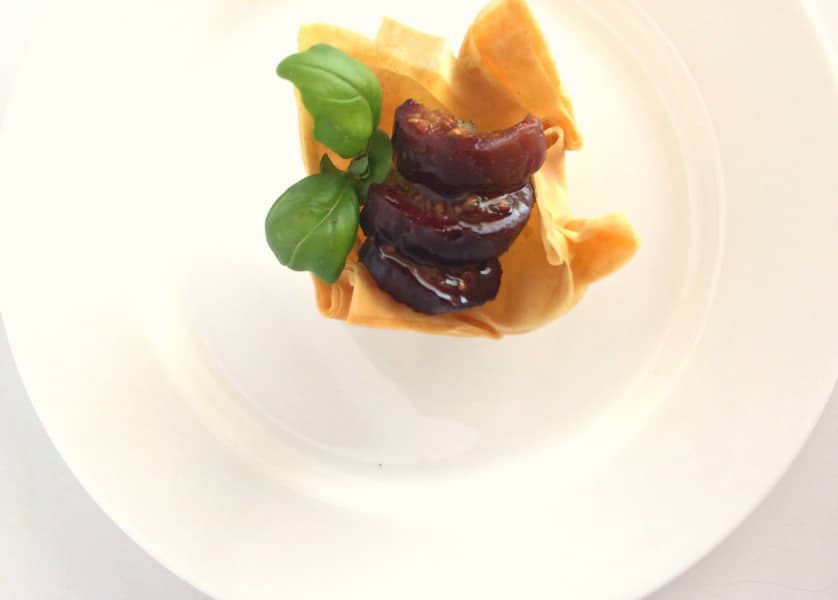 Image Courtesy of Yorkshire Pudding Inc. Catering
"No longer just a side show on your cheese boards, fibre-rich figs are showing up everywhere from marinades and desserts, to hors d'oeuvres and salads.  Here we are showcasing the delicate fig in sweetened port with balsamic, spice and citrus.  Served in crisp phyllo with gorgonzola and crisp prosciutto, we can't think of a better way to enjoy the unique flavour and texture offered by this humble fruit."
– Sarah, Yorkshire Pudding Inc.
---
Southern Charm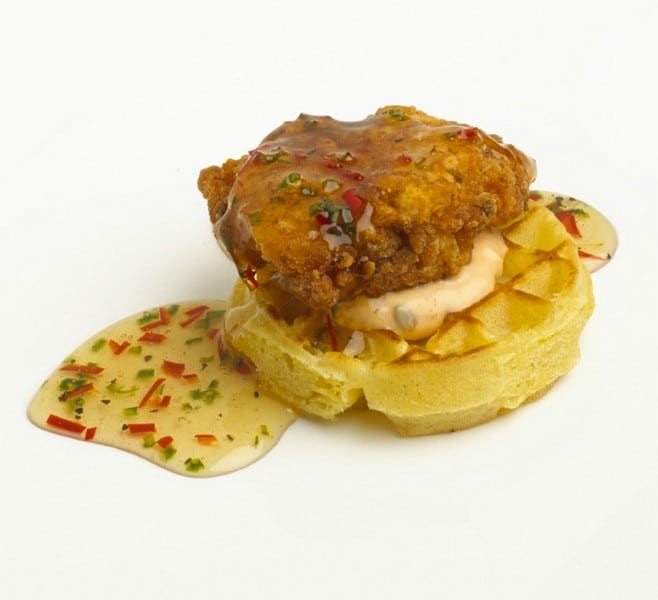 Image Courtesy of Eatertainment
"Mini Chicken & Waffles with Maple Jalapeño Sauce: Perfect for fall, but versatile enough to serve year-round! Great for brunch parties, evening cocktail events, late night stations at a wedding … they are such a crowd pleaser!" – Suzanne, Eatertainment Special Events & Catering
---
Deconstructed Squash Done Well-ington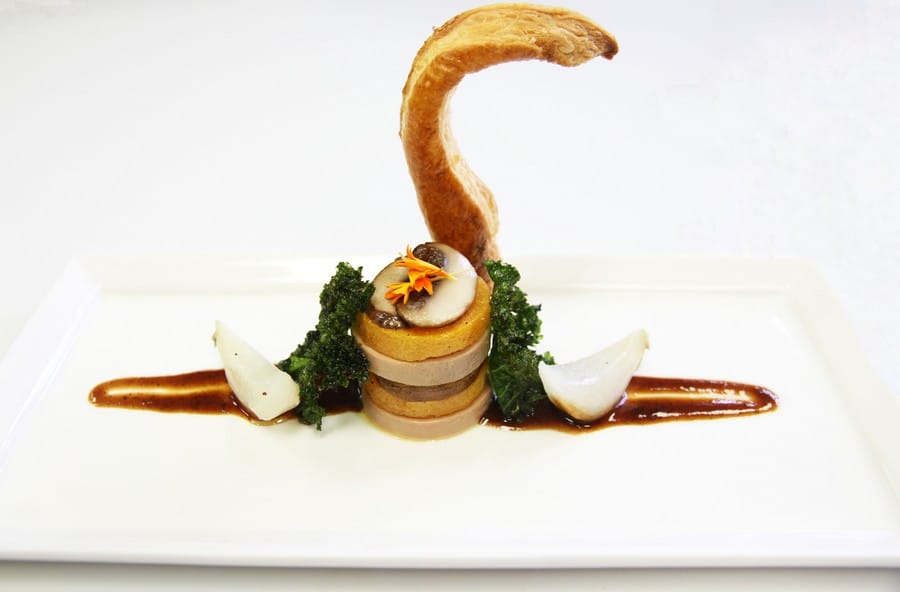 Image Courtesy of Encore Food with Elegance
"A Harvest Favourite with a Timeless Twist: a big trend for this fall is the Deconstructed Squash Wellington: Layers of Butternut Squash, Sliced Mushroom Duxelle, Gratinated with Foie Gras Served with Rich Port Wine Jus, Kale Chips, Turnips and Garnished with Mille-Feuille"
– Roshan Wanasingha – Executive Chef, Encore Catering
---
Das ist gut: German Chocolate Cake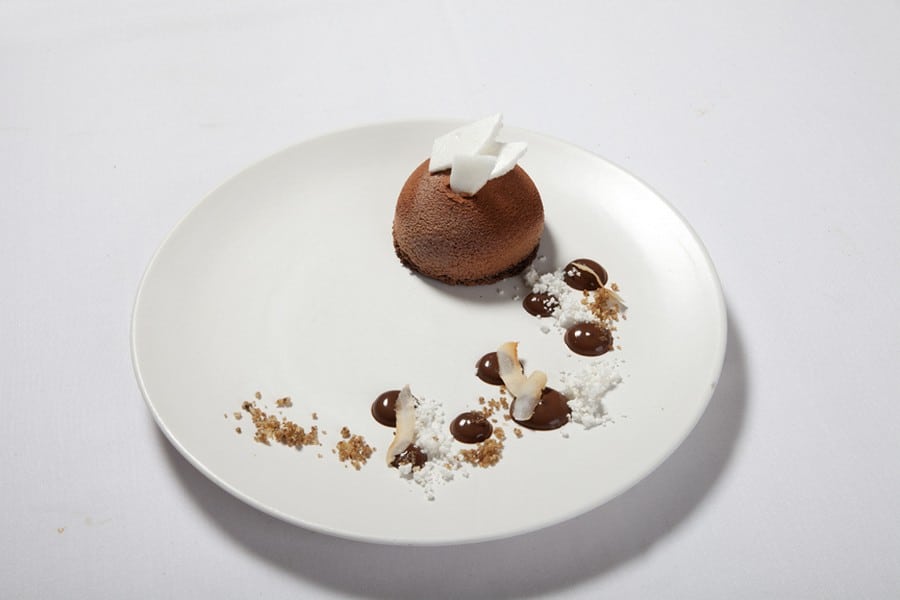 Image Courtesy of Daniel et Daniel
"It was one of my favourite cakes as a kid and we wanted to figure out a cool new way to serve this gooey delicious treat.  The original is a chocolate cake covered with a sticky coconut and pecan glaze. We turned the cake inside-out and made a coconut and milk chocolate mousse and filled the center with the gooey pecan coconut glaze. We serve this with a coconut water wafer, bitter chocolate yogurt, praline pecan dust and some fresh, toasted coconut."
– Bonnie Kravitz, Pasty Chef, Daniel et Daniel Catering & Events
---
Some serious brain Freeze: Cryogenic Ice Cream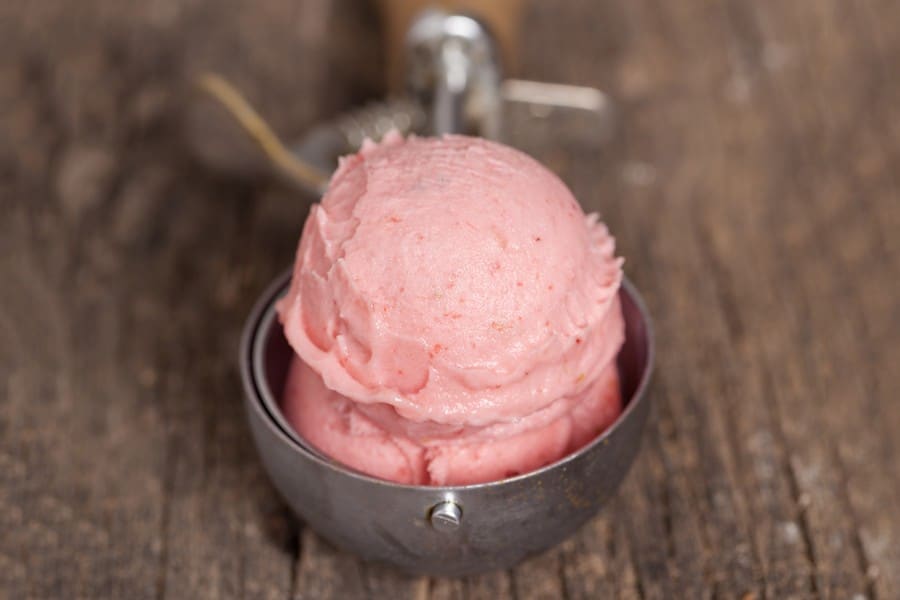 Image Courtesy of Beretta Kitchen
"This fall, we predict interactive dessert stations will be a big trend at weddings and events. Sweet stations where you see desserts come together in front of your eyes like, roast your own marshmallow s'mores. Beretta Kitchen offers a cryogenic ice cream station where guests will be wowed as ice cream is made right before their eyes with the magic of liquid nitrogen!"
– Cynthia Beretta, Beretta Kitchen
Any fall favorites you'd like to see on the blog? Drop a note below and we'll put it together for you.