Holiday season is right around the corner, and to help celebrate, we've rounded up Toronto's top caterers to share what's going to be hot for catered events this season. While we love tradition, shaking things up with exciting twists on old favourites always brings some holiday cheer. We've got it all here in our 2015 Guide to Holiday Food Trends!
---
Peking-Glazed Quail with Pickled Cranberries, Brussel Sprouts, and Pistachio
"I feel that the holidays are about reminiscing and focusing on tying our past experiences and memories with something new and innovative. The inspiration for this dish comes from classic holiday favourites, including one of my favorite movies, 'A Christmas Story.' This dish reminds me of the final scene when the turkey is officially ruined. Instead of lamenting, the family heads out to a Chinese restaurant and has Peking duck. Instead of focusing on the ruined Christmas dinner, they celebrate those around them and enjoy the dinner not for what it is, but for who they are enjoying it with. To me, that's what holiday food should be about."
– Chef Matthew Ravenscroft, Parts and Labour Catering & Events
Vendors Featured in this Article
---
Beef Tenderloin on a Pretzel Baguette
"Our Beef Tenderloin on a Pretzel Baguette combines the delicious flavours of juicy sliced beef on a crunchy pretzel baguette. More and more unique dishes are popping up that combine plenty of flavours and festive colours for a memorably filling hors d'oeuvre for your holiday event!"
– Executive Chef Roshan Wanasingha, Encore Catering 
---
Smoked Cauliflower Soup Shooter with Fried Beet Nests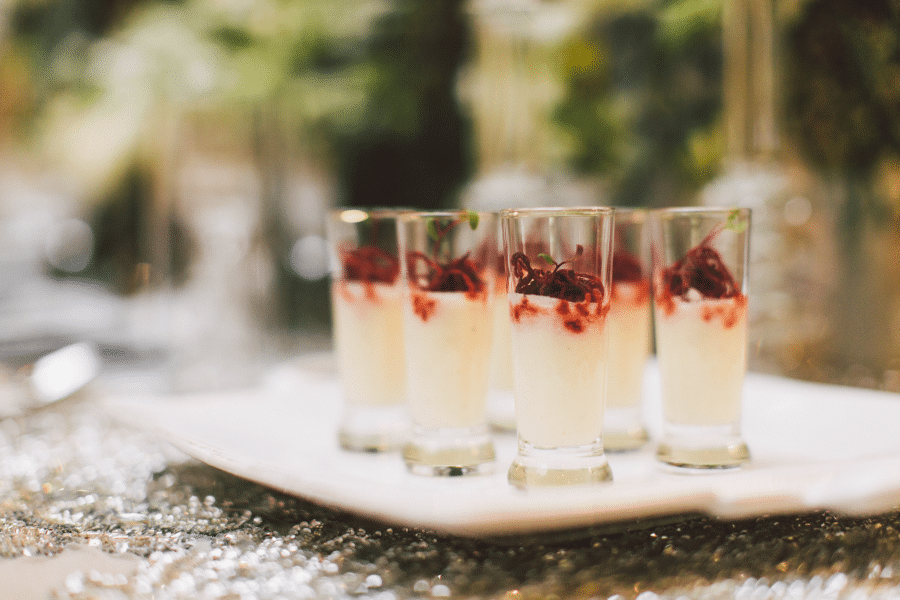 Image Courtesy of Purple Tree Photography
"This is a fantastic appetizer to enjoy at a holiday event because it allows guests to enjoy soup in an elegant and mess-free format (no more trying to awkwardly balance a spoon, bowl and cocktail in your hand!). It is a warm, festive hors d'oeuvre that is non-denominational, vegan, and gluten-free so everyone can enjoy it at your next holiday celebration."
– Executive Chef Tom Boromand, Treeline Catering
---
Tagliere Misto
"Quick, easy and always a crowd favorite, a Tagliere Misto is perfect for a holiday gathering. Head to your local butcher and get inspired, but don't forget to add some pickled vegetables, a grainy mustard and of course, a crusty baguette."
– Tahnee Lloyd-Smith, Gusto 54 Catering
---
Swiss Chard, Gorgonzola, and Toasted Black Walnut Gnocchi
"Something we have noticed is how popular our Gnocchi station has become! We tend to do more stations for events these days and our gnocchi station is definitely the favourite by far – a perfect starter course for your holiday party!"
– Executive Chef Chris Brown, Victor Dries Curated Events 
---
Cinnamon Skewered Mixed Meat Kofta With Red Pepper Candy
"Blended minced lamb, turkey, and pork. Scented with Quebec Tourtiere spice, skewered on cinnamon bark, and roasted in the oven, this is the perfect hors d'oeurve/appetizer for Christmas Eve festivities. The skewer can be served with sweetened red pepper or dried fruit compote."
– Executive Chef Walter Vaz, CaterTrendz Culinary Production
---
Decadent Pies That Won't Go To Waste
"With so much food waste associated with the holidays, I see an emerging trend towards more sustainable menu requests this season… starting with dessert. By using seconds (a term used to described cosmetically challenged produce), I am able to turn would-be food waste into decadent pies and scrumptious cobblers. The act preserving fruits during their peak season then transforming them into delicious desserts allows clients to enjoy local flavourful fruits well into the winter season. Plus, who doesn't love pies?"
– Executive Chef Daniel Holloway, Urban Acorn
---
Gingerbread Foie Gras
"Warm, flavourful, and elegant dishes inspired by the countryside are perfect for the holiday season. Brulée foie gras served on a salted ginger cookie and garnished with cherry compote is the perfect way to stay on trend for your holiday bash."
– Chef Jay Suppiah, Presidential Gourmet
---
T'is Always the Season for Festive Donuts
"Donuts are the new macarons! Who doesn't love a fresh, warm donut right of the fryer? Donuts offer limitless flavour possibilities and compliment every meal from breakfast to dinner. This holiday season, incorporate a delicious festive donut as part of any party, such as Beretta Kitchen's mini cranberry compote filled beignet with a candied ginger glaze. Sweet and tart with a little zing, it's the best present of all!"
– Lily Ho, Beretta Kitchen
---
Any holiday favourites you'd like to see this season? Let us know in the comments below!