Designing the perfect stationery for your wedding is not a task that should be underestimated or overlooked. Wedding invitations provide your guests a first glimpse to the tone and style of your whole day. Lucky for us, there are so many talented, Toronto stationery designers in the GTA that can turn your visions into gorgeous stationery that does a perfect job of representing your special day!
For some stunning design inspiration, we reached out to 10+ of Toronto's top stationery designers to share their favourite invitation designs from this year's wedding season!
---
Beet & Path Designs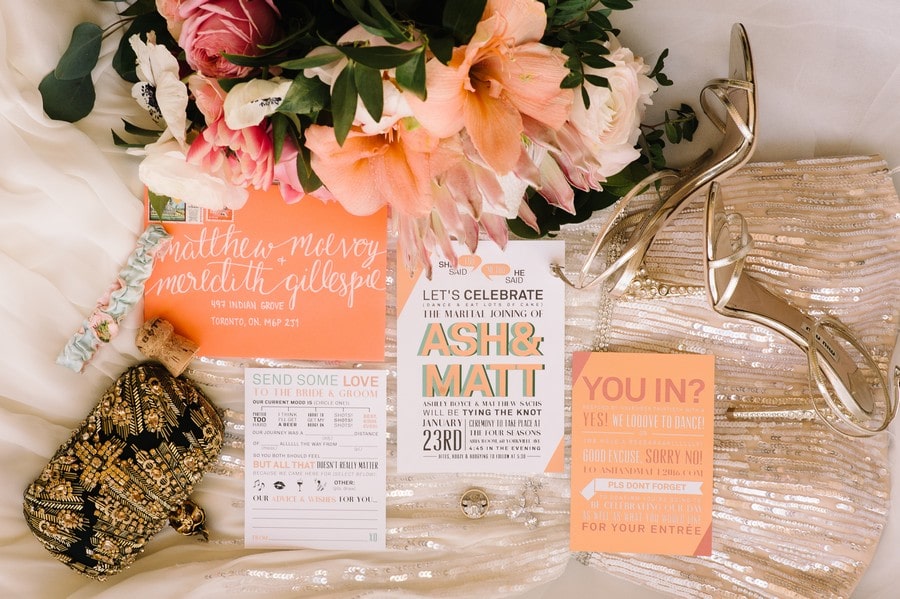 Photo Courtesy of Tara McMullen Photography
"This suite was fun from the very beginning. When I was instructed to pull together a Miami meets Copenhagen invitation suite, I admit, it was quite the challenge. But the thing is, what I love most is the challenge of coming up with a design suite that truly speaks to the couple it's representing. I love this suite because it was original, bold, foiled (of course!), trendy and everything the couple wanted it to be."
Kendall Kent, Beet & Path
Vendors Featured in this Article
---
Lovely Little Design Co.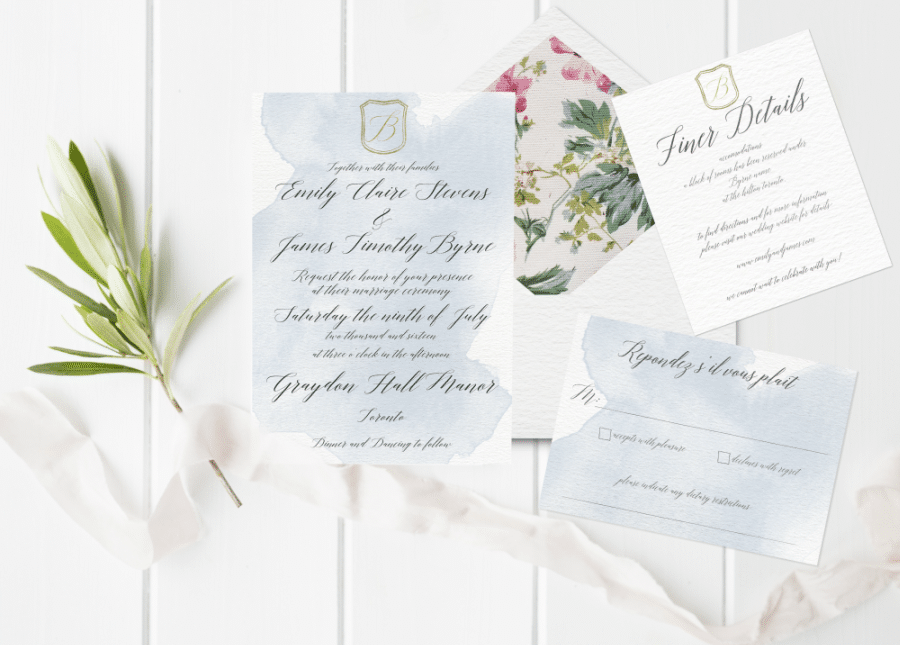 "The stationery world has been heavily influenced by geometry this year but I feel like this year's trend of invitations also lends itself to classic simplicity. Water colour and calligraphy are my two favourite elements and combining them with the ever popular monogram is what makes this suite so on trend for 2016 (not to mention Pantone's colour of the year, Serenity Blue). This invitation and stationery suite can be fully customized and truly allows couples' personality to shine through."
Alex Jones, Lovely Little Design Co.
---
Laura K Invitations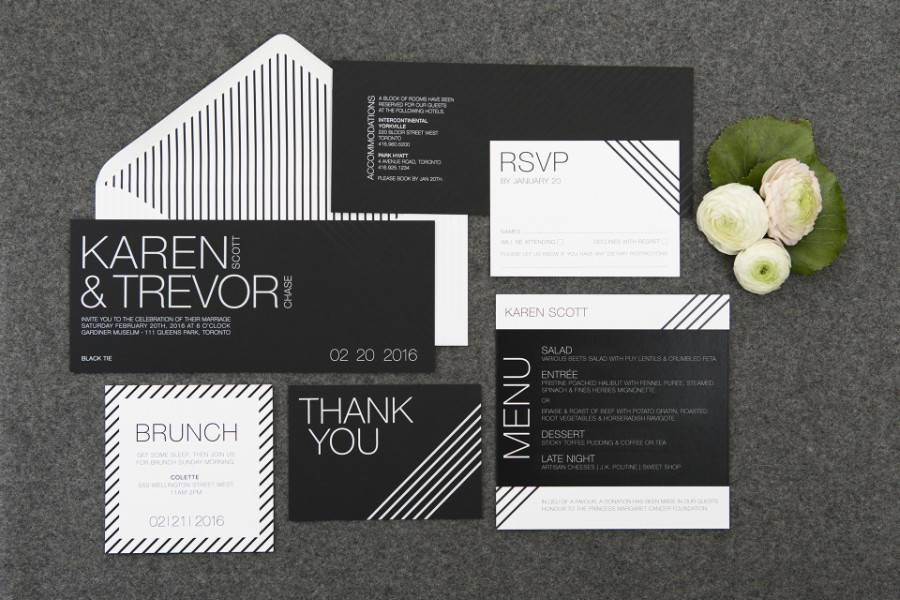 "It is always so hard to pick a favourite design, so in this case, I chose a design that I not only love, but my clients love as well. I have always been known for my modern, clean, and bold style and this invitation suite is a perfect example of that aesthetic with it's black and white colour scheme, bold typography, and black on black striping. This invitation is perfect for a modern, urban setting or juxtaposted against a rustic backdrop."
Laura K Beauparlant, Laura K Invitations
---
Paper & Poste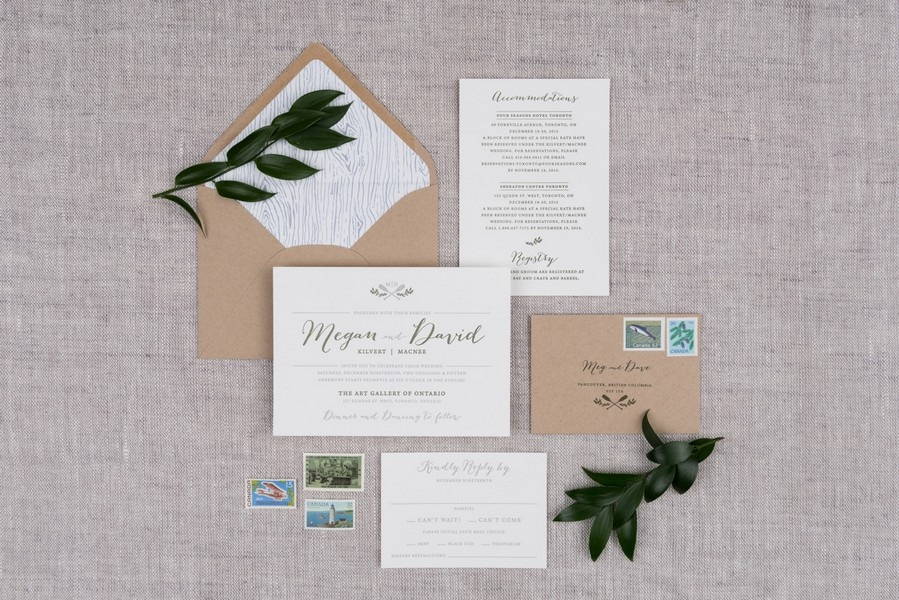 Photo Courtesy of 5ive15ifteen
"When you're working with letterpress, sometimes less is more. This simple design combines the modern look of the wedding venue (the AGO), with the rustic elements from their planned decor. The monogram is a perfect example of why custom stationery adds such a personal touch – Meg & Dave met as canoe instructors at summer camp and wanted to incorporate their story in to their design!"
Beckee Kavanagh, Paper & Poste
---
Lovely Cards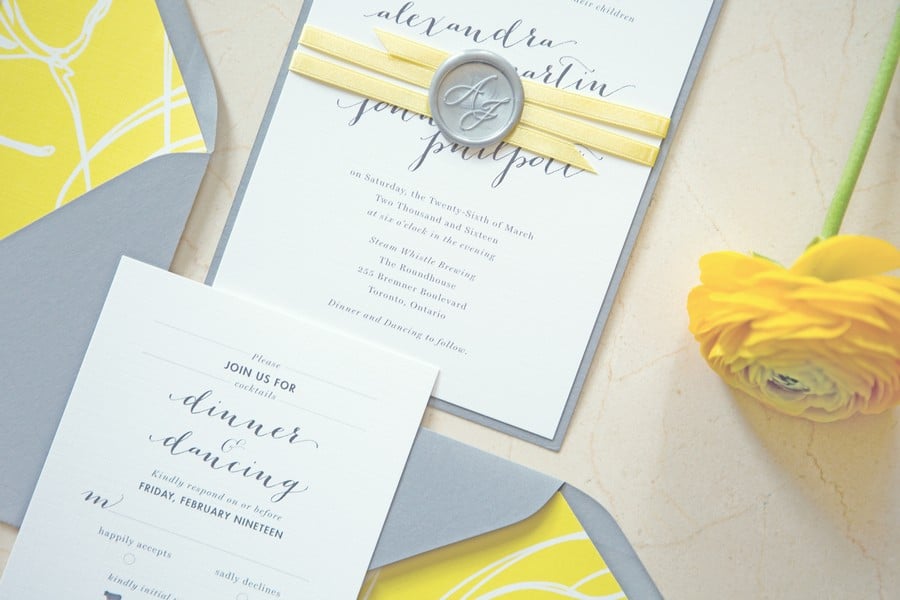 "This invitation suite is one of my favourites of 2016 because of the beautiful balance between the the use of stock and also the use of typography. It communicates both elegant, yet sophisticated with a high end feel to this unique set. Using a typographic treatment as the primary design feature is what really pulls this suite together with its punch of colour."
Claudia Seabra, Lovely Cards
---
So Pretty In Print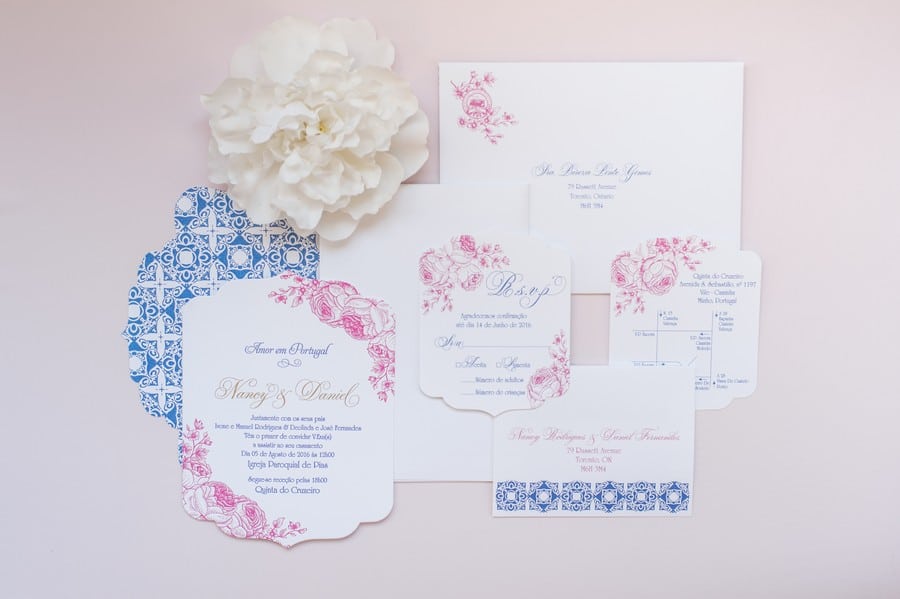 Photo Courtesy of Krista Fox Photography
"I have selected this invitation suite for the bold and colourful design letter pressed onto our cotton cardstock. The floral incorporated represents the floral within the wedding arrangements. The suite is further accented with ornate die cutting. The couple, Nancy and Daniel reside in Toronto and are tying the knot in beautiful Portugal this summer. They chose to accent their suite with traditional tiling within their envelope liner."
Tina Caranci, So Pretty In Print
---
The Polka Dot Paper Shop
"I absolutely love everything about this invitation. On the outside, it's a simple white enclosure. But when you open it up, it has a huge burst of colour! Gentle hand-painted magnolias surround this season's hottest material – gold foil. It's sunny, cheerful, elegant and right on trend for the 2016/2017 wedding seasons."
Jenna Wiegand, The Polka Dot Paper Shop
---
Ferris Wheel Press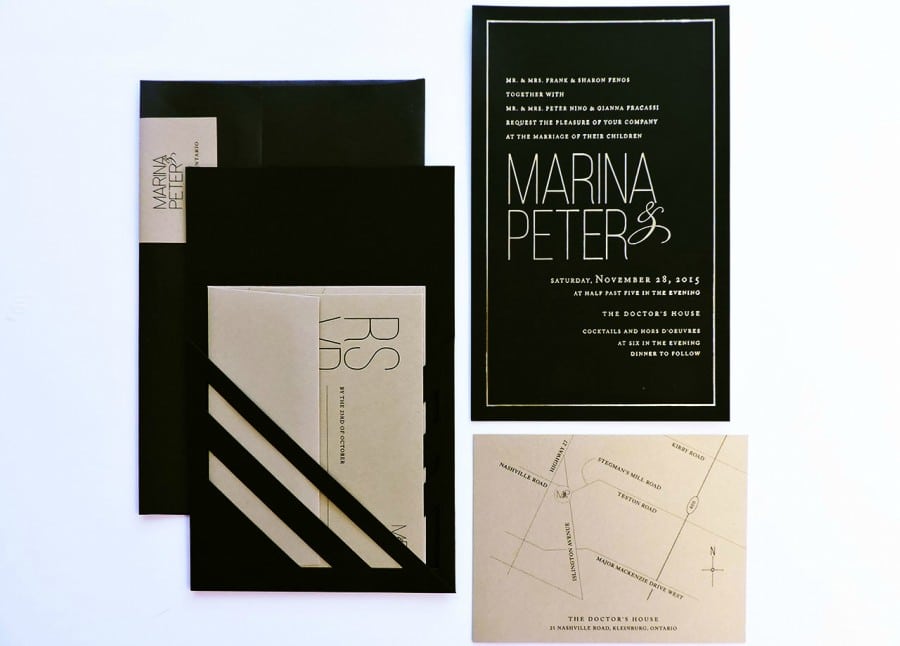 "We absolutely love hand illustrated artwork, but one of our favourites from this year focuses on the beauty of typography and texture. The rose petal-like finish of the ultra smooth card stock is placed in a black linen Stiletto pocket for a visual and tactile experience. This bold invitation marries classic with contemporary and elegant with chic. Who said a wedding invitation can't be sexy?"
Jimmy Yu and his Team, Ferris Wheel Press
---
Paper Impressions Inc.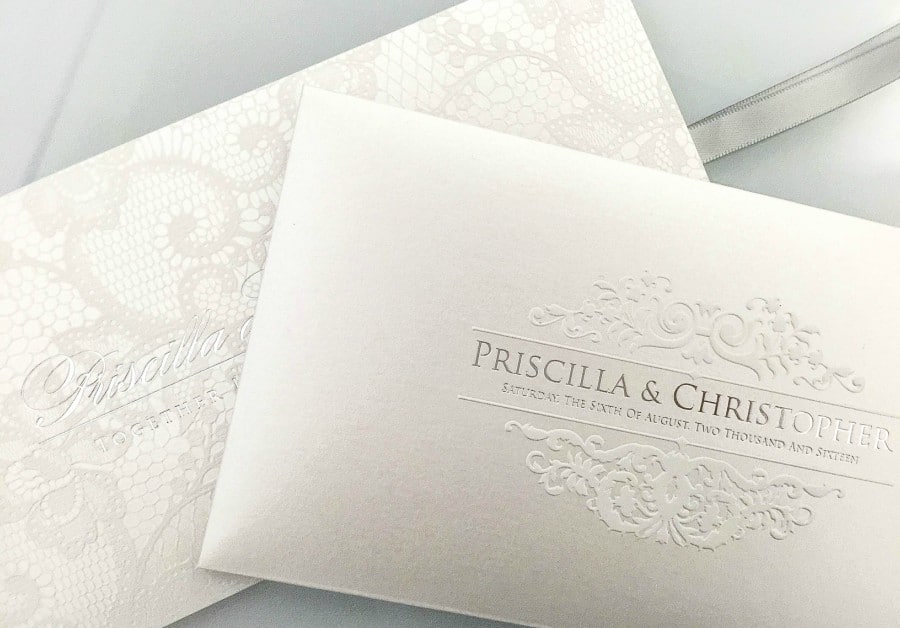 "We fell in love with the stunning effect of a custom embossed lace invitation design created for Priscilla and Christopher for their special day. The art of laser-cutting and lace embossing with the silver foil-pressed finishes throughout the invitation suite added an amazing, breathtaking result. This exquisite masterpiece truly captivated a luxurious touch."
The Paper Impressions Team, Paper Impressions Inc.
---
A Good Day, Inc
"This couple was a ton of fun to work with. They wanted something unique while incorporating their love of nature. So, we custom designed a wildflower theme on double sided cherry wood veneer. They wanted to make an impact and set the tone for their event as well as give their family something they can keep afterwards. This design is definitely a 2016 favourite of ours!"
Jordan Kentris, A Good Day, Inc.
---
Paper Damsels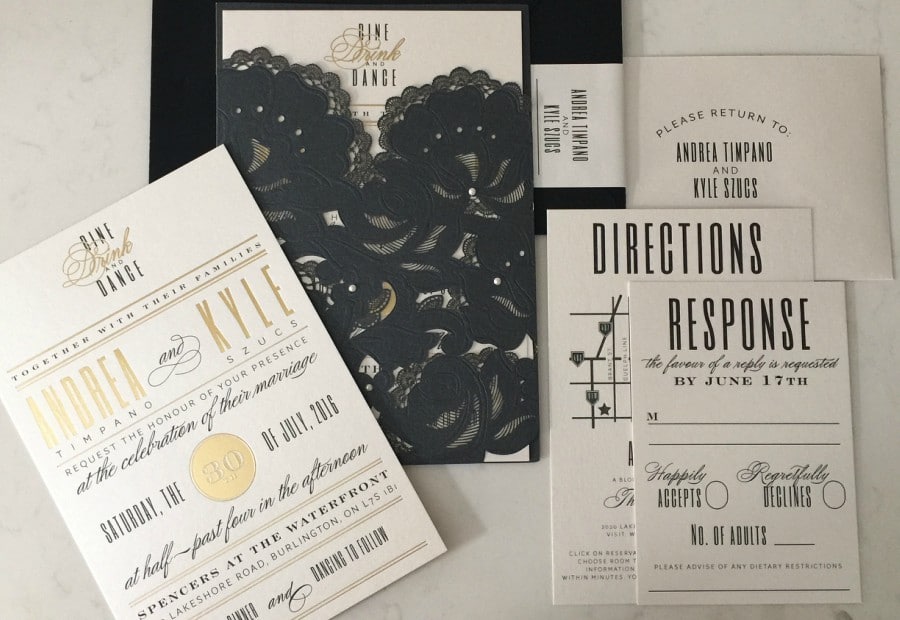 "Recent trends have many couples asking about Laser Cutting and Foil to be included in their invitations. We decided to bring the best of both worlds into this particular invitation suite. We adhered pearls to our Laser Cut sleeve and added foil printing on their invitation piece. We finished it off with a beautiful black envelope and address labels. I loved using the modern fonts but still keeping it a traditional feel."
Michelle Sciberras, Paper Damsels
---
Vibrance Designs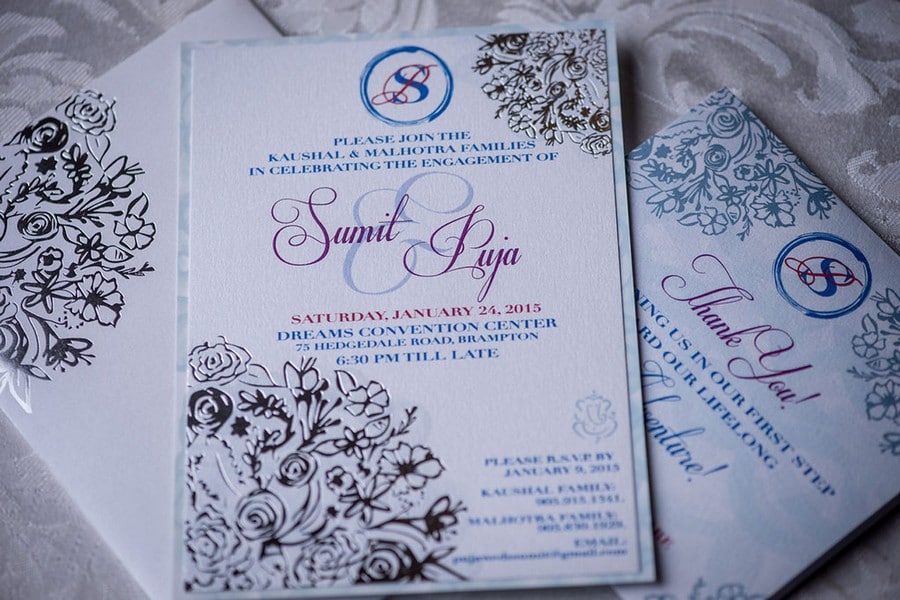 Photo Courtesy of Banga Studios
"It's never easy designing for yourself, especially when you look for inspiration from your bride. Sitting down and thinking what I wanted for my invitation was the hardest challenge I had ever faced. I never really thought of what I wanted so I decided to opt for the help of my design partners, husband to be, and family. I looked to create more of a collaborative effort than usual and that's what differs this invitation from others. It's a combination of treatments, papers, and styles. Our favorite two stock Ice White Shimmer double mounted with a Cashmere cardstock creates a lux feel the minute someone pulls out this invitation. We hand-drew the floral pattern using marker and paper, digitally enhanced the floral pattern, then treated it with silver foiling. Each step of creating this invitation detailed the entire event thereafter. It's whimsical, but still has a classic touch to it. That's why it's one of our favorites. To date, it's the invitation that every couple stops at in any consultation appointment to admire and use elements from for their own couture invitation from us."
Puja Malhotra, Vibrance Designs
---
Find out what some of these talented folks created in 2017!