Gallery
This content requires HTML5/CSS3, WebGL, or Adobe Flash Player Version 9 or higher.
Reviews
Christopher Leabeter
December 2019
We attended a wedding here in October and it was absolutely gorgeous.Everybody involved in the wedding was super friendly and welcoming, and the venue is incredible. We didn't get to wander the grounds, but everything we saw was never set up.The only downside was the temperature - it was pretty cold that weekend and the heating set up was not sufficient to keep most people warm. Some ceiling fans or additional vent pipes would probably help. A wind block on the windward side of the can would have been the biggest help.
I was always told how stressful it would be to plan a wedding but at Cambium, it was anything but! We planned our wedding somewhat last minute but from the first point of contact in March until our wedding day on August 4, 2019, Kaitlynn helped us with the seamless planning and execution. She answered all our questions quickly and effectively in the planning phase and was the perfect calming presence on the day of the wedding. We looked at other venues but there is absolutely no match when it comes to the natural beauty and "decor" of Cambium. It has everything you want for that country charm look but all the comforts you need for guests, especially elderly or guests with disabilities. Thank you for making our day so special!
Kari Petrongolo
December 2019
We had our wedding back in June of this year. June 7 to be exact. It was a last minute booking, with only 5 weeks to plan the entire thing. Katelynn and the Cambium team really came together and made it possible!! It was so beautiful and out of this world. The day was absolutely perfect and couldn't have been any better. Thanks Cambium Farms for making our special day so amazing and memorable!!
Caitlin Reed
November 2019
Went to a really nice wedding here this past summer in July. It was beautiful and the venue is great. I had previously went to a wedding there a few years before and could not have said that then. They have since built proper washroom and made additions to the barn. The landscaping is beautiful. The dinner service was also much much better.
Cambium Farms was my dream come true wedding! I saw a picture of it online and knew even before I was engaged that this had to be where it happened! We didn't even look at an other venues, we saw Cambium the week after we got engaged and booked right away to be married there the next summer! Kaitlynn and everyone there were amazing! She answered every email, helped with every request as much as possible and literally made my wedding dream come true! I could not have asked for a more perfect day! Thank you Kaitlynn and everyone at Cambium!
Cambium Farms has been mentioned inside these other vendor profiles:
Company Overview
Company Overview
Deals & Packages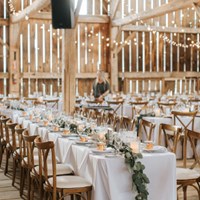 $3,000 savings on remaining Fridays in May 2020
We are currently running a promotion on our remaining Fridays in May for 2020. We have discounted our venue fee to $5,955, which is a $3,000 savings!! message us for more information and availability.
Savings: 34% off
Expiration: 5/1/2020
Map
18333 Winston Churchill Blvd, Caledon, ON L7K 1J3