Reviews
Roma & Matthew
October 2019
Choosing Fruitilicious Cakes was one of the best decisions we made. We had a very specific theme for our wedding - Beauty and the Beast - and Sandra and her team created the most stunning, unique and beautiful Disney themed cake. It was so elegantly and tastefully done, and they were able to put a LIT CHANDELIER in one of the tiers. Everyone was so impressed by the design and the taste was equally, if not even more, amazing. We had three flavors: salted caramel coconut, peach apricot and strawberry champagne - ALL DELICIOUS. I had so much trouble choosing these 3 flavors because her samples were all so good. The cake aside, Sandra herself has such a warm personality and her creativity is amazing. Her team did such a great job in every aspect. Each time we visited the shop, we loved the familial environment. She recently opened her beautiful storefront and I'm looking forward to being a frequent customer. Thanks for everything Sandra!
I first met Sandra 4 years ago at a wedding show. From the first sample of her cakes I was sold! I still remember the opulent display of swoon-worthy cakes that included 5+ tier cakes, macaroons, cupcakes, cookies, etc. The other day I want to Sandra's soft opening at her new shop. The cupcakes she had were heavenly and it is just so lovely to work with Sandra. The one thing I love about her cakes is that they look stunning but they are also delicious because they are made with quality ingredients. I will continue to recommend her to my friends (especially those who are getting married soon). Since her shop is not too far away, I will also be dropping by a few times a month! Love her work and love working with her!
We had a great experience with Fruitilicous Cakes for our wedding! I was looking for a beautiful cake that would be delicious and unique (compared to many other wedding cake experiences that are bland and dry.) Sandra met and exceeded our expectations!During our meeting and tasting, Sandra looked at just a few inspiration photos and was able to design our perfect vision. She brought in the color scheme we wanted (blush, navy, and gold) while achieving the elegance and texture we were looking for to match our venue and decor. We chose the Vanilla Chocolate Chip Dulce flavor and our guests raved as how tasty the cake was! It does take a couple of days to connect via email but she's a small business owner, focused on providing a quality product. Overall, we had a great experience with Sandra and would recommend her for your wedding.
Canan Hosseyni
August 2019
I am very disappointed and dissatisfied with the service provided buy the owner. Prior to ordering it took the owner 3 days or more to respond to emails. On the day I was to pick up my cake, it was being assembled as I was waiting. It was sloppy and very messy. The paint on flowers had not dried and were all unevenly painted (as they were rushed) There was spots on parts that were suppose to be red. She only put a few flowers and I had to ask her to add more. I was very disappointed and she lectured me that I should have mentioned it was for a wedding, which I clearly had and was also outlined in my invoice but she not only is extremely unorganized to the point of she cant keep track of orders but also had complete disregard to providing any customer service. Be ware that by her own admission she spends more time on wedding cakes and everyone else should be ok with a sloppy mess. I shouldnt have paid anything extra for the poor work she did but I paid as I didnt want this to ruin my wedding experience. This was the one and only disappointment of my wedding. I emailed her after and asked her to rectify the situation by refunding the balance after the deposit but refused and provided a $50 credit. I had chosen this cake business because I thought they pay attention to detail and take pride in their work. It was not the case and I would not recommend themto anyone.
Sandra you are so creative. Our wedding cake looked soooo beautiful. Thank you for being patient with me and coming up with an amazing design. The cake tasted soooo damn good. Very good customer service and the cake flavours are to die for.
Fruitilicious Cakes has been mentioned inside these other vendor profiles:
Samantha Clarke Photography
Ashley Victoria Productions
Company Overview
Company Overview
Name: Sandra D.

Title:Owner
Email:Send an Email
Deals & Packages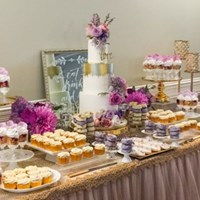 15% 0ff 100 servings dessert table
Price $1,755
---
---
Here's the Fine Print:
This package is exclusive to EventSource.ca visitors. To redeem, you must mention you found this package on EventSource.ca.
Map
1365 Mid-Way Blvd, Unit 13, Mississauga, ON L5T 2J5