Reviews
Canan Hosseyni
August 2019
I am very disappointed and dissatisfied with the service provided buy the owner. Prior to ordering it took the owner 3 days or more to respond to emails. On the day I was to pick up my cake, it was being assembled as I was waiting. It was sloppy and very messy. The paint on flowers had not dried and were all unevenly painted (as they were rushed) There was spots on parts that were suppose to be red. She only put a few flowers and I had to ask her to add more. I was very disappointed and she lectured me that I should have mentioned it was for a wedding, which I clearly had and was also outlined in my invoice but she not only is extremely unorganized to the point of she cant keep track of orders but also had complete disregard to providing any customer service. Be ware that by her own admission she spends more time on wedding cakes and everyone else should be ok with a sloppy mess. I shouldnt have paid anything extra for the poor work she did but I paid as I didnt want this to ruin my wedding experience. This was the one and only disappointment of my wedding. I emailed her after and asked her to rectify the situation by refunding the balance after the deposit but refused and provided a $50 credit. I had chosen this cake business because I thought they pay attention to detail and take pride in their work. It was not the case and I would not recommend themto anyone.
my girlfriend loves cake but she really loves cakes from Fruitilicious.
Sandra you are so creative. Our wedding cake looked soooo beautiful. Thank you for being patient with me and coming up with an amazing design. The cake tasted soooo damn good. Very good customer service and the cake flavours are to die for.
Great place to get your custom cakes great quality and kind people to deal with!!
I got my son's birthday cake made from Fruitilicious cake this last Sunday! And it was beyond Amazing !!! Sandra and her team are amazinggggg !!!! She listened to all my concerns and went above and beyond to fulfill exactly what was needed!! What a professionalism !

The cake didnt only look beautiful but was extremely delicious too ! I ordered Mango passion fruit and Ferrero Rocher flavour!

Thank you Sandra !! Cant wait to order my son's next birthday cake !!
Fruitilicious Cakes has been mentioned inside these other vendor profiles:

Samantha Clarke Photography


Ashley Victoria Productions
Company Overview
Company Overview
Name: Sandra D.

Title:Owner
Email:Send an Email


Samantha Clarke Photography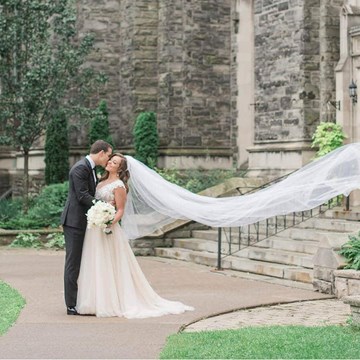 Dana and Fraser's Sweetly Elegant Affair at The King Edward Hotel
3/07/2019
Read more
Map
1365 Mid-Way Blvd, Unit 13, Mississauga, ON L5T 2J5