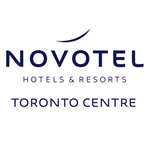 Novotel Toronto Centre
Vendors Similar to Novotel Toronto Centre
This vendor does not yet have any EventSource reviews. Be the first to leave one!
Very central location. Walkable with parking available. My go to hotel when visiting downtown Toronto. Bar and restaurant in lobby close a bit early but there are plenty of options just across the street.
Went for a course for two days at the hotel. Nice large clean and quiet place inside and out. Food was great (served as part of the course) including drinks and dessert. Venue itself was great, quiet meeting room and good setup for the course.
John Norton
December 2019
Excellent hotel, the rooms are very nicely laid out with excellent beds. They are well stocked with anything you could need or want. The staff are amazing and the location could not be better. Breakfast is also rather good.
Some of my travelling companions for a business trip were disappointed that we had the Novotel booked by our corporate travel. That was until we arrived. An absolutely lovely hotel. Would definitely stay again. My only complaint, and it is common for many hotels with central air systems, is that I couldn't get the room cold enough for my sleeping comfort.
Christopher Sarsons
October 2019
The Novotel was fantastic. Rooms were clean and nice. Lots of space. Service was friendly and quick. The location is spectacular, very central and right by the water. Overall I would recommend it, even at the high price point.
Novotel Toronto Centre has been mentioned inside these other vendor profiles: