Reviews
I have booked this venue for the past two years, to host a large non-for-profit event for the day, because I was so impressed after the first year. The staff at the venue are excellent. The venue event planner, Sandro, is awesome! He is so kind, helpful and accommodating, even with last minute requests. The staff that set up for us did an excellent job. The staff that work during the event- setting up/tearing down buffets, replenishing the coffee/water stations and cleaning up after guests are just fantastic! They are so attentive and on the ball, we never had to ask them to do anything. They just did it. It's a huge weight off when you're planning a big event, to have such great people supporting you at the venue. The venue itself is gorgeous, with tons of free parking, which is not easy to find in Toronto. I have used other venues in the city and was not treated nearly as well. I would recommend Parkview Manor and Sandro and his team, for any event. They are wonderful! I will be heading back next year, for sure!
Sholan Trivedi
December 2019
Chris and Parkview Manor made our wedding planning easy and stress free. I recommend going with Chris/Parkview Manor for any event you have, especially a wedding. There wasn't one item we asked for that Chris said no! He even literally said, " I rarely say no". We couldn't have asked for a better day/night when it came to the reception/ceremony. It was like we had known Chris for years.
I had my wedding reception at this venue in October 2019. My husband and I are completely satisfied with our experience with Chris and Parkview Manor. Chris and the staff at Parkview Manor exceeded our expectations and went above and beyond to give us the best experience. The most common feedback from our guests was that the food was amazing, which was something that was important to us. We opted for the open bar. The bartenders did a good job serving our guests, whom are heavy drinkers. There was never a line and any time I went to the bar I was served immediately The venue has a modern vibe and we ended up using the in house decorations, which went well with the minimal decorations that we added. We were provided with a vendor list that the venue often works with, which really helped with the planning. I liked the idea of choosing vendors that often worked with the venue as there was likely a routine in place and less chance for error. We had an issue with one of our tables. There was an incident where two extra guests ended up showing up, the Maitre D noticed my husband stressing out and stepped in and added extra seats like it was no problem.
Working with Chris and Parkview Manor was the easiest part of planning. Chris was very accommodating and great to work with. The venue was beautiful, staff were very attentive and the food was outstanding! Guests are still calling me a week later to rave about the steak and modern touches of the venue

Thank you Parkview Manor for the most amazing day.
Our experience with Parkview Manor was nothing short of outstanding! Chris was there for us every step of the way. The food was so incredible and of the best quality. The bartenders, servers and all personnel provided amazing service to us and all of our guests. The venue itself is beautiful, clean and modern. The amount of compliments we have received from our guests on the venue is overwhelming. We would highly recommend Parkview Manor to everyone looking for a perfect venue for their wedding!
Parkview Manor is always 5/5 stars. For us putting entertainment in place, it is always a simplistic and easy process that has clients coming back for more! We love performing here as everything about Parkview is 5/5. Highly recommended!
We have done a wedding here in August 2018 for A&J--what a beautiful venue! The elegance of the cake matches the luxurious interior of Parkview Manor--just beautiful! Hoping to have a wedding cake delivery here, soon!
Haniyeh Fard, Olgu Events
November 2016
Just recently I was coordinating a wedding at Parkview Manor. As a wedding coordinator I enjoyed working with Parkview Manor, because the people who works there are all responsible, helpful, considered, and team player with great attitude. They pay attention to details and listen carefully to clients needs and wants. They don't take "NO" for an answer, and do anything to make the night as great as possible. They are professional and communicate really well with all venders. They had great choice of food with lots of variety. I highly recommend this venue for all kinds of events.
Parkview Manor has been mentioned inside these other vendor profiles:
The Right Moments Photography
Company Overview
Company Overview
Deals & Packages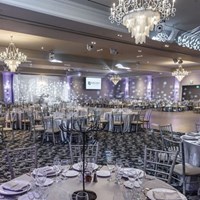 Friday & Sunday wedding package 30% off Saturday rates
Price $90 /person
---
---
What services are included with this Package:
Inquire about our amazing Friday & Sunday all inclusive wedding prices
---
Here's the Fine Print:
This package is exclusive to EventSource.ca visitors. To redeem, you must mention you found this package on EventSource.ca.
Map
55 Barber Greene Rd #1, North York, ON M3C 2A1