Gallery
This content requires HTML5/CSS3, WebGL, or Adobe Flash Player Version 9 or higher.
Reviews
I recently hosted an event at the Royal Ambassador and I must say I am very impressed! Diana and Nicolas were very prompt when responding to phone calls and emails and made the entire planning process an absolute dream! The day of was so smooth and went without a hitch! The headwaitress was lovely, the food was delicious and, of course, the grounds were absolutely beautiful! All my guests had a fantastic time and I look forward to booking more events here in the future!
Lisa Vitelli
November 2019
My husband and I just got married November 2, 2019 at the Royal Ambassador. It was phenomenal. From the beginning planning stages, through to the bridal shower, to the rehearsal dinner, and to the wedding day. Every detail was taken care of. The staff are amazing. We worked a lot with Diana, Stella, and Daisy- who are fantastic and so easy to work with. I recommend this venue 100x over. Our guests have been raving about the food and overall experience still!! If I am ever in need of a space for a function, I will definitely be coming to the Royal Ambassador and Consulate!!!
Annisha Lashand
November 2019
Me and my fiance have reached out to this venue over 5 times, looking to try and book our wedding here. I even tried to call them! Absolutely zero response. Super disappointing, but if you aren't going to even to respond to my initial email, I guess you would have done a miserable job helping me with my wedding. So- probably for the best!
Glenys Davies
October 2019
I was at my son's wedding at the Royal Ambassador on September 29th 2019. The venue was beautiful inside and out. The staff were very friendly, helpful and did their jobs exceedingly well. I would recommend the Royal Ambassador Banquet facility to anyone for any celebration.
Its about 1 to 1.5 hrs away from Toronto. The scenery is nice and theres fake grass for the outdoor seating area. We were here as guests for a wedding, service was poor and food was blend. Server doesnt know what to do and serve soup that barely cover the bottom of the bowl. Washroom is ok clean. If you are looking for luxurious banquet, look somewhere else.
Royal Ambassador Event Centre has been mentioned inside these other vendor profiles:
Trevents: Wedding & Event Planning
Fabulous Cakes and Confections
The Right Moments Photography
Company Overview
Company Overview
Deals & Packages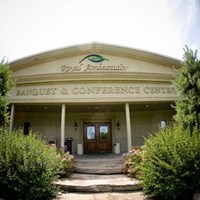 Winter weddings
Price $80 /person
---
---
What services are included with this Package:
120
Tableware and glassware
---
Here's the Fine Print:
Winter wedding packages start at $80
This package is exclusive to EventSource.ca visitors. To redeem, you must mention you found this package on EventSource.ca.
Map
15430 Innis Lake Road, Caledon, ON L7C 2Z1