The Basics
Name: Shealyn Angus
Company: Shealyn Angus Weddings & Events
Years in Business: 5
Let's get down to Biz
So how'd you get into the biz?
My first foray working in events was at a fine dining restaurant, then I gradually started managing some small restaurant events, and then jumping into working with Toronto wedding planning company Bliss Events! After 4 years there, I made the leap out on my own to plan independently.
What was the hardest part of starting your own business? What do you find most rewarding?
Hardest part is trusting that everything will work out. Or trusting that you'll even have business to sustain you. Taking that leap of faith is by far the hardest. Everything else (like the actual grunt work!) is just hustle and heart. The most rewarding part is being able to see your name on something you're proud of. All the work pays off.
When did you get your first big break?
Have I had a big break? I think big breaks are in the eye of the beholder – big breaks for me happen all the time when my work is recognized by colleagues, or people deem an event a "SHEA" style wedding. Those are cool moments. Perhaps when I did my first wedding ever as the lead planner that felt like a big break. And then again when I did my first wedding under my own company name. That was a special one.
How has the job/profession/industry changed since you first started?
The wedding industry in Toronto has BOOMED since I first started. In many positive but also many negative ways. It is incredibly saturated. Everybody and their dog is a wedding planner now. And as much as I am a believer of "there's enough work for everyone!" it's a tough pill to swallow when you have literally hundreds of new competitors all the time. But we stick to our lane and remember that our work is special.
What's one of the secrets to your success?
There are no secrets to success. It's hard work. And what is success anyways? Lots of money? Lots of clients? To me, success is feeling proud, feeling like you can say "NO" to projects that don't fit with you, and being able to call what you love your full time job.
What's your favourite part of an event?
I have two favourite wedding day moments. One is when I say "Okay go ahead. Congratulations." as we send a bride down the aisle and she takes that big breath before walking. It's magic. My second favourite moment is when I grab my backpack (yup, my wedding kit is a backpack) and I walk out of the venue as all the guests are motoring on the dance floor into the night. It's a moment where I feel content in the success of the event and I can still hear the excitement of the night. At that moment I know my job is done, and my job is important.
Fun & Quirky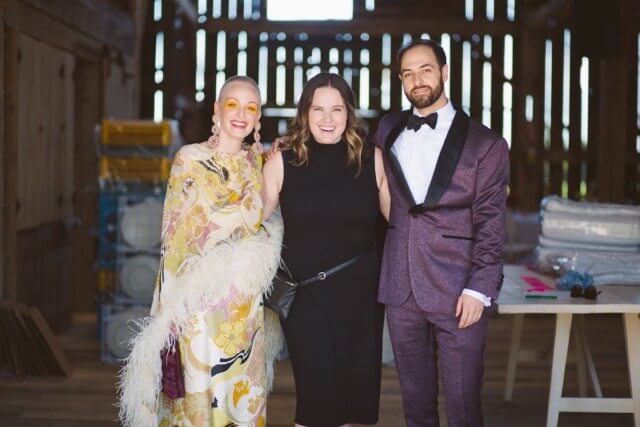 When you were a kid, what did you want to be when you grew up (and how does it relate to what you do now)? I wanted to be an actor. And I think a lot of what I do on wedding days is improv and acting on the spot. Tons of spontaneity!
You wouldn't be you without… A mostly awkward sense of humour.
What's at the top of your bucket list? Personally: To eat at Noma in Denmark. Professionally: To attend the Engage! Conference (ticking this one off the list this year in June!)
If you could have dinner with anyone, dead or alive, who would it be? On one side of me, my grandfather whom I never met. On the other side, Oprah. Because…Oprah.
What's your one guilty pleasure you enjoy too much to give up? Carbs.
What's the first thing you do when you get home? Squeeze my little squishy daughter.
What is one item you can't leave home without? Lip balm. I have one in every purse, one in my car, one in my daughter's diaper bag, one in my husband's car, and several in my wedding kits.
What are you currently binge watching on Netflix (or any other streaming service)? Anything about murder. Weird?
Favourite vacation spot? Cabo for relaxation, Dublin for fun.