Advanced Tent Rental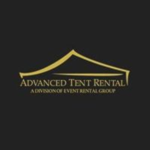 Advanced Tent Rental offers a full range of tenting options as well as related equipment and services in flooring, lighting, air conditioning, and ventilation.
Advanced Tent Rental boasts the largest and most diverse tenting inventory in Canada. Our product selections include traditionally designed pole and frame tents, visually stunning high-peak tension top tents, and an enormous selection of box beam clear span structures. All our tents can be equipped with sidewall systems as required, and we also offer an impressive glass-wall system for improved aesthetics and functionality.
This vendor does not yet have any EventSource reviews. Be the first to leave one!
I rented a tent for a small family reunion earlier this year, Dan was great and very easy to work with. The tent was flawless! the delivery and set up was easy and the lighting continued the party into the night. Ill definitely use ATR again in the future and would highly recommend!
Amin Kaghazchi
August 2020
Super great company, I am so glad that I chose them between all these other companies.Pablo was very helpful and did so much even-though it was a last minutes call but still he made it for us and since we had a budget he did everything to work it out.I call them on Monday, Pablo did the site inspection on Wed and the team was there Thursday for installation and the event was on Sunday. How quick!!Definitely go with this company and if you got any issue with budget, time or anything just let them know and theyre there to help you out.When you call make sure to ask for Pablo, I am sure all other staffs are nice as well but Pablo made a great experience for us.I will post as much photos as possible.Thanks Pablo and Advance Tent Rental
Coline Berbesson
April 2019
I was looking for a tent rental company for a personal event and on a friends recommandation, I contacted Advanced Tent Rental.Beside the short notice, the staff has been very responsive, showed huge experiences while being very friendly. They paid attention to the details, were cautious and offered clever solutions.I definitely recommend this company if you are looking for a high quality service, a good price and the peace of mind in bonus.
I have used Advanced Tent Rental services for my husbands birthday last week and everything went smoothly. Their whole team was extremely patient, really professional and very responsive. They have answered all my needs and exceeded my expectations. I highly recommend them. Thanks again guys!
Advanced Tent Rental set up a fully transparent tent for our wedding anniversary party. They have also supplied heaters and flooring. Everything went very well and their team did a great job! 5 stars granted
Advanced Tent Rental has been mentioned inside these other vendor profiles:
Company Overview
Company Overview
Map
210 Wicksteed Ave., Toronto, ON M4G 2C3