Steeped in over 150 years of rich Canadian heritage, and social hub for some of the country's brightest minds, I got to admit, coming into it, I felt very humbled by The Albany Club's prestigious history. Founded in 1882 and named for the Duke of Albany, it remains one of the oldest private member clubs in the Country. Fortunately for us wedding planners, all of the stunning, neo-classic features have been perfectly preserved – from the stunning ornate doorways to the richly detailed architecture – making this an ideal venue option for couples on the hunt for an intimate and uniquely rich downtown wedding space.
Entering the facility, guests were more than pleasantly surprised to be walking in to one of the most charming and unique downtown historic venues that the city has to offer. Grayson Lee Photography captures all the details of the evening.
Vendors Featured in this Article
The Main Dining Hall is the venue's largest room able to accommodate private functions. With soaring ceilings, ornate stained glass windows and intricate moulding – this room is the perfect backdrop for a unique, yet traditional wedding ceremony or party reception. Designs by Dina dressed the room in a complimentary style, capturing the venue's distinctly heritage-style vibe. Complete with orchids, gold candelabras and head table set with sumptuous blush satin linens, the team, as always, did a great job.
The talented folks at For The Love of Cake whipped up some visually stunning treats to wow and tantalize guests. Their five-tier wedding cake included a bold colour palette with elegant details such as hand painted florals and carefully crafted sugar flowers that would be sure to please any bride or groom.
Another fantastic benefit of the space is that guests have complete and private access to the entire venue on the day of your celebration. The club boasts 4 floors of event space including a roof top patio.
Above: The Cartier Room and the Prime Minister's Suite are perfect for smaller events and private dining.
The open house had no shortage of entertainment throughout the evening. Harpist Joanna Jordan's HarpBeat played an eclectic array of familiar selections, from classical tunes to contemporary hip hop hits. The talented duo at Brent Miller LIVE had attendees dancing with their live music set and infectious energy; Evolved Entertainment's DJ set brought the classic vinyl vibes that had everyone bopping their heads in unison.
Sarah Bunnett-Gibson Wedding Officiant was also on site to meet and greet, offering pro tips on how couples can make their ceremony as warm and special as possible.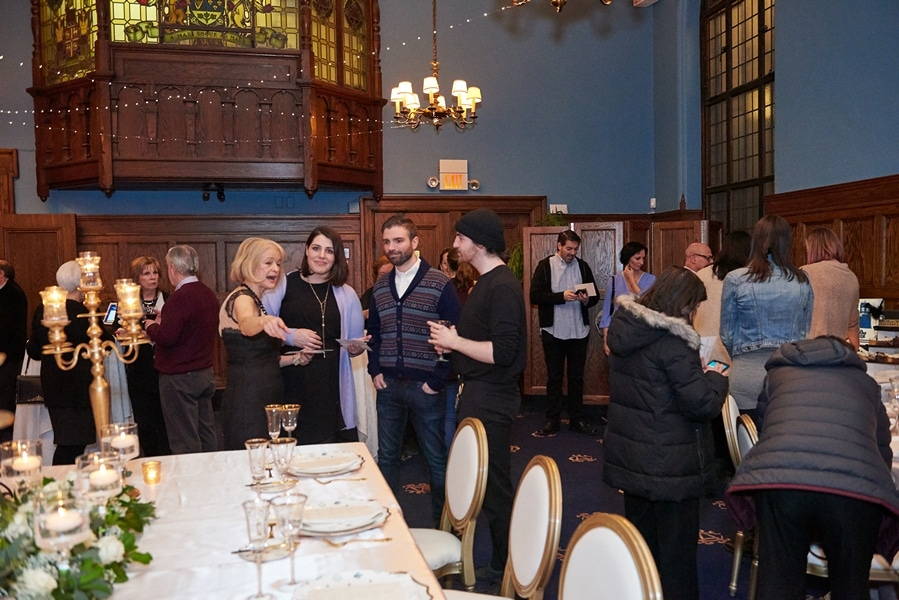 Leading up to this event, everyone has been telling me how amazing the food is, so I was ready! Ascending up to the 4th floor, a gentle waft of mouth-watering goodness beckoned me further – I knew I was in for a treat! Guests truly indulged in a widespread buffet of delicious samplings: a seafood bar overflowing with juicy oysters, mussels & jumbo shrimp; a live sushi station and an interactive, melt-in-your-mouth Angus Rib slider station more than satisfied the hundreds of hungry guests in attendance. If that weren't enough, courteous and prompt staff also served delicious hors d'oeuvres including water arancini balls, delicate salmon sushi cones crowned with caviar, and a selection of cocktail libations.
No sweet tooth was left aching as pastry chef Dolcini by Joseph created a tempting selection of desserts. It was nearly impossible to resist going back for seconds, or in my case, thirds!
At weddings and open houses like these, it's always a bonus to leave with a keepsake. Angel at Snapz Photo Booth fit the bill with retro inspired, red curtain booth. Guests had a blast!
The Albany Club truly pulled out all the stops to make for an amazing evening! I'm sure that attendees will agree that it was an open house filled with fantastic food, beautiful décor, memorable music, and great company. This stunning venue is not only rich with history and beauty, it is thoroughly equipped with an incredible in-house team and fabulous preferred vendors. This venue has all the makings to ensure that your next event is not just memorable, but also completely unforgettable.