Your wedding day is truly special, thanks to the presence of your loved ones at the bridal party. Whether you've known them since childhood or became friends later in life, these are the people you can't imagine tying the knot without. They often go the extra mile to ensure everything leading up to the big day goes smoothly. So, why not express your gratitude with a thoughtful gift that shows how much you appreciate them? Here are a few things to keep in mind when it comes to your bridesmaid gift ideas!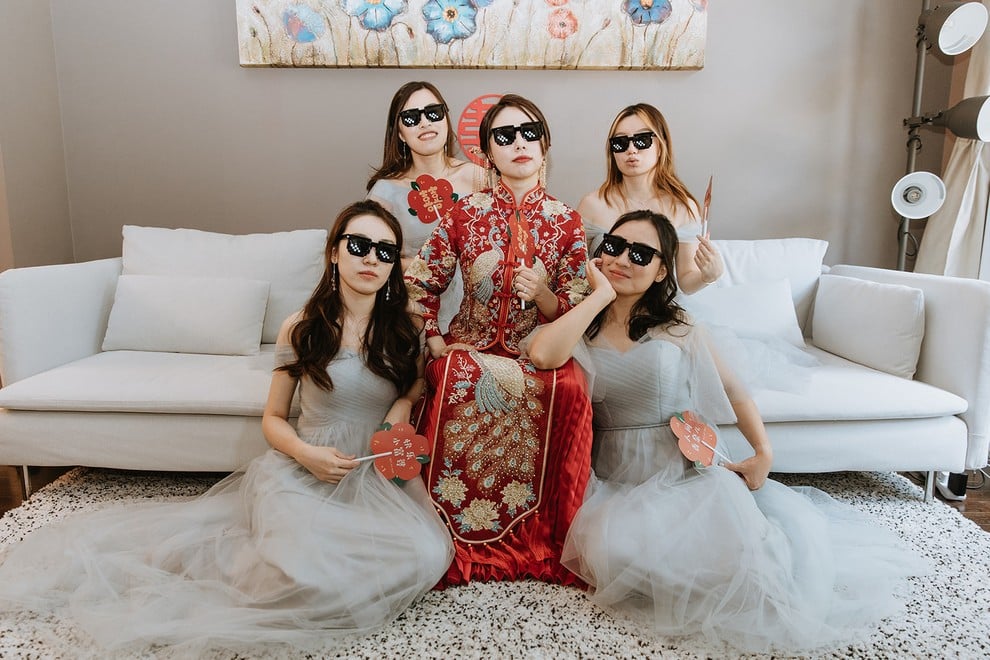 Photo Courtesy of Eric Cheng Photography
You May Also Be Interested In
Why you should get your bridesmaids' gifts
It's common for bridesmaids to pay for their dresses. Some may even be responsible for the cost of hair, makeup, and manicures. These chosen few are often emotional support during the stressful wedding planning stage and are willing to help with any DIY wedding projects. This is not being said to make brides feel guilty, but more so to show how much loved ones are willing to show up and show out for their soon-to-be-married friend. A small token of appreciation for all their effort is a great bridesmaid gift idea!
Put it in the budget
Just like any other wedding-related expense, it's important to include bridesmaid gifts in your budget planning. Determine how much you want to spend per bridesmaid and brainstorm gift ideas that will truly show your appreciation. Trust us, taking the time to plan this out will make the gift-giving experience even more special!
Brainstorm gift ideas
Choose gifts that you know each bridesmaid can use even after your wedding day. You can get everyone the same gift, or for the ambitious bride, gifts personalized for each member of the bridal party. Maybe necklaces from your favourite jeweller, monogrammed bathrobes, or soft fuzzy slippers. You've chosen this bridal party for a reason, so coming up with great bridesmaid gift ideas you know they'll love should be a no-brainer!
Purchase the gifts on time
Once you've decided on the perfect bridesmaid's gifts, make sure to order them at the appropriate time. These gifts should be on your wedding checklist! Ordering gifts a month or two in advance can be sufficient, but if you are purchasing custom-ordered pieces of jewellery or monogrammed clothing (items that may require more time), you should reach out to the seller, and give them your timeline. You don't want the gifts to arrive after the wedding! You also need time to discuss any changes or fix any mistakes that can arise.
Decide when to hand out the gifts 
You can hand out gifts at your rehearsal dinner, on the day of the wedding, or during the bachelorette party. It's up to you and depends on whether you plan on having your bridesmaids incorporate the gifts into the day (jewellery you want them to wear down the aisle) or gifting them something they can take home.
Don't forget to take a moment to express your appreciation to your squad before handing out the gifts. Share some heartfelt words and let them know how much their presence and support mean to you on your special day. Trust us, this small gesture will make a big impact and leave a lasting impression.