The Mississauga Convention Centre held their annual wedding open house this past Saturday, opening their doors to over 500 registered couples, plus me. I will be your tour guide today through this fantastic event with stunning photography captured by the team at Digital Dream. I hope you came hungry as this show is known for their generous and delicious in-house cuisine.
For anyone that is unfamiliar with this venue located in northern Mississauga, it is a grand event space featuring 6 ballrooms which can accommodate smaller receptions independently or be combined to seat up to 2,500 dinner guests (ideal for those who have trouble saying no to their extended family).
Being a musician, the style and feel of an event space is often what strikes me first. Every time I visit the MCC, I am pleasantly transported back to the Frank Sinatra era. While a cigar and fedora might be a thing of the past, the handsome waterfall, vaulted ceilings and gorgeous chandeliers greeting you at the front door provide a sense of grandeur similar to that of a spectacular Las Vegas show. I found myself singing along to a few jazzy classics playing in the background as I entered the main ballroom.
Vendors Featured in this Article
This year, the interior decor had a decidedly springtime feel to it, with cherry blossom trees in full white and pink blooms surrounding the head table. Being that this is a February event, it was a whimsical way to elevate spirits and help guests imagine their wedding day amid warmer weather.
Table settings followed in a similar vibe with rustic wooden chairs courtesy of Detailz Couture Event Rentals and country-chic stylings provided by Elegante Decor. Bringing these fresh outdoor touches was a nice match for this urban indoor space, elevated by the natural grandness of the rooms' vaulted 18 foot ceilings.
One of the most prominent features was the generously-sized dance floor with vinyl overlay provided by the good folks at Axe Media Group.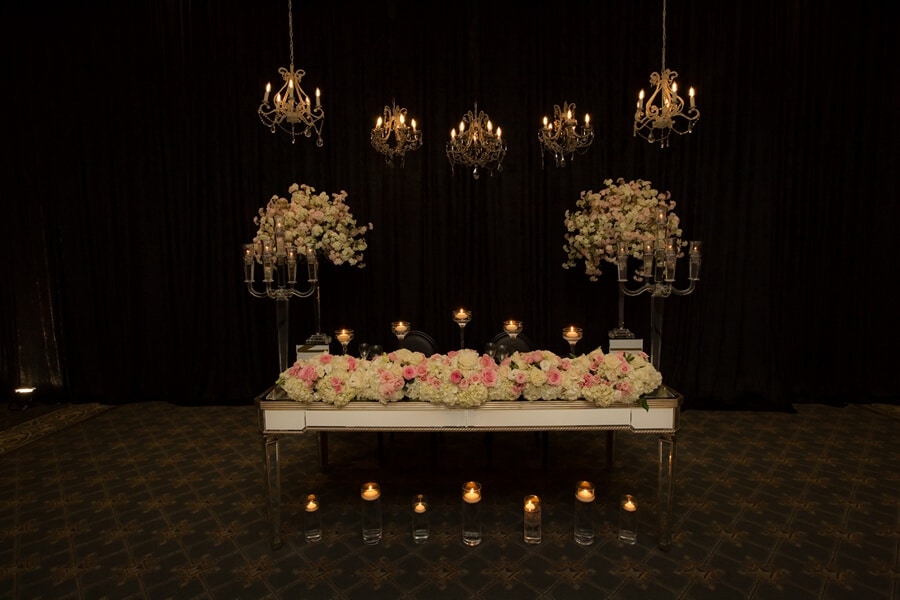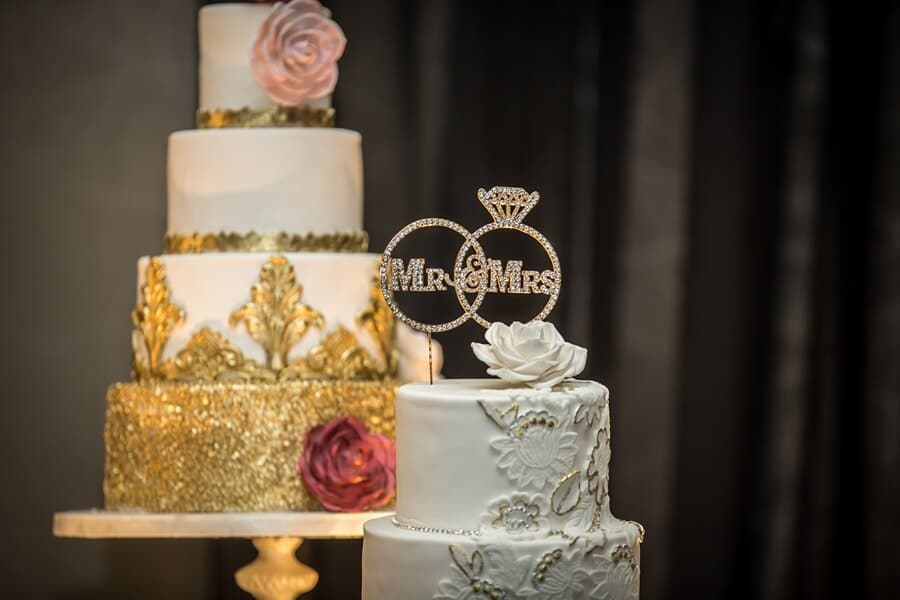 Cakes courtesy of Just Temptations
The food! A common point of conversation at these events is always the food, and year after year the MCC delivers in spades (spades being delicious). Upon entering the room, I was greeted with a fantastically arrayed food station featuring short rib spring rolls with apple compote, presented neatly on individual side plates by their friendly serving staff.
Passed appetizers included a steak-wrapped pepper medley, gravlax salmon in a sesame seed roll, mini tacos filled with mouth watering spicy chicken all leading the way to the delicately featured crusted crab station.
How do you create a dessert that tops all of this? Two words: Mini Donuts! Made with their own in-house mini-donut machine, the fun is served ready for you to top with decadent vanilla and strawberry creams (serious competition for any wedding dance floor!). Meticulously-torched crème brûlée was also served in abundance, ideal for those counting their carbs.
Given the Rat pack-esque vibe, it followed suit to be welcomed by limos and…suits! TLS Limo Worldwide and 4MenUnited were ready to help you imagine your wedding in bespoke style.
Right behind them was Enduring Promises, a company of friendly and experienced wedding officiants, helping couples imagine their own unique and memorable ceremony dreams.
From the many of their preferred vendors in attendance, guests left with a great idea of what the MCC is all about. And I left with a very satisfied belly and a song in my heart. Thank you for having me!