This past week, Paradise Banquet & Convention Centre opened up its doors to the delight of over 400 engaged couples on the hunt for their perfect wedding venue. With a warm welcome from staff, guests are immediately greeted with a tasty and refreshing sparkling drink – the perfect way to begin our tour.
The fabulous venue offers 5 gorgeous ballrooms, each with lavish interior and soaring grand chandeliers. In the warmer seasons, the venue also boasts a stunning outdoor garden surrounding a European gazebo and Victorian bridge. Ideal for outdoor ceremonies.
Thankfully, our new friends at Genn Arino were onsite to capture all the lovely details from this grand affair!
Vendors Featured in this Article
The team at Luxel Decor & Flowers provided all the amazing florals and décor. Each room had a designated theme, from regal to romantic, vintage and glamorous that ensured each hall experience was unique!
Every room was uniquely decorated to showcase the versatility of the various spaces.
Opting for a brighter, whiter look, the Queen Anne Room presented guests with a more winter-esque look. Great inspiration for clients look to get married during the cooler season.
The showstopping centerpieces were one of the faves of the evening! Complementing the gold accents of the walls and ceilings, the cherry blossom-gold duo were just the right addition for this elegant setup!
The team at Good Vibrations did a fabulous job of keeping the atmosphere upbeat with both light and upbeat music. Oh, and of course we couldn't forget the dancers from iEvent Rentals who ended the evening with an outstanding performance – they literally brought everyone to the dance floor!
Let's talk food! I have to say – I definitely love food stations, and Paradise did not hold back: sumptuous short Ribs with Grilled Cheese sandwiches, made-to-order Gnocchi, and my fave from the night – lightly battered Fish & Chips! Definitely some great ideas for late night stations!
After enjoying an array of savoury delights, we rounded things off with some sweet goodness. Practically an entire wing of the foyer was dedicated to donuts and all things delicious!
We had an amazing time touring the space. As always, Paradise did a fantastic job showcasing all of their offerings as did their team of fab vendors.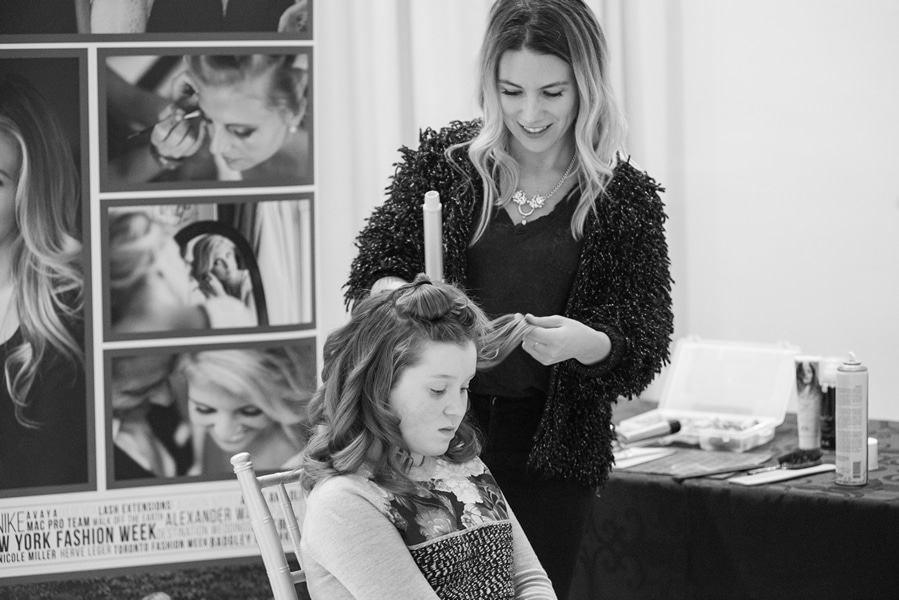 A true pro – Eryn Shannon's mastery shaves about 30 years from this 39 year old mother of two 😉 
Such a great experience to see couples enjoying themselves with so much fantastic food and entertainment. A big thank you to the team at Paradise Banquet Hall – it's certainly no easy feat producing an event with such a fantastic turnout year after year!