Earlier this week, I had the pleasure of attending the TOBEN x DX Save or Splurge Event and had an unforgettable experience! Put on by the team at Toben Food by Design and held at Design Exchange, the historic space that was once the former Toronto Stock Exchange, the event brought together those who work in, or closely with, the event and food industry. Attendees were invited to Relax, Recharge and Rediscover and learn and exchange ideas, all while enjoying an afternoon of cocktails, industry discussion, and food. The result? An unforgettably wonderful experience, along with planning tips for every budget. The afternoon was beautifully captured by Indigo Events, and we're so thrilled to share the snaps with you.
Vendors Featured in this Article
Let's dive in, shall we? First up, Rebecca Chan Weddings & Events designed an elegant splurge table, which I had the pleasure to be seated at. I particularly loved the composite layers of vinyl floral (courtesy of Designer Dance Floors) that extended from the tabletop to the chair graphic, matching the splendor of the surrounding elements. Carefully crafted stationery from Brooklin Paper Co. were present throughout the table including die-cut rounded stationery embossed with gold accents. A large scale floral centerpiece, from Opening Night Flowers with its impeccable pallets of carefully layered colors, made the table most memorable.
Rentals courtesy of Event Rental Group
The save table was an equally gorgeous, scaled-back version of the splurge table featuring smaller centerpieces, budget-friendly furniture decals and a simpler menu design.
Muse Event Co.' save and splurge tables both featured the same concept, but with a different price point. The splurge table offered more customized pieces, including the stationery by Paper & Poste, showstopping candles and a breathtaking floral install from Nous Design Group.
Furniture rentals courtesy of Detailz Couture Event Rentals
The design for the save table featured the same black and white scheme – with moody candlelight and stunning florals, this table just goes to show that sometimes, you can have your cake and eat it too.
With the help of Rachel A. Clingen Wedding & Event Design, Reznick Event Carpets, Detailz and Smudge Designs, the always talented Melissa Baum Events drew inspiration from the Gucci Bloom ads to create stunning save or splurge table settings reflecting a harvest-based theme.
The design and combination gave off a late summer/autumn feeling – personally, this time is one of my favorites for weddings! The green velvet chairs evoked an air of grandeur and rounded out the look of the splurge table perfectly.
Megan Wappel Designs chose a stylish black and blush pink theme when designing her save and splurge tables. This was one of the most distinctive arrangements out of all the concepts I've seen. The dark tone provides a very different gamut of emotions when viewing the setup. Not many weddings employ dark colors, but Megan's interpretation is ambitious and certainly will give the host a memorable event. Compared to the splurge table, the save table used less floral arrangements (courtesy of Life in Flowers). In lieu of the floral arrangements, there were plenty of deeper candle boxes – a clever and unique way to create a seriously chic table.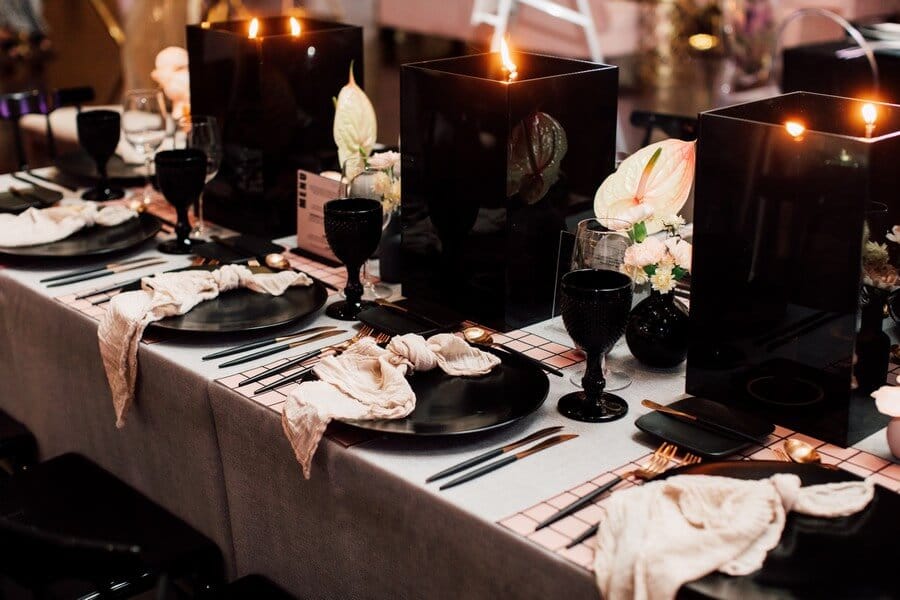 Linens provided by Susan Murray International
JT Custom Acrylics lent a hand by providing custom plate settings with each of the guests' names at the splurge table which also featured lovely tableware from Plate Occasions.
The last two tables were designed by Alana Klein of Swoon Events featuring gorgeous floral designs from Fete Floral & Events!  Alana believes that colours and patterns can change the overall look and feel of a table setting – ain't that the truth! I loved that she chose the simple combinations of pink and white. Both tables were very elegant!
In terms of differences, the save table had fewer decorative pieces, florals on a smaller scale, and the  menu, designed by Brooklin Paper Co, was simpler, but don't get me wrong, this table was equally appealing to the eye as the splurge table. Lastly, I would say that party favours really add a special touch to the table. Both tables got macaron favors made by Jenla Cake, however the splurge table got hand-painted ones, which definitely elevated them to the next level.
Before the sit-down lunch, guests were treated to a variety of concoctions courtesy of Sipbar, and delicious treats from the in-house team at Toben Food By Design.
Passed hors d'oeuvre of Pea and Truffle Risotto Cakes, along with east coast Lobster Rolls and four spice Seared Tuna were passed around.
The team at Toben prepared a three-course meal for lunch that was heavily inspired by global cuisine. I was lucky enough to attend one of their previous pop-up dinners, where I learned that Chef Toben has traveled all over various parts of Asia and Europe, and has incorporated what he has learned abroad into his cooking. The catering company specializes in providing fresh, local artisan cuisine at any budget, whether one wants to save or splurge.
The first course was the Heirloom Tomato and Ontario Raspberry Salad, which set the tone for what was to come! These tomatoes originated from South America and were brought over to Europe in the late 1500s, talk about wow! Taste wise, this dish reminded me of summer, and the avocado mousse and miso vinaigrette was the perfect combination of sweet and tangy.
The main course featured a culinary clash of west & east coast concepts with the Thai Surf 'n Turf. The combination of succulent grilled seafood and steak has become a beloved dinner classic and can be found on many caterers' wedding menu. Toben does it differently, as many key ingredients were substituted with Asian Thai flavors. Instead of a steak, they opted for the ballotine chicken, which is a French specialty that was cooked by braising. Chef Toben dressed it with coconut-water spinach rice and yellow curry emulsion. These are two commonly used ingredients in many Thai dishes. Additionally, it was beautifully decorated with Shiitake mushrooms and pickled eggplant.
Dessert was a Mini Dessert Duo consisting of Strawberry-Raspberry Verrine, Strawberry Mousse, and Vanilla Sable. The mousse was amazing, as it was creamy and rich. Additionally, the blackberry chantilly, added the perfect touch to the savory-sweet nature of this dessert.
The event also featured live music from Brent Miller LIVE, bringing that added touch of fun to the event. Guests were also treated to on-site nail painting services from The Nail and Champagne Bar.
My takeaway from this event is that you can create a beautiful wedding or event, regardless of whether you want to save or splurge. For event planners, it's their responsibility to manage the client's expectations while looking to see where one can save in order to splurge on certain big-ticket items. Overall, the collaboration between Toben Food By Design and Design Exchange was a great success – thanks for having us!