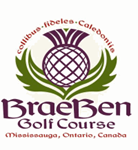 The heart of the city boasts picturesque and serene views of our pristine golf course fairways and rolling hills in the Highlands Dining Room.
Located in Mississauga, Ontario, BraeBen Golf Course is a venue that is surrounded by a stunning 18-hole golf course. This venue has panoramic views of fairways and rolling hills, providing the perfect photo opportunities. With complimentary on-site parking and great amenities, this venue will be a great place to celebrate your wedding or corporate event.
Facilities and Capacity
The facilities found at BraeBen Golf Course include several event spaces. Our Highlands Dining Room has a capacity for up to 200 seated guests and the Boardroom can accommodate smaller events of up to 20 guests.
Services Offered
BraeBen Golf Course is a full-service event space, catering to weddings, social and corporate events.
Our team provides:
Set up
Clean up
Event planning
Complimentary audiovisual
Full menu catering
Other Services
BraeBen Golf Course also offers other services for different types of events. These include showers, birthdays, meetings, graduations, corporate events, family gatherings, retirement parties, and celebration of life events.
Be careful when planning an event at the Braeben Golf Club... We had a successful event yet one day post event, we received an email stating we would be charged an extra 8 people. No one discussed extra charges during the event. The event coordinator present was not present. We never met the chef. We only had 2 servers. Also, during the event, there was a family of 6 roaming around and viewing the venue which I thought was quite intrusive to the party. After countless emails and a phone call to the manager, 4 days later, we received an email stating no charges would be made. They had to clarify with the chef and speak with the staff again to confirm. Firstly, the event coordinator should definitely confirm first before charging extra to anybody. Secondly, if ever they are to charge anyone extra, it should be discussed during the event. If it was someone planning a party for the first time or more of an introvert, they may have just paid the fee and the facility would have gotten away with it. This is unacceptable and completely unprofessional. I would not recommend this venue..
We held my spouse's 50th birthday extravaganza at Brae Ben and it couldn't have been better. The venue is beautiful and the staff were wonderful to work with. There was great communication with Mike G. and he was very accommodating and responsive to any requests. Venue, food, and staff were all top notch. I am so happy we were able to hold this milestone at BraeBen!
Value was spot on - staff was great! The venue is quiet beautiful and with the backdrop, not much work is needed. Payment and set up details were a breeze - thank you for a wonderful experience.
This was a very nice venue for our association luncheon. The food and staff were great. The location is central and easy to reach from major routes in and around Mississauga. The facility was clean and tidy. I would definitely host another luncheon or alike function here.
We held my son's baptism here and hosted 66 people. The venue was clean, lots of parking, accessible, had good choices for napkins and linens. Mike was really easy to work with. We had the buffet with ribeye steak and it was cooked perfectly. Everyone thought the food was delicious. The staff were very friendly, professional, and all the food was served on time. The venue was clean, good choices for napkins and linens. It was nice to take pictures on the balcony with the beautiful golf course background. I'd definitely use this venue again or recommend it to others.
BraeBen Golf Course has been mentioned inside these other vendor profiles:
Company Overview
Contact Information
Name:
Hospitality Services Event Team
Venue Features
On-Site Ceremonies
Wheelchair Access
Free Parking
Audio/Visual
Wi-Fi
Outdoor Facilities
Unique View
Catering Information
On-Site Catering
Off-Premise Catering
Kosher Food
Capacity Information
The Highlands Dining Room
Deals & Packages
Festive Menu (plated)
Appetizers, soup, salad, entree, dessert, coffee & tea station
For full package details, please visit: https://issuu.com/saugatourism/docs/cms_rec_festivemenu_update_21455_f?fr=sMGNhZDM5MDcwNDQ
---
Festive Menu (buffet)
Appetizers, soup, salad, entree, dessert, coffee & tea station
For full package details, please visit: https://issuu.com/saugatourism/docs/cms_rec_festivemenu_update_21455_f?fr=sMGNhZDM5MDcwNDQ
---
Map
5700 Terry Fox Way, Mississauga, ON L5V 2W2