Elena - Violinist & Harpist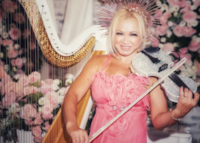 A specialist musician and entertainer? Yes! That is what I consider myself to be. Working carefully to master 3 instruments and find unique ways to incorporate them into wedding ceremonies, receptions and other events. Electric wireless harps, glittering violins, and lightweight electric pianos in various colours. A harp that seemingly floats across the dance floor, a giant snow globe that I can stand up and play in. LED lighted violin and LED gown. A bit of Vegas can be fantastic for your dinner, reception, gals or party. However...conservative and traditional can be just as elegant and I know how to follow your script.
Wedding ceremonies? They can be full of uncertainty and stress for all involved. This is the one moment that the wedding musician must get spot-on. I take this responsibility very seriously. With a work ethic and supportive attitude towards you, your family, friends and guests.
No event is too large or too small for me to help provide elegant entertainment customized just for you. I love what I do, and I'm blessed to be able to do it. Let's see if we can do it together! 647 832 1515 or
[email protected]
From the bottom of mine and my husband Rommel heart we want to say thank you . Elena you were wonderful for our wedding. The snow globe was the perfect touch for our winter wonderland wedding. And playing middle eastern Arabic music on your violin was absolute amazing. You shocked all the guests with that perform. You looked absolutely beautiful in your grey dress that matched my brides maid dresses as wells thank you so much for your wonderful performance! I can't wait to have you booked again the future for other events. All of our guests enjoyed your performance with the harp inside the snow globe and the violin during dinner. I definitely recommend you to many people ! A lot of people sure got your number from us after our wedding! Thank you again
Elena played at our wedding this past month and she was INCREDIBLE!! We couldn't have asked for a better performance and our guests loved her!! She is such a pleasure to work with and extremely talented at what she does!! Thank you Elena for being so kind and making our wedding day extra special! Yasmine & Steve
Tom Pham-Nguyen
August 2018
Elena stayed with us at our motel in Kingston and we were lucky to have seen her performance later that evening. She was wonderful and took the time to chat and take some selfies after she was done. Elegant, talented, sweet and kind. A great guest and an awesome entertainer! 5 Stars!
Elena played violin at my wedding and was amazing performance!!!! All my guests were thrilled by her music!!! She is amazing, always smiling and full of positive energy!!!!
James Cook - The JCIC House.
January 2018
Greetings, it is an honor and privilege to write a review for an incredible powerful entertainer. I have been a huge fan for years. This past Wednesday January 24, 2018, Elena graced us with her presence at The JCIC House Launch Party. She was incredible and made the evening memorable. Our MP Celina, MPP Lorne Coe, City Councillor Michael Emm, all guests and all parties associated with The JCIC House loved her performance. Her personality was amazing and she even inspired a you girl guide at the event to consider playing the violin. We will most definitely be using her services again
Absolutely phenomenal! We hired Elena and she play amazing music and have a large selection of songs to choose from. She is a great musician and very professional. Well done Girl!
I have had the opportunity to perform at events alongside Elena. She is a talented musician that continues to wow the audience. Not only does she play the violin, the harp and piano, she also sings! A wonderful professional that goes all out to provide a top notch service. Her genuine love for music is clearly evident during her performances. I look forward to listening to her at our next joint event. Olga
Elena - Violinist & Harpist has been mentioned inside these other vendor profiles:
Company Overview
Company Overview
Pros I Know
Liberty Grand Entertainment Complex