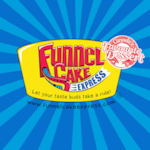 Are you looking for a unique, fun, and exciting experience for your next event?
Funnel Cake Express offers many options for any event. We have two food trucks and an indoor station. We are self-sufficient at our events where we provide our plates, cutlery, etc for the event. The only thing we need from you is hungry people! Your guests get to personalize their funnel cakes or deep-fried items with the toppings they would like.
Thank You Funnel Cake Express... All our employees enjoyed all the choices and the great service. Would highly recommend.
Funnel Cake Express came highly recommended to us by others within the Construction Industry. As a company that operates with employees on multiple locations and sites we rely on quality in both product and service; and this team delivers!
The scheduling process was effortless with prompt response time and clear communication. The staff arrived on time to set up, were very professional and friendly, it was an absolute pleasure having them. Our team really enjoyed the food and we will definitely have them back at our next event.
11/10 highly recommend.
Absolutely phenomenal service! Beyond thrilled and happy with the staff and quality of the funnel cakes. Would highly recommend for any event.
We hired Funnel Cake Express for our wedding and it was a hit! The company was professional and really nice. The funnel cakes were delicious and we were told a great choice by multiple guests.
We recently Funnel Cake Express for a corporate event and it was fantastic! The service was great along with the setup and prep. The funnel cakes were awesome and everyone enjoyed themselves. I would highly recommend them!
Funnel Cake Express has been mentioned inside these other vendor profiles:
Deals & Packages
Funnel Cake Station
50 x funnel cakes with icing sugar, vanilla ice cream, strawberry and apple fruit topping, syrup toppings, and assorted candy toppings
2hr Full Service
---
Funnel Cake Food Truck
Funnel Cake Truck
50 x Funnel Cakes with served with icing sugar, vanilla ice cream, strawberry and apple fruit topping, syrup toppings, and assorted candy toppings
2 Hr Full Service
---
Map
5601 Steeles Avenue West, Suite 5, Toronto, ON M9L 1S7