Popis Flowers & Boutique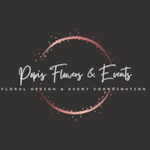 Popis Flowers & Boutique is a wedding florist company. This business enjoys crafting creative designs for each client that they work. They like to play a key part in helping weddings come to life with beautiful arrangements and quality service. Marrying skill and commitment, they are able to provide couples with eye-catching, colourful, and customized items.
Services Offered
Flowers are a key part of most weddings, which is why many couples opt to hire florist who can create their favourite designs. That's where Popis Flowers & Boutique comes in. Those planning an event that is equally distinctive, creative and unique are in luck here as these professionals specialize in trendy and fashionable creations. Of course, they can create stunning bouquets, boutonnieres, centerepiece items that are inspired by a range of other approaches. These include styles such as garden, vintage, rustic, romantic, and country. Aisle decor, altar pieces and garlands can adorn your ceremony for the "I do" moment. Other features of this comprehensive service include:
Consultations
Delivery
Setup
Event design
Venue visit
This vendor does not yet have any EventSource reviews. Be the first to leave one!
Michelina Crecco
October 2020
We hired Popis flowers for our wedding. I sent photos to them to give them an idea of what we were looking for. I found their responsiveness to be very slow.Quotes were provided and some changes were made to the Bridal bouquet including a change to a white ribbon instead of burgundy. We also requested changes to the boutonnires. Initially they had a ribbon, but then I requested the twine. The contract listed all of my changes. Naturally, I expected the flowers to be delivered as requested. However, I received the flowers all with the burgundy ribbon. When I informed them of the error there response was Oh we apologize, we had it down as burgundy as it matches better with the bouquet . In addition, the contract included a rental fee of $150.00. The vases they brought were not used because I had vases at the venue. They refuse to provide any kind of credit for not providing the requested order and they said the $150.00 on the contract was supposed to be a delivery fee, but it clearly says rental total. I find they lack communication and customer service skills. While it is not the end of the world to receive burgundy ribbons instead of what I asked for, on my wedding day I didnt need the added stress. I also didnt need the added cost of $150 for vases I did not use. For these reasons I would not recommend them.
Popis Flowers & Boutique has been mentioned inside these other vendor profiles:
Company Overview
Company Overview
Pros I Know