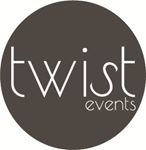 We are a full service event planning and decor company that brings fresh ideas to both large and small events. We specialize in holiday parties, gala fundraisers and special occasion gatherings such as Sweet 16, Bar Mitzvah, Baby and Wedding Showers, Family Reunions, Anniversary Celebrations and Corporate Events. Our detailed, artistic and imaginative style provides you with worry free entertaining.
From creative venues to special gatherings at your home, Twist Events takes the work out of hosting and lets you enjoy the night. Our planning packages include venue sourcing, theme development and design, custom decor, catering and food recommendations as well as onsite event coordination and more. With Twist Events working for you, your celebrations are easy, stress free and fabulous!
Clever, original and always fun .... let Twist Events create your next memory.
Twist Events perfectly planned, organized and delivered our wedding celebration. They took all the potential stress out for us. They accommodated us, made excellent suggestions and created a beautiful , warm space for the party. Sarah and Marie are two highly competent, caring professionals. Clearly it shows that they love what they do and they do it so well. Their attention to detail and methodical way of organizing is superb. I would hire them again in a heart beat. Our guests felt the ambiance that was created in the room and very much appreciated the presentation of food and drink. They were also a pleasure to work with and rather quickly we knew we had made the right decision.....and never looked back. They also coordinated the design of our guest book and final book of pictures. Could not have done it without them. Bravo Marie and Sarah. And thank you for giving us an evening we will never forget. Diane and Russ
I used Twist Events to plan a special backyard Grade 8 graduation for my daughter and her best friend during the Covid 19 pandemic. Marie and Sarah did a fantastic job of recommending special touches for each of the girls (pictures, favourite school memories, graduation yard signs, graduation gowns etc). The decor was beautiful with balloons, white carpet for the actual ceremony , lovely pale pink overall theme, sweet trays including mini donuts and cake jars. They managed all the details from start to finish which allowed us to enjoy our daughter's special day. They are extremely professional and detail oriented. I would highly recommend them for any event. Thank you Twist Events!
We have been to a number of events organized by Marie and Sarah and were always impressed. Our challenge to them was to deliver an engagement party for our daughter who is being married overseas. Knowing she had limited numbers we could invite based on the venue she chose in Portugal and that many of our friends and family would be unable to make the trip we wanted to celebrate the occasion while she and her fiance were in Toronto this past summer. Our daughter made it clear she did not want a "wedding reception" in Toronto. That was being planned for Portugal. She wanted it to be "casual" - we wanted it to be "classic". We all wanted it to be in a cool venue that could accommodate all the people we wanted to invite and most importantly - have fun. Lots of opportunity for people to mingle and meet friends and family that they wouldn't necessarily know, great food and drinks, we had some ideas around entertainment and 'games' to get people to meet and of course we had a budget. Sarah and Marie figured it all out. Recommended locations, options for food and drink and handled every detail about invitations, flowers, the games you name it they did it! Exactly what we wanted. Everyone who attended loved it! Don't hesitate to hire them. you won't be disappointed.
Danielle Macdonald
May 2019
My company has been using Twist Events for our holiday party for the past few years. Every year gets better and better. The food, the decor, the attention to detail is unparalleled. Our employees and clients are so impressed and look forward to the event every December. Twist Events rocks!!!!!! "

Michele Lobraico-Perkell
May 2019
I have had the pleasure of working with Sarah and Marie on a remarkable fundraising event for St. Clare Inn called "An Evening In Paris".
This fun-filled evening was made possible through the diligent efforts and creativity of this amazing team. Under Sarah and Marie's leadership the venue was transformed into a unique Parisian marketplace complete with delicious French food stations, wandering musicians, entertainment and a silent and live auction.
Marie and Sarah excel at listening to the needs of a client and are incredible creative problem solvers. Throughout the entire planning stages Sarah and Marie were organized, prepared, imaginative and fun to work with every step of the way!
Awesome people to work with. Always impressed with their creativity.
Twist Events has been mentioned inside these other vendor profiles:
Company Overview
Company Overview
What event planning services do you offer?
Day-Of Coordination, Event Design, Full Planning, Partial Planning, Timelines
What is the starting price for day-of wedding coordination?
$1,000
What is the starting price for partial wedding planning?
$1,000
What is the starting price for full wedding planning?
$5,000
Do you offer an hourly rate?
Yes. $100
Deals & Packages
Backyard movie night
Enjoy an old-fashioned backyard movie night for you and your friends! complete with projector, 100" screen and individual servings of theatre treats like popcorn, liquorice, candy and drinks for 10 people. You May not be able to go to the movies these days but you can still enjoy the same thrill from your very own backyard.
Savings: 30% off
Expiration: 8/28/2020