With the cool winter months fast approaching, planning for this year's epic office holiday bash should already be in full swing! We recently recommended a handful of Toronto's premier nightclub and lounge venues for your winter fete but if the nightclub atmosphere simply isn't your thing, don't fret, we've still got you covered!
Toronto is home to a slew of restaurants perfectly suited for hosting your private soiree! No, we don't mean simply booking a reservation for a large group of people at any old restaurant; for this article, we've selected only top restaurants that offer either private/semi-private spaces or complete buyouts!
If this sounds like a fit, we've done all the research for you! Below you'll find 12 Toronto restaurants perfect for your upcoming holiday party! ICYMI, you'll also want to check out part one of this restaurant round-up – there's definitely a wide range of restaurants to choose from!
---
Noce
875 Queen St W, Toronto, ON
For 22 years, Noce Restaurant has dug its roots deep into Queen West with one goal in mind: to serve their customers with the freshest food available with the flavours of Italy. Despite modern advances, Noce's passion lies with live wood-fire cooking to create a truly unique experience of old-world flavours with innovative menu offerings. Their traditional cooking style combined with their tastefully eccentric decor offers the perfect place to relax and unwind after a stressful day.
Offering 3 unique spaces for private events, you won't want overlook this gem for your office holiday party!
Vendors Featured in this Article
---
Aria Ristorante
25 York Street, Toronto, ON
Offering a genuine Italian fine dining experience in a contemporary urban setting, Aria Ristorante will not disappoint! Situated next to the Scotia Bank Arena, Aria offers a variety of stunning spaces perfect for a wide range of corporate or social events. With an experienced team at hand ready and willing to infuse some Italian cuisine, design and culture into your next special event, the possibilities are endless!
Aria can accommodate up to 130 dining guests for a private event.
---
La Société
131 Bloor St W, Toronto, ON
La Société is a departure to another time and place; a petite piece of Paris in the heart of Yorkville. Your guests will be treated to a vibrant atmosphere, unmatched design and elevated service including custom floral arrangements, Sommelier services and tailor-made dining experiences.
For private events, La Société can accommodate anywhere from 15-250 guests. Perfect!
---
Planta
1221 Bay St, Toronto, ON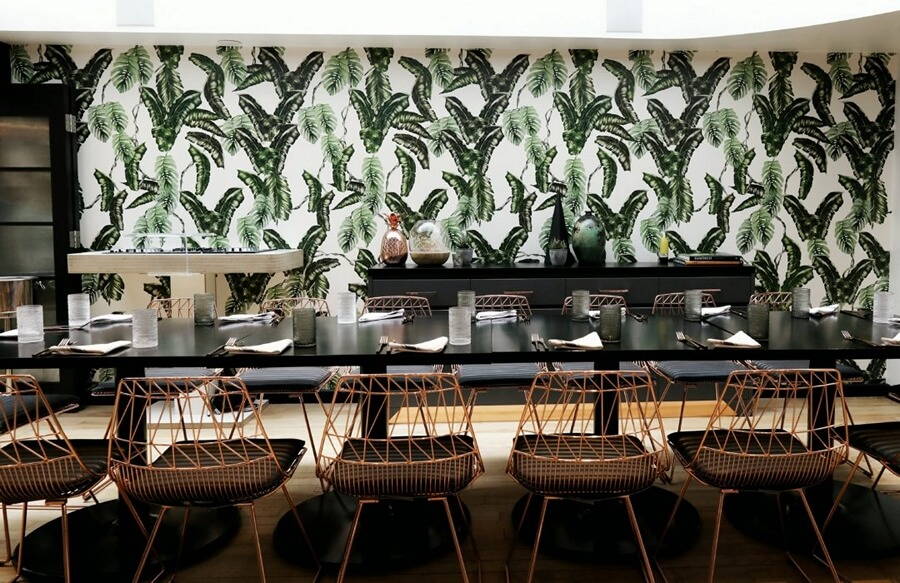 Photo Courtesy of theallonsy.com
Opened with the purpose of being true to the artistic creations of food and environmental sustainability, Planta is THE place to dine if you genuinely care about ethical suppliers, both in food and restaurant design. With their long list of vegan and vegetarian friendly dishes, Planta shows great dedication in showing the world innovative cuisines without the use of any animal products.
Looking to host an epic plant-based bash? With the help of their on-site team, Planta is ready to help host the perfect evening for up to 150 seated guests and up to 174 reception guests.
---
Dasha
620 King St W, Toronto, ON
If a modern Chinese dining experience sounds like something you and your guests will love, then you should definitely check out Dasha for your upcoming corporate party! Their private lounge space features a private entrance, custom catering options, and an in-house sound system! BONUS: you can turn the night up a notch in one of the restaurant's private karaoke rooms … we're sold!
The private dining lounge at Dasha can accommodate intimate events with up to 95 guests!
---
Boehmer
93 Ossington Ave, Toronto, ON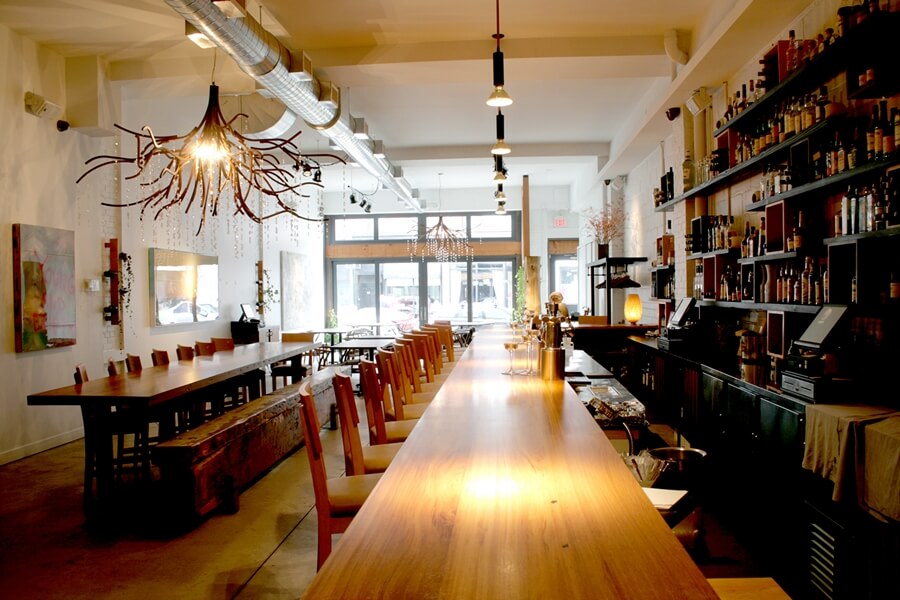 Photo Courtesy of brothersdressler.com
Located on Toronto's Ossington strip (and known for their New Canadian cuisine), Boehmer Restaurant is a one stop shop when it comes to events! Featuring a diverse menu and a variety of cocktails and wines, this unique restaurant is ready for you and your party!
You may have heard that this chic space hosts fabulous parties – and we are happy to report that it's true! Available for intimate gatherings, their private dining room can accommodate up to 20 guests. A great option for those of you looking for a spot for a smaller team celebration.
---
Piano Piano
88 Harbord Street, Toronto, ON
What could be more perfect than a fun, casual and versatile space for your upcoming corporate event? The team at Piano Piano Restaurant is ready, willing, and able to work closely with you and transform the layout of their space however your heart desires it!
The main dining room of this swanky restaurant can comfortably accommodate up to 100 guests.
---
Gusto 101
101 Portland St, Toronto, ON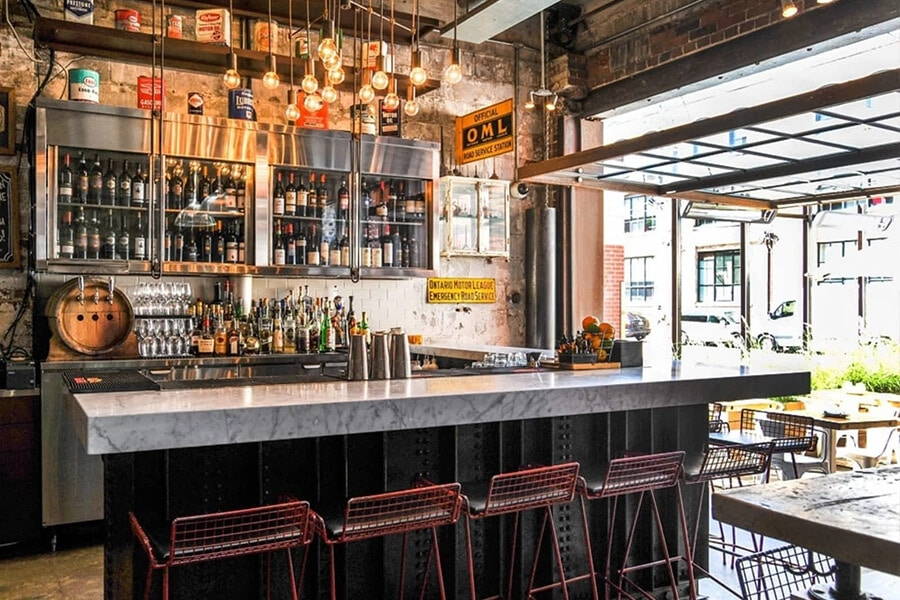 Photo Courtesy of Yellow Pages
If modern takes on Southern Italian classics is your jam, then you cannot go wrong with Gusto 101. Since opening their doors in 2012 in a re-purposed garage, Gusto 101 has shown great care and consideration into their food and drink as well as their architecture and design – and guests absolutely love the restaurant's celebratory vibe!
Since they've been around for quite some time, Gusto 101 is a master at hosting events! Perfect for your upcoming holiday party, Gusto has 3 private dining spaces available: their private wine cellar that seats up to 20 people or their rooftop party table which seats up to 30 people. For larger parties, you can also buyout the restaurant to accommodate anywhere between for 50 and 200 people.
---
The Forth
629 Danforth Ave, Toronto, ON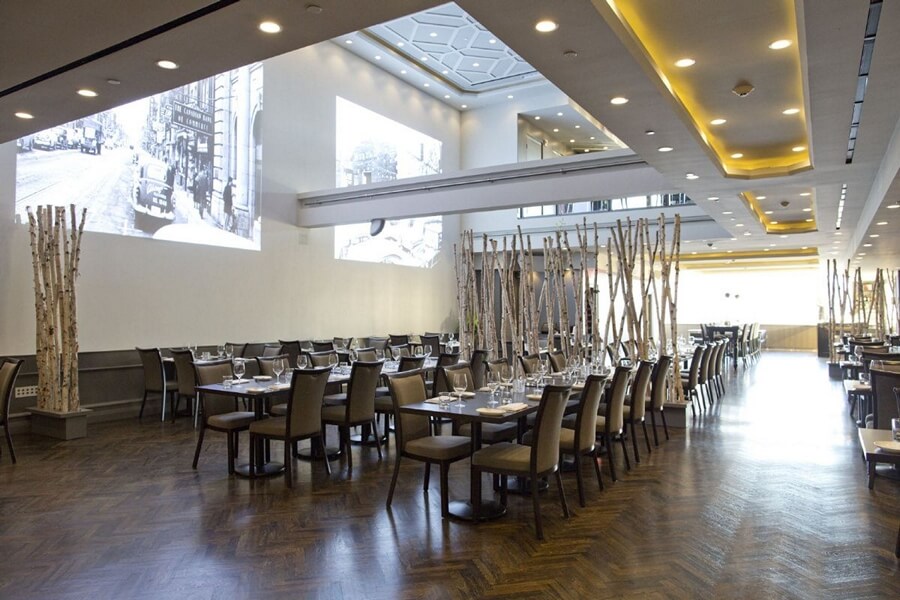 Photo Courtesy of the Toronto Star
With 8,000 sq. ft. of space perfectly decorated with a fresh modern design and state-of-the-art audio/visual equipment, The Forth's grandiose venue has enough room for any themed private or non-private event of your choice! With a team of well experienced event specialists at the helm, the venue is ready and willing to work with you to plan your next event!
Offering a first-class view of Toronto's iconic Danforth Avenue, this luxurious three-story venue can comfortably accommodate groups of 50 to 400 people.
---
The Citizen
522 King Street West, Toronto, ON
If you're looking for an upscale, sophisticated sports-bar, then The Citizen Restaurant + Bar is the place for you! Boasting 5,000 square feet of warm, inviting restaurant & bar space, and showcasing a ton of vintage sports paraphernalia, The Citizen offers a truly unique experience for you and your guests! From personally-designed menus to specialty crafted cocktails, the dedicated in-house team is ready to help you make your event unforgettable.
Offering private and semi-private spaces, The Citizen can accommodate anywhere between 50 and 590 people.
---
CRAFT Beer Market
1 Adelaide St. E, Toronto, ON
CRAFT Beer Market is a premium craft beer experience complimented with sophisticated comfort food. Since their 2011 launch in Calgary, this mighty restaurant has not slowed down in their growth and passion all around Canada. With great food, great beer (over 100 beers on tap!) and and a unique setup, CRAFT Beer Market is definitely the next destination of your event!
Their large, multi-level space includes fully venue buyouts,  semi-private areas and a large patio capable of accommodating up to 400 guests!
---
Rodney's Oyster House
469 King St W, Toronto, ON
Is your office full of seafood lovers? Then Rodney's Oyster House is the place to hold your office holiday party! Located on the south side of King Street West, this restaurant will send your taste buds into a frenzy! From their pristine food quality to marine-life decor, if you're looking for a maritimes east-coast inspired party, then you can't go wrong at Rodney's! With customized menu options (including non-seafood and vegan options) there's sure to be something for everyone.
Their private and semi-private group zones can accommodate up to 175 guests at a time.
---
The Loft on King
485 King St. W., Toronto, ON
The Loft on King is nestled on the third floor of Baro and is a full-service event space that spans 1, 850 square feet and is ready to be customized as you see fit for your upcoming holiday party! Inspired by minimalist venues in New York City, the space boasts beautiful polished concrete flooring paired with a brick-and-beam aesthetic, offering the perfect space for large groups and intimate affairs alike.
The Loft at Baro can accommodate gatherings of up to 210 guests.
---
Toula
1 Harbour Square, 38th floor, Toronto, ON
Talk about those city views, Toulà Restaurant & Bar sits high above Toronto's entertainment district, overlooking the beautiful city skyline and Lake Ontario. It's atmosphere is elegant and sophisticated, yet comfortable and cozy – perfect for your next corporate event!
Toula can accommodate gatherings of up to 220 guests.
---
TERRONI Adelaide
57 Adelaide St E, Toronto, ON
Housed inside the historic York Country Court House is the amazing TERRONI Adelaide – a great place to stop for cocktails after a busy day. Sporting a spectacular dining room, sunlit atrium and authentic fireplaces, Terroni Adelaide is surely the hidden gem you are looking for for your upcoming holiday party!
Whether you are looking to host an intimate dinner for a small group or a large corporate event, this modern restaurant has four levels of space for up to 350 guests.