This past weekend, the Mississauga Convention Centre opened its doors to hundreds of couples from across the city to host its annual wedding fair open house!
If you've not been, the MCC is a beautiful, modern banquet hall with a very elegant feel. The versatility of the space allows it to accommodate both intimate, cozy functions in the range of 160; as well as larger events up to 2,500 if you're so inclined. Undressed, the space features subtle, neutral tones, providing tons of creative freedom when it comes time to start thinking decor!
Every year, the team at the MCC and their preferred vendors come together to put on an amazing showcase for prospective couples. The friendly photography team at Digital Dream Productions captured all the gorgeous details below!
Vendors Featured in this Article
In-house decor provider Elegante Decor did a fabulous job combining a classic, yet modern look for the main ballroom. We loved the tiered floral centerpieces, delicate candlelight and embroidered overlays on the guest tables. Perfect for romantic receptions!
The gorgeous sweetheart table used a combination of a simple, illuminated backdrop with a mirrored table and king and queen chairs.
Each room features lovely high ceilings with a fab chandelier and pin-spot lighting – which makes illuminating that centerpiece that you took forever to decide on, that much easier! Great lighting can make or break a space — luckily at the MCC, the lighting options and combinations are endless!
The MCC is known for its exceptional food, which is no easy feat for a venue of its size. Friendly and prompt staff passed delicious appetizers, like the Applewood Smoked Buffalo Chicken, Mini Yorkshire Roast Beef Pudding, and Sushi Pizza! Fan favourites included the Chicken and Waffle Station, the Creme Brule Station, and the Passionfruit Mousse! Each station featured lovely decorative accouterments, serving to enhance an already impressive assortment of delicious cuisine.
MCC boasts an impressive list of preferred vendors, all of whom were onsite to chat with interested guests about their services. We saw many friendly faces, like Rob from A Celebrity Limousine who was giving guests tours of his impressive fleet of luxury vehicles. Enduring Promises was on hand to discuss the importance of having a professional and personable wedding officiant with couples in attendance.
bb Blanc Audiovisual was onsite showcasing the latest in cutting edge audio/visual technology and entertainment.
Laser2Engrave showed couples how to use laser cutting technology to create customized event novelties, like cake toppers and table numbers.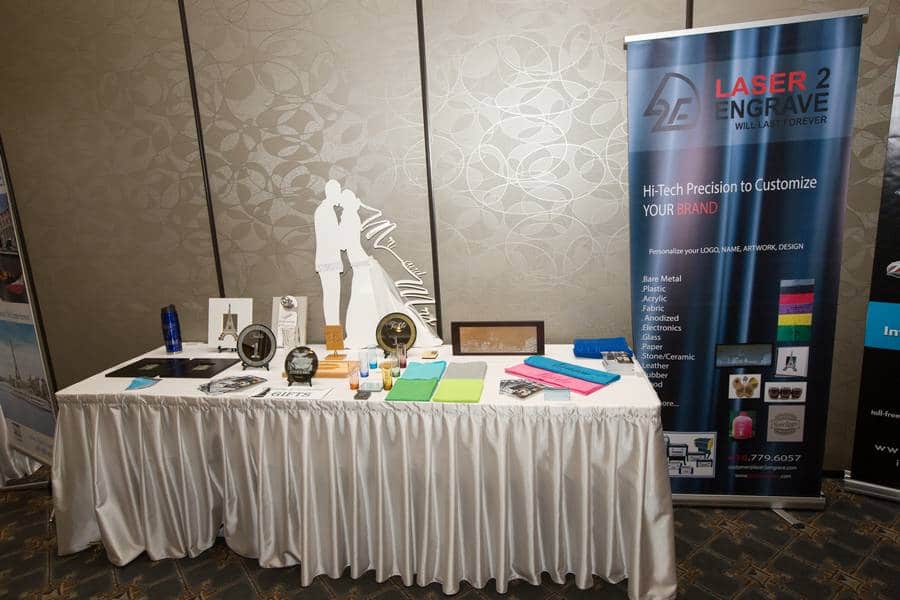 The fine folks at 4MenUnited had fantastic suits and even better deals for grooms and groomsmen. iEvent Rentals, which provides wedding and event entertainment, had many guests milling around to see the types of different packages they offer.
We loved the beautiful lounge space design, provided by our friends at Detailz Couture Event Rentals. We couldn't help but notice many a guest admiring the lovely furniture.
Our friends at Naturally Captured captured the flow of the event, as well as the details of the beautifully appointed wedding space.
It isn't often that an open house opens up to a fully-packed crowd right at the very beginning of the event, but the MCC had guests ready to mingle before the doors officially opened! The good folks at the MCC and their talented team of vendors deserve a round of applause for once again showing the GTA why the Mississauga Convention Centre remains a top-tier event space within the west end. We're looking forward to seeing what the team is cooking up for next year!