Your wedding day is a celebration of you and your partner's relationship, but it is also a chance to celebrate everyone who helped you along the way. There are a lot of ways to honour people who have played a special role in your life – your bridal party, your MC and even standing witness to your marriage certificate. Traditionally, the Maid of Honour and Best Man would serve as witnesses, however in recent years more and more couples are opting for someone different to sign their marriage certificate.
Why is this the case? Some couples are opting to not have bridal parties at all or have multiple MOH's/Best Men. Other couples are looking to honour someone special to them that didn't fit into another role in the wedding. At the end of the day, you no longer need to stick with tradition and have your Maid of Honour or Best Man sign your marriage certificate. So, who can sign as a witness on your marriage license?
1. Your best friend: If you and your partner are opting to forgo the bridal party all together, but still want to honour your best friends in some way, have them be your witnesses. This allows them to sit where they would like and not be 'on' for the whole day but honours your friendship in a meaningful way.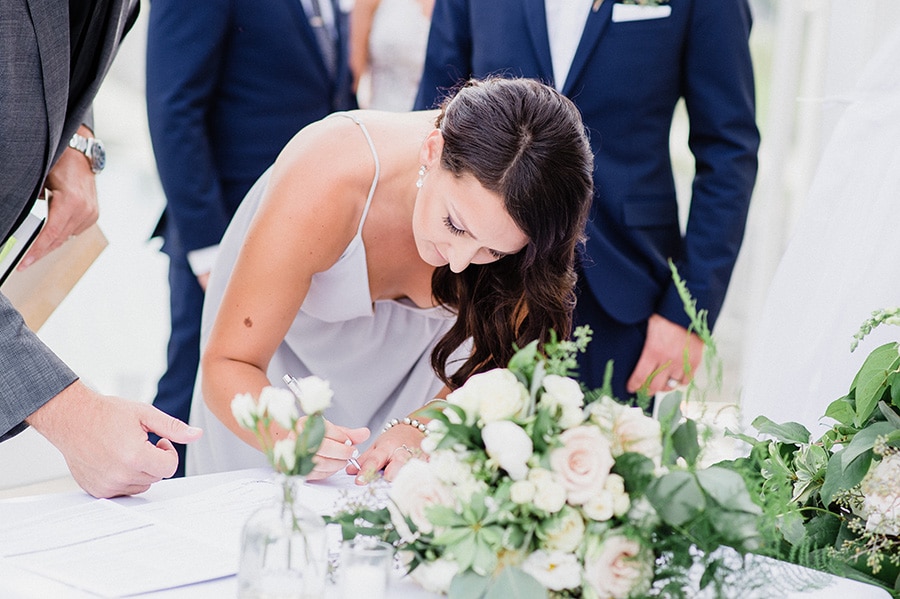 Photo Courtesy of Jenn Kavanagh Photography
2. The moms: Since traditionally, the bride's father walks her down the aisle, some couples are opting to have the moms sign the marriage certificate so that they also get to play an important role in the ceremony.
3. Your grandma, grandpa or other senior relative: If you're looking for a way to involve your senior relatives that will create memories and give you a special keepsake from your wedding day, consider having them sign your marriage certificate. They will be thrilled to be involved and when they are no longer with us, you will have a wonderful memory of them always.
You May Also Be Interested In
At the end of the day, who you pick to witness your marriage certificate should be meaningful and someone who's signature you won't mind seeing every time you look at it! If you're not picky, going the traditional route of Maid of Honour/Best Man is always a good idea– but if you'd like to up the sentimentality, consider having a close family member sign instead!