When planning a wedding, one of the things that needs to be considered is the day of the week that your big day will fall on. While most couples opt to get married on a weekend, there are some that are choosing to get married on a weekday instead. Of course, there are pros and cons to each to consider.
---
Getting Married on the Weekend
Pros:
More convenient for your guests: Planning your wedding on weekend ensures that most of your guests will not have to book time off work to attend, making it more likely that they will be there.
Your guests can sleep in the next day: Having your wedding on a Saturday, or even a Friday means that the next morning, your friends and family are able to sleep in and rest their dancing feet!
You don't have to book extra time off work: Since you'll likely be booking time off for your honeymoon, having your wedding on a weekend means one less vacation day you need to use.
You May Also Be Interested In
Cons:
There are less dates available: Because the majority of couples get married on weekends, your choice of dates may be limited at your preferred venue. This could mean longer wait times if you're dead set on a specific date.
Weekends are more expensive: When you start to look at venues, you will notice that there are usually two price schedules- one for weekends and one for weekdays. Weekends tend to be more expensive per person than their weekday counterparts.
Having a Wedding During the Week
Pros:
You'll save money: Remember how weekends are more expensive than weekdays? Well, having your wedding on a weekday means you can use that money you save on other things… Like a longer honeymoon!
Weekdays are less busy: If you're getting married at a popular or public venue, one of the things you might have to deal with on your big day is unwanted spectators or having to share your venue with another wedding. When you get married on a weekday it is less likely that you will have to deal with these obstacles.
You have your pick of dates: If there is a particular date that is important to you and your soon-to-be spouse, you can avoid waiting a long time before your get married if it falls on a weekday.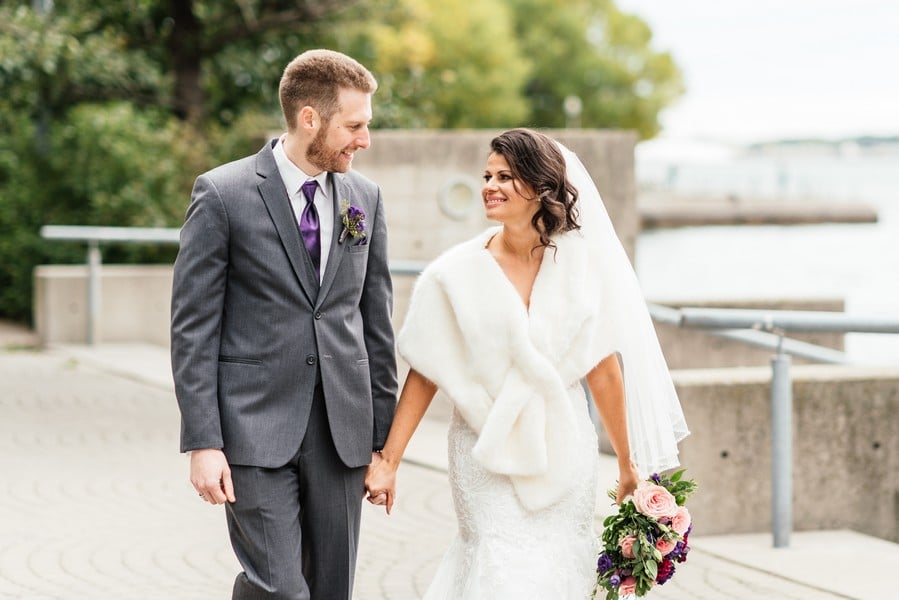 Photo Courtesy of Oak & Myrrh Photography
Cons:
Your guests might not be able to come: Let's face it, people have limited vacation days, and they generally want to use them to actually go on vacation. One of the risks you take with a weekday wedding is having people decline because they do not want to miss work!
Some venues do not operate during the week: Depending on the venue, you might find your choices for weekday weddings are limited. For some venues, the price of the weekday wedding does not significantly offset their staffing costs. If your venue usually operates at a restaurant, they may only book weddings on weekends to allow weekday evenings to be available for their regular customers.
---
All in all, there are advantages and disadvantages to when you plan your wedding. Think carefully about what is important to you and your partner and make the decision that's right for you.