The ceremony is arguably the most important part of the day since its where you actually, you know, get married. So you want to make sure that A – you are legally married and B – that you have a ceremony that reflects you as a couple!
---
Here are some questions to ask potential officiants so you can hire the best one for your wedding!
1. Are you available on my wedding date, and how often will we meet before the wedding?
First things first– make sure your desired wedding officiant is available on your wedding date. Keep in mind that some marriage commissioners expect the couple to participate in pre-marriage counselling with them so they get a feel for the relationship. You can expect to meet with your officiant anywhere from 1-5 times before the wedding.
2. Are you able to perform our ceremony?
Unfortunately, some wedding officiants are only able to perform weddings within the guidelines of their house of worship. So if you're dead set on having your ceremony outside of a parish– you may need to choose a different officiant.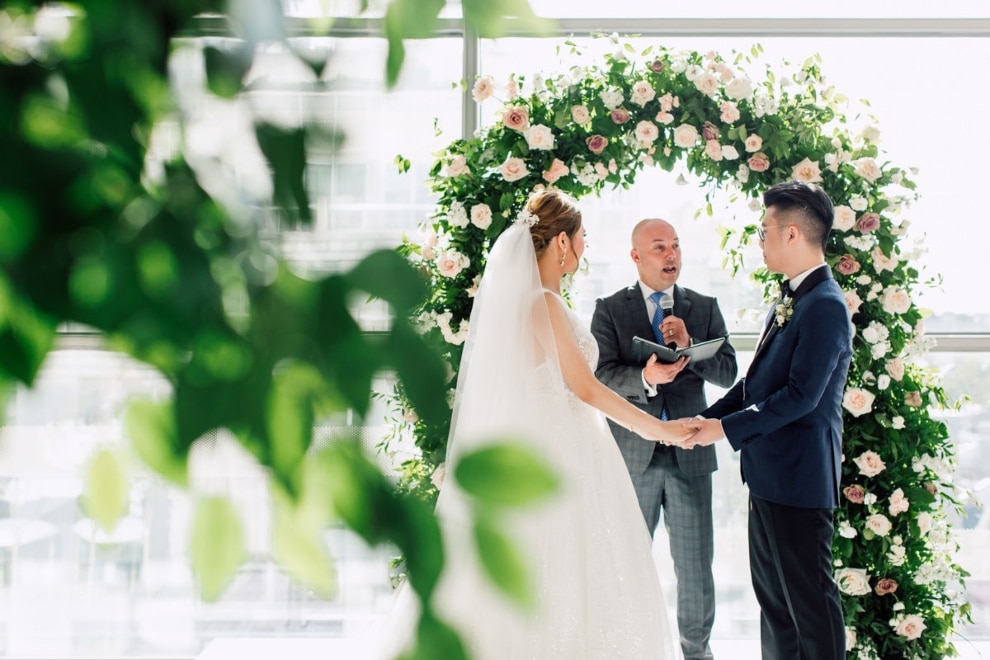 Photo Courtesy of Purple Tree Wedding Photography
3. How much can we customize? How long will the ceremony take?
Besides writing their own vows, some couples are eager to customize every part of their ceremony. Be sure to chat with your officiant about your plans to see if they are able to accommodate. You may find that ceremonies performed in houses of worship or traditional ceremonies have more rules about what you can do. Chat with your officiant for guidance. And, while ceremonies can last from fifteen minutes to three hours, it is a good idea to talk with your officiant about what they feel is the best timing.
4. We're getting married outside of Ontario – are you licenced to perform the ceremony?
In Canada, different provinces have different rules regarding marriage ceremonies. Make sure your officiant is able to perform your ceremony in the province that you are getting married. That being said – since you likely won't want to pay for their travel and accommodation, you can likely find highly recommended officiants wherever you are getting married (hooray for Zoom interviews!).
5. What is the fee for the ceremony?
Rates differ from province to province and even city to city so be sure to factor in the officiant's fee into your overall wedding budget.
You May Also Be Interested In
6. Why do you love weddings? What makes you happiest about being an officiant?
It is always a good idea to get a feel for why your officiant does what they do. This will give you a little more insight into them as a person and ensure that they vibe with you as a couple.
7. What happens in case of an emergency?
If your officiant suddenly falls ill, gets in a car accident or is otherwise unable to make it to your wedding ­– make sure you can still get married at your wedding! Ask about contingencies, backup plans and other preparations they make to ensure everything goes off without a hitch.