Planning a wedding is a big job, and one that requires a lot of thought and research. You definitely want to have the best time possible which is why you should always chat with multiple vendors and make sure you ask all the important questions. On the other hand, you also don't want wedding planning to take over your life and you definitely don't want to spend every free moment of your engagement visiting venues and interviewing photographers. Lucky for you, there is a great solution – the wedding show/open house!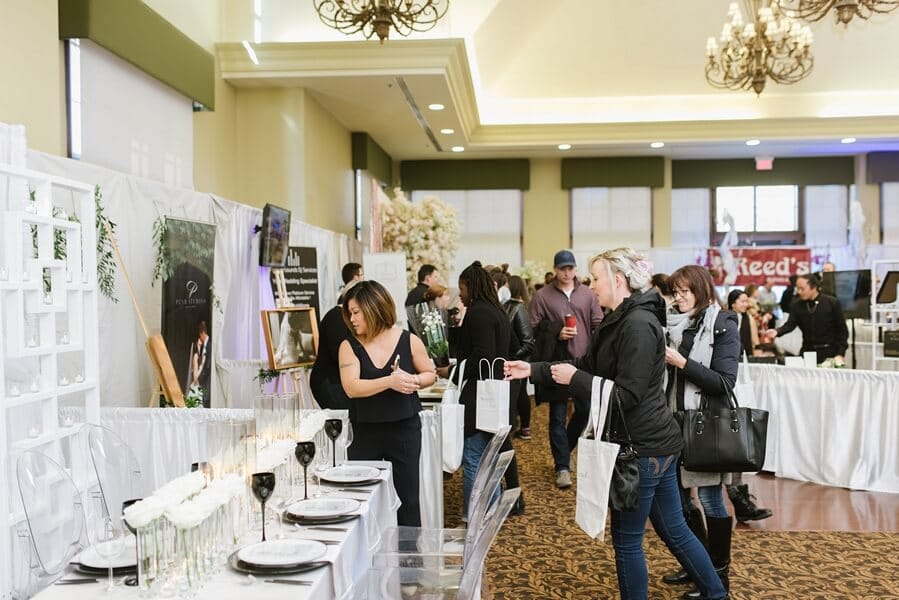 Photo Courtesy of Hilary Spencer
Wedding shows and open houses are quickly popping up all over the place (especially at the beginning of a new year) and are a great resource when you're planning a wedding. They are a one-stop-shop for some of the best vendors in the region. Aside from all the awesome free samples (yum, cake!) and fun entertainment that goes down at these events, there are some practical reasons for going as well.
First of all, you can talk to multiple vendors in one day, from venues, to photographers and even florists. This is great because it allows you to ask all your questions and gather information on the options available. It also gives you the opportunity to get a sense of how it would be working with the vendor. It is important to make sure you get along with any potential vendors, so you aren't worried about your personalities clashing on the day.
You May Also Be Interested In
Another great thing about wedding shows is that many vendors will offer a show incentive if you book with them at the show, or close to it. Whether it's a 'freebie' or a monetary discount, this will help add a little more wiggle room to your budget. Besides, who doesn't like getting free stuff?!
Wedding open houses may not be as big as the wedding show, but are still a great opportunity to tour your venue options and check out their list of preferred vendors in one shot! If you already have a venue in mind, you'll definitely want to see when their next open house is being held!
How to Rock the Wedding Show
Go prepared. See what vendors are there previous to attending and make sure you know what area they are going to be in so you can make sure to hit up their booth. Have your list of questions ready and be sure to grab business cards or brochures from all your favourite vendors!
If you're in the very beginning stages of planning, give yourself time to walk the aisles and see who and what catches your eye. Collect business cards, ask questions and eat all the free cake you can!
You May Also Be Interested In
PRO TIP: Create a separate wedding email address that you can give to potential vendors so that your personal email isn't overrun with a thousand wedding emails a day. You can keep this throughout your planning process so that all your wedding stuff is kept in one place.