Gorgeous florals and décor are absolute must-haves for your wedding. They impact photos, the mood, the ambiance, and the overall vibe! Wildflowers and antique furniture scream "boho chic", while white roses and dainty accents are perfect for a more classic affair. Since florals and décor are high-priority items, as are many other items, budgets can easily spiral out of control. Rest assured, this need not be the case! Below are a few tips to discuss with your wedding planner or floral designer to maximize your floral and décor budget and really make the most of what you're getting.
Have your florals do double duty
If you're planning to have exquisite floral designs during your ceremony, why not use them again when it comes to your reception? Altar pieces can make the perfect centerpiece for your head table and your floral archway can also make a beautiful backdrop behind the bride and groom when they're seated. Most people won't even notice the clever reuse (and realistically, who cares even if they do?).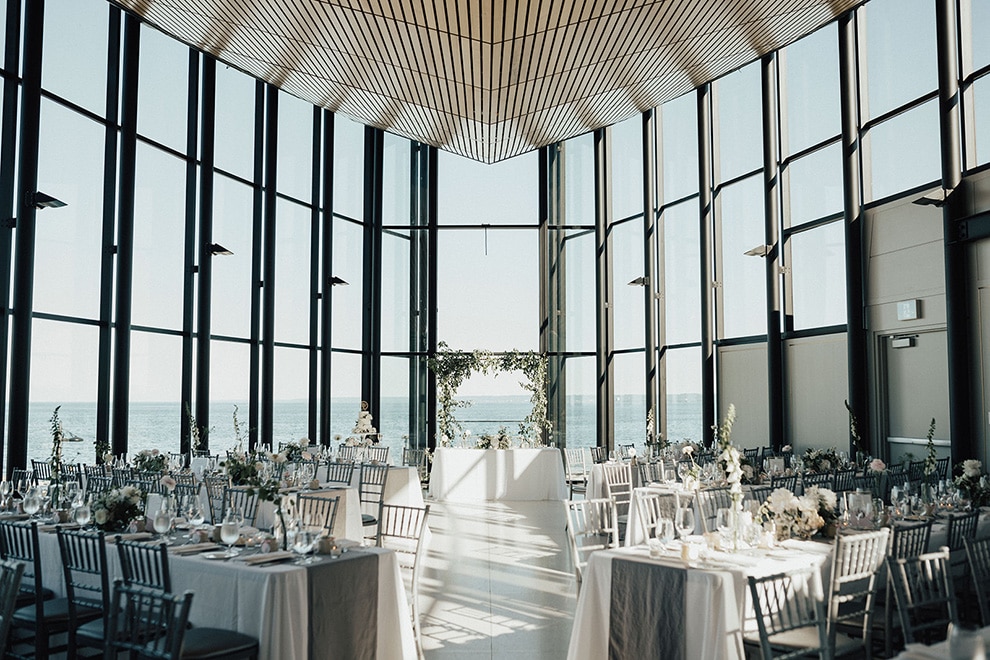 Photo Credit Avanew Studios
To rent or to buy?
For smaller décor items like candle holders, vases, string lights, it's likely that you will have the option of buying the items either online or from specialty retail shops. Before you go and purchase what you need, we strongly recommend that you price out the equivalent rentals. Choosing to rent décor pieces is not only an affordable option when it comes to your big day, but it's also a sustainable choice too. You're saving money while also saving single-usage décor from ending up in the landfill. The best part is, many wedding planners have a slew of décor options that will match perfectly to your theme so you won't likely have to compromise on style either.
You May Also Be Interested In
Use seasonal florals or locally-grown florals
Your favourite flower might be peonies but if they're out-of-season or need to be imported, then you might be paying a hefty fee. Using flowers that are in season or those that are grown locally will definitely save you some money and will look better too. Flowers that are in season typically look fuller and healthier, which will make a big difference.
Photo Credit Carly Buma Photography
Try DIY décor
Thanks to sites like Youtube, Etsy, and Pinterest, DIY décor is an increasingly popular trend, and for good reason. It's not only both economical and eco-friendly, but DIY décor also gives a personal touch that can't be bought. Often brides and grooms will create meaningful décor that either speaks to their relationship or a particular hobby of theirs, or both. Maybe your groom is a carpenter or you like to paint. Putting together your talents will maximize your décor budget and help make your wedding feel even more special.
Choose bigger blooms
When it comes to flowers, bigger can be better. Larger flowers, like orchids and calla lilies, are elegant and dramatic but they also cover more space. Meaning you won't have to buy as many as you would for a smaller flower. Think maximum impact, minimal fee.
Consider vintage or lightly used décor
Another great option for saving a few bucks on décor is to drop by a vintage or consignment shop. You may even have some items at home or perhaps you can borrow some unique décor items from a friend. A little help can go a long way!
Small accessories; big results
This is a good tip when it comes to maximizing both your flowers and décor budget. If you're looking to fill in space, whether it's for your centerpieces or empty areas within the venue, consider smaller accessories that add a classic vibe. Things like candles, tea lights, and votives, or adding greenery such as ivory or ferns. Also, lush greenery looks expensive without the price tag and is less expensive than flowers. Even adding some tulle or ribbon to arrangements can make them look larger and more extravagant. Tiny potted plants and succulents are also an inexpensive alternative that will add to the ambiance without a huge impact on your pocketbook.