Once the excitement of your engagement has settled down, it's time to actually start thinking about planning the wedding. One of the decisions that happens early on is who you are going to have in your bridal party. You've got your man, but you still need your girls – and when you're planning a wedding, they tend to be more help than a lot of grooms anyways ;)!
You May Also Be Interested In
Before you ask them, make sure you've really thought through who you want to stand next to you on your big day. Choose friends and family who are close to you, but who are also going to help you get through planning the wedding without causing any drama.
It has been on trend recently to 'propose' to your bridesmaids – meaning you get to have some fun when you ask your girls to stand with you. Here are some of our favourites:
Personalized Wine Glasses/ Personalized Anything:

Wine glasses or tumblers that say "bridesmaid" and your friend's name are not only cute, but they are practical and a great memory for your friend to have. Wine not your thing? You can also personalize t-shirts, necklaces, hats or bags.



Accessories:

Give your girls something they can wear to the wedding. Popular choices are bracelets, earrings and of course, rings! You can also opt to get your girls something they can wear as a hairpiece that will look good with a variety of hairstyles. By giving your girls something they can wear, you add continuity and give them a wonderful memory. Not to mention, they will appreciate having something they can wear again!

Champagne or Wine:

When you're planning a wedding, everything is a reason to celebrate! So, grab your girls and cheers to them standing beside you. Some brides opt for custom stickers that read "

Now it's my turn to pop the question! Will you be my bridesmaid?"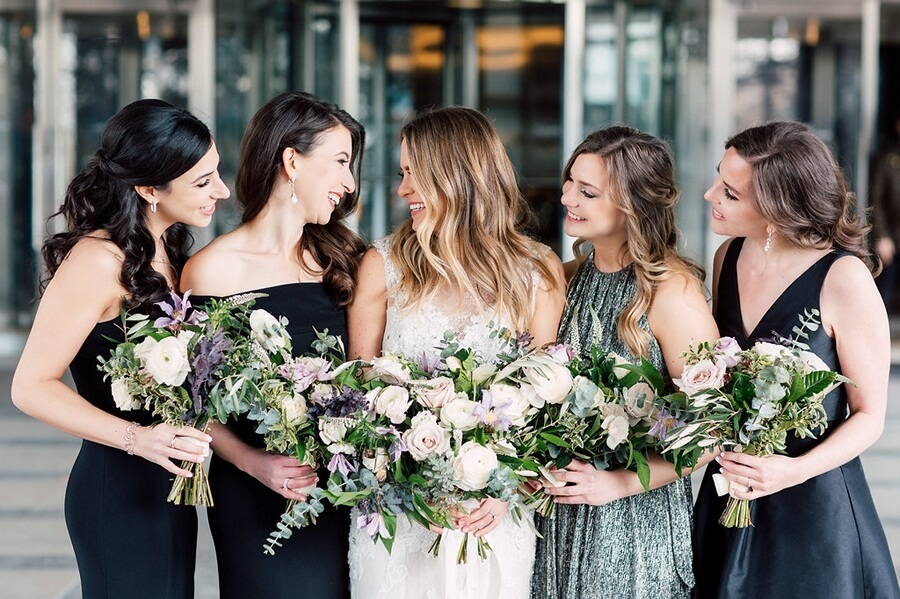 Photo Courtesy of Purple Tree Wedding Photography
When asking your girls to stand beside you, make sure you make it personal. Call out something that you share, or that is representative of your friendship. Always make sure you let them know how much they mean to you and how much you would appreciate their support through the planning process and on your big day.
Can't decide on your favourite from above? Combine all of them into a gift box and invite your squad over for a girl's night!