Whether you're planning a wedding, corporate event, or birthday party, a photo booth can add a fun and interactive element to your special event. Photobooths have become a popular choice for event planners and hosts alike, as they offer guests a chance to capture special moments and create lasting memories. However, with so many different photo booth options available in Toronto, it can be challenging to choose the right one for your specific event. In this article, we'll explore some essential factors to consider when selecting a photo booth for any occasion, so you can ensure a successful and memorable event that your guests will love.
Vendors Featured in this Article
---
Open Air Photo Booth: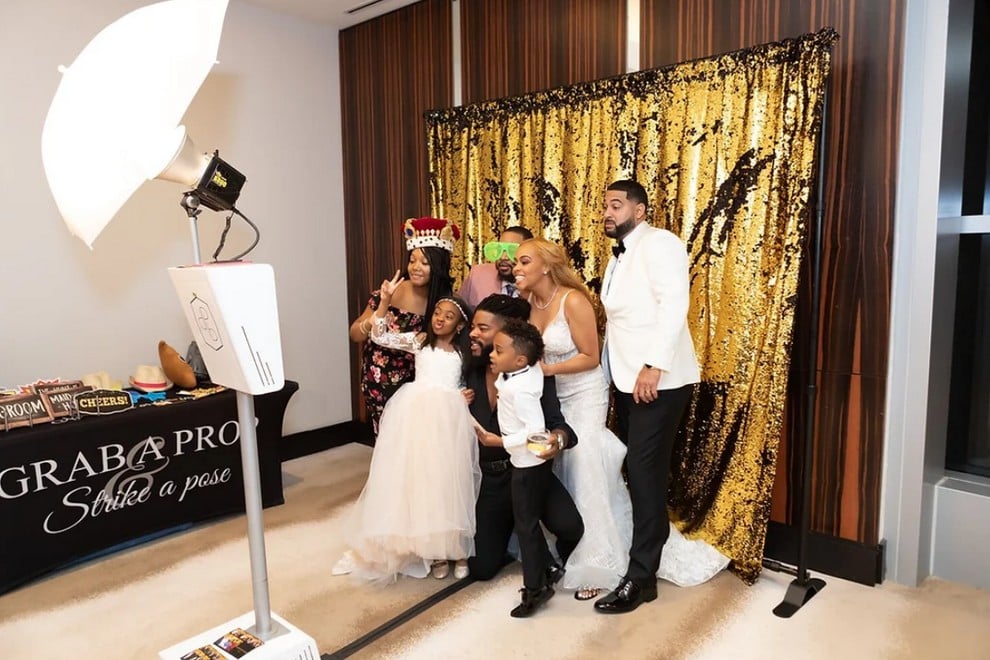 Photo Credit: All Star Photo Booth
Open-air style photobooths are an excellent option for events, particularly those with large groups of people. With their open design, they provide ample space for guests to pose for photos, making them ideal for corporate events or weddings. Another advantage of open-air style photobooths is their versatility – they can be customized with either simple or elaborate backdrops and props to match any event theme or style. The booth can either be operated by a photographer or an automatic camera, with guests simply pressing a start button to capture their photos. As the most common type of photo booth nowadays, open-air style booths also offer the convenience of instant gratification, with photos either printed on the spot or texted/emailed to guests. Overall, open-air style photobooths provide a fun and interactive way for guests to create lasting memories at any event.
---
Classic Style Photo Booth: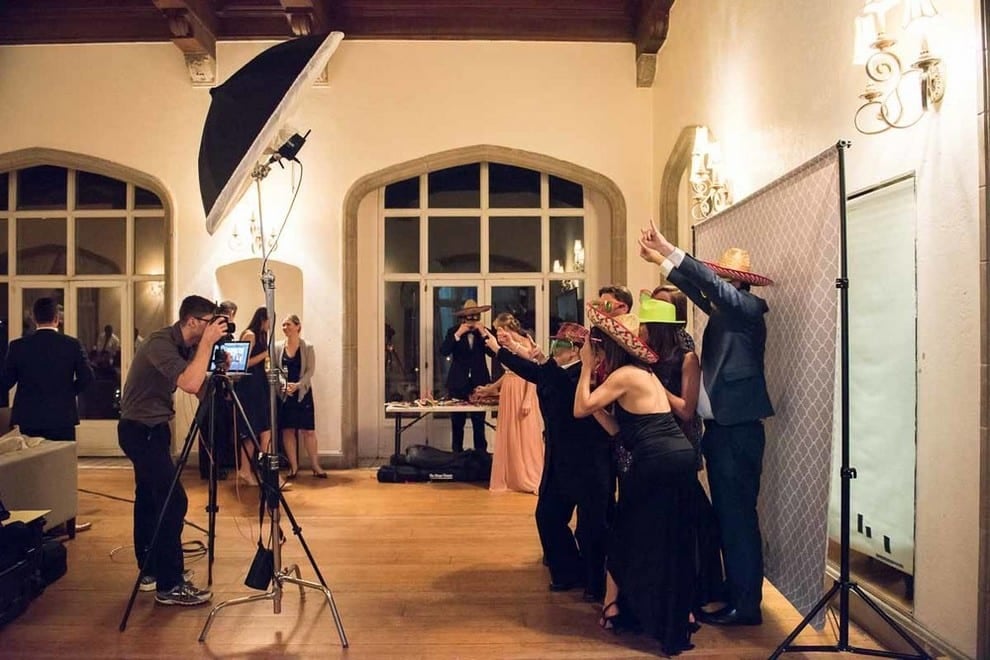 Photo Credit: The Photo Booth Place, California
Classic style photobooths offer a simple solution that many guests love. These booths usually include a photographer who takes the photos with a camera, providing a more personal touch. Despite their traditional design, classic style photo booths can still be customized with tons of props and backgrounds for guests to use, making them a great choice for any event. Plus, like open-air style booths, classic style photo booths usually print photos on the spot or can email/text them to guests, allowing them to take home a physical keepsake or share their memories with friends and family. Overall, classic style photo booths provide a fun and nostalgic experience that can add an extra level of excitement to any event.
You May Also Be Interested In
Roving Photographer: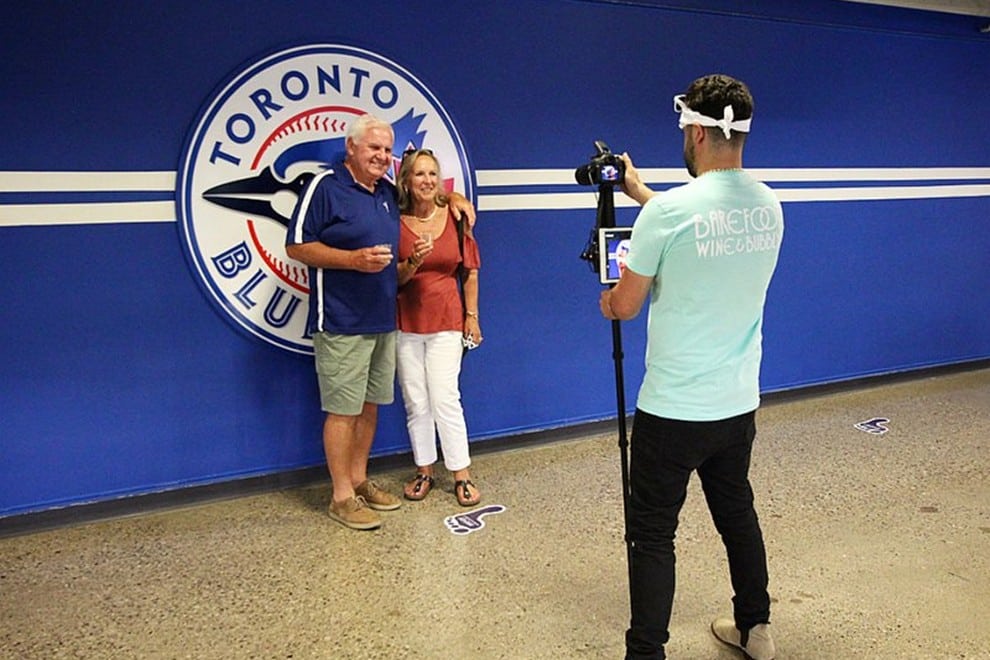 Photo Credit: Event Circle
Depending on the format of your event, you may find a roving photographer to be your best fit. A roving photographer has the ability to move around and capture candid moments that may not have been possible with a stationary booth. This allows for a more dynamic and diverse range of photos that can capture the energy and atmosphere of an event. Additionally, a roving photographer can interact with guests and direct them for posed shots, providing a more personal touch to the photography experience. A roving photographer also has the ability to capture larger group shots or photos in unique locations, without being limited by the size or location of certain photobooths.
---
Polaroid Station: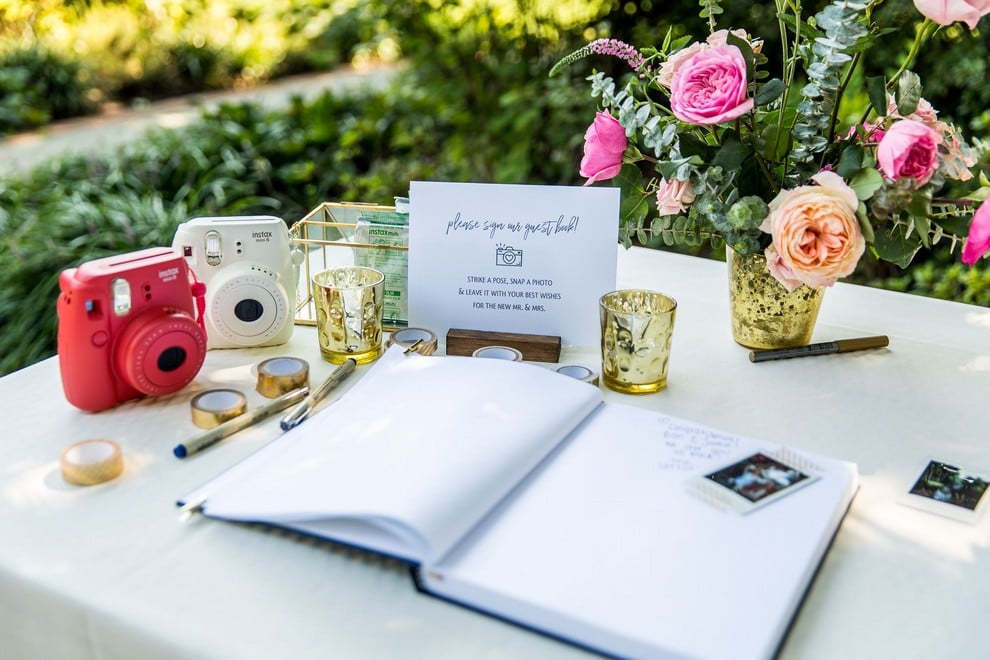 Polaroid booths offer a cute, simple, and fun way for guests to capture memories at an event. With a simple set up that includes a camera that prints instant photos, guests can operate the booth themselves without the need for a photographer. This makes the Polaroid booth a more budget-friendly option compared to hiring a professional photographer or renting traditional photobooths. The booth can be set up in a specific area, or guests can take photos as they wish, providing more flexibility and spontaneity. Overall, Polaroid booths provide a unique and nostalgic way for guests to capture memories at an event and take home physical keepsakes to cherish.
---
Selfie Station:
Photo Credit: MDRN Photobooth Co.
A selfie station can be the least expensive and simplest option for capturing memories at an event. With this option, any type of backdrop can be set up and guests can take their own photos using their own phones and/or cameras. They can then upload these photos to a specific "event" site to share with a group or to social media sites, adding hashtags to tag the couple or event. This allows guests to easily capture and share their memories, and provides the couple with a collection of photos from their event that they can look back on for years to come. Overall, a selfie station can be a great way to add an interactive and fun element to any event, while also providing a simple and cost-effective way to capture memories.
---
Green Screen Video Booth: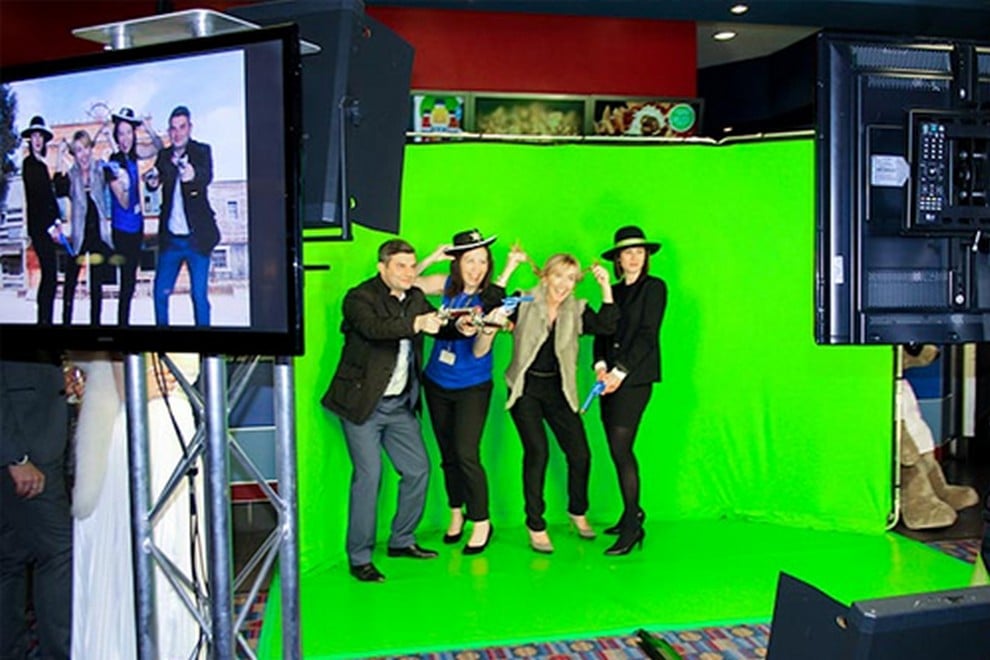 Photo Credit: Liquid Entertainment
Green screen photobooths are a fun and popular option for events and parties due to its versatility, interactivity, personalization, and high-quality photo output. With the use of digital software, the greenscreen technology allows for the replacement of the green background with any image of your choice, allowing for the creation of custom backdrops that fit the theme of the event. This feature makes it easy to switch up the backgrounds between photo sessions, creating a unique and personalized experience for each guest.
---
GIF Maker Photo Booth: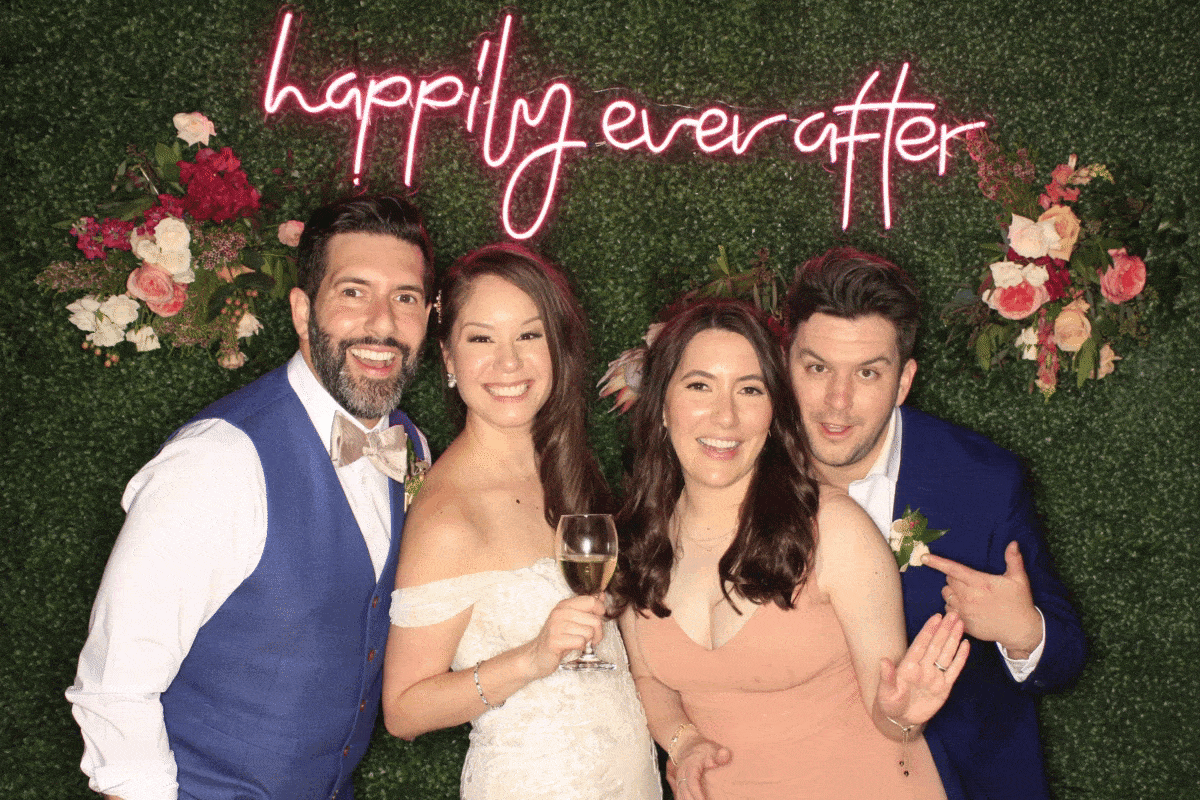 Photo Credit: Pixster
Here's a fun and entertaining photo booth option that is gaining in popularity. Unlike traditional photobooths that produce still images, gif maker photobooths allow guests to create short animated clips. This feature adds a new level of interactivity, as guests can experiment with different poses, movements, and expressions to create unique and memorable animations. Additionally, guests are offered a variety of creative options, such as the ability to add filters, stickers, and text overlays to the animations. This allows for personalized and customized content that guests can share on their socials. We love this idea for both weddings and corporate events!
---
Glam Photo Booth: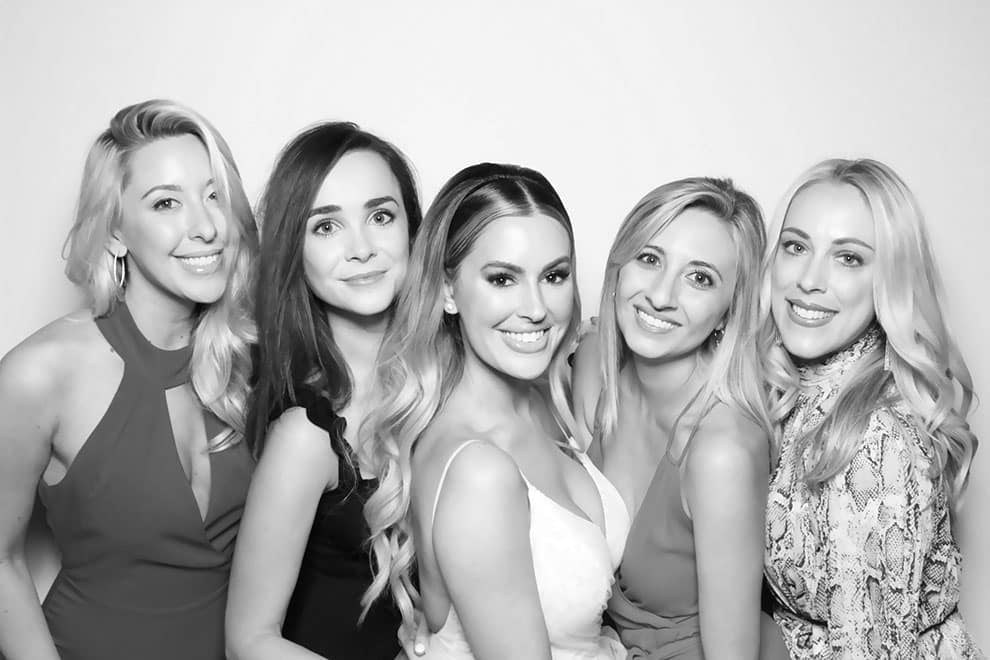 Photo Credit: Flash Bulb Photo Booth
Made famous by the Kardashians, a Glam Photo Booth works just like any other photo booth, but applies skin softening filters (similar to Snapchat and IG) to highlight your best features while also helping to soften some of our natural blemishes and contours. The black and white format also lends a touch contrast and drama to the images. Glam photo booth images are typically propless and are shot again flat, white background. Photos can be printed out on-site or sent via email/text.
---
Bus Photo Booth: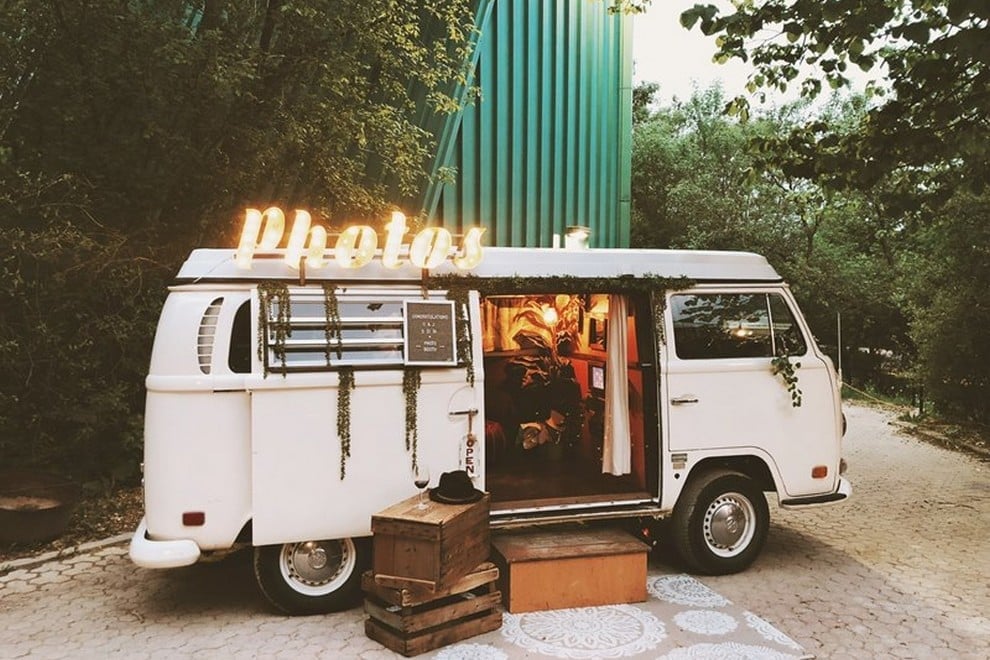 Photo Credit: The Photo Bus Booth
With its vintage charm and inherent heightened fun factor, a bus photo booth can often be customized to match the theme or style of your event. While typically a little pricier than a traditional photo booth, guests love that you can decorate the exterior and interior of the bus with props, banners, and lighting to create a unique and memorable experience for your guests. Additionally, a bus photo booth typically has more space than a traditional photo booth, allowing for larger group photos and more creative poses. These photobooths work great for outdoor-style events.
---
Enclosed Photo Booth: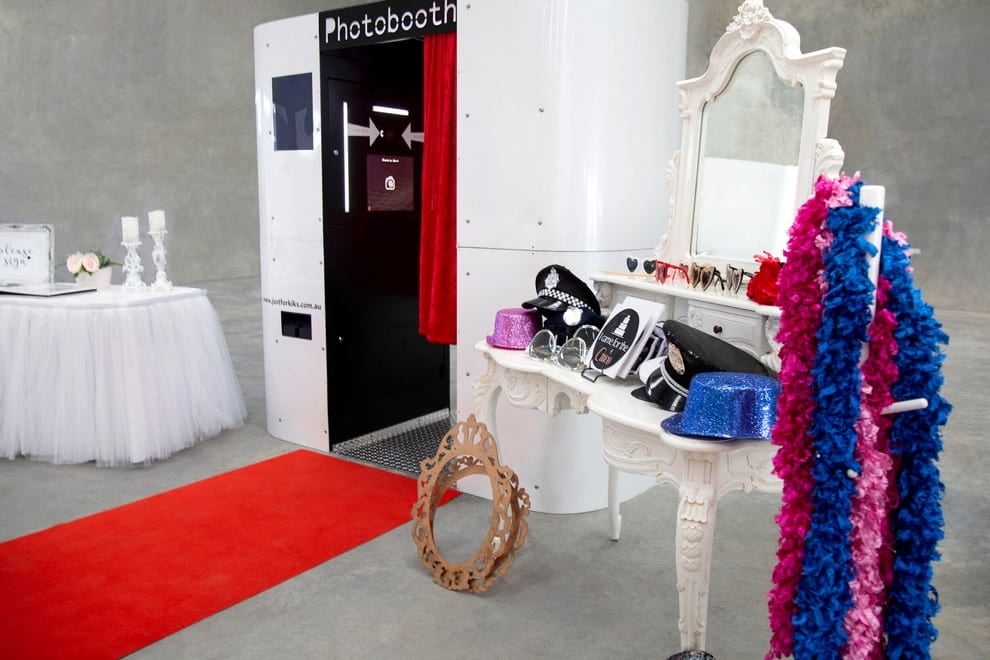 Photo Credit: JustForKiks
Similar to the photobooths you used to see at the mall back in the day, one of the most significant selling points for enclosed photo booths is that it provides guests with a level of privacy that is not possible with an open-air photo booth, thus helping to significantly reduce the dreaded I-don't-know-what-to-do-with-my-hands factor. This is especially important for guests who are shy or uncomfortable being photographed in front of others.
Another advantage of enclosed photo booths is that they offer the option to customize prints with logos, branding, and messages. Also, since the unit is fully self-contained and purpose built, the quality of the images is often higher. These factors help make them a great marketing tool for businesses and organizations looking to promote their brand or message at an event.
---
Magic Mirror Photo Booth: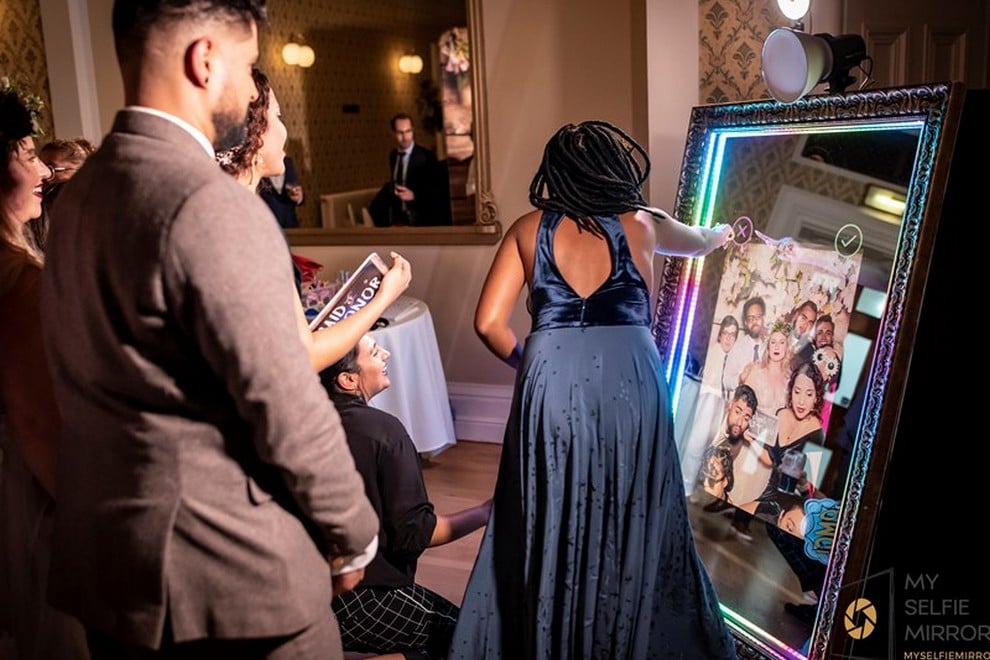 Photo Credit: My Selfie Mirror Photo Booth
A magic mirror photo booth, also known as a selfie mirror, is an increasingly popular type of photo as it provides an interactive and fun experience for guests. They can use various props and backdrops to create unique and personalized photos. Additionally, magic mirror photo booths can be customized with different frames, filters, and animations to match the theme of the event or brand. They can also be connected to social media platforms, allowing guests to share their photos instantly with their friends and followers. If you prefer to print on the spot, these photo booths provide the versatility to allow you to do so.
Since this style of photo booth is usually smaller and more compact than traditional photo booths, it often makes them making them a great choice for events with limited space. They're also super easy to use and require minimal setup. Guests can simply walk up to the mirror, follow the on-screen instructions, and take their photos.
---
Slow Motion Video Booth: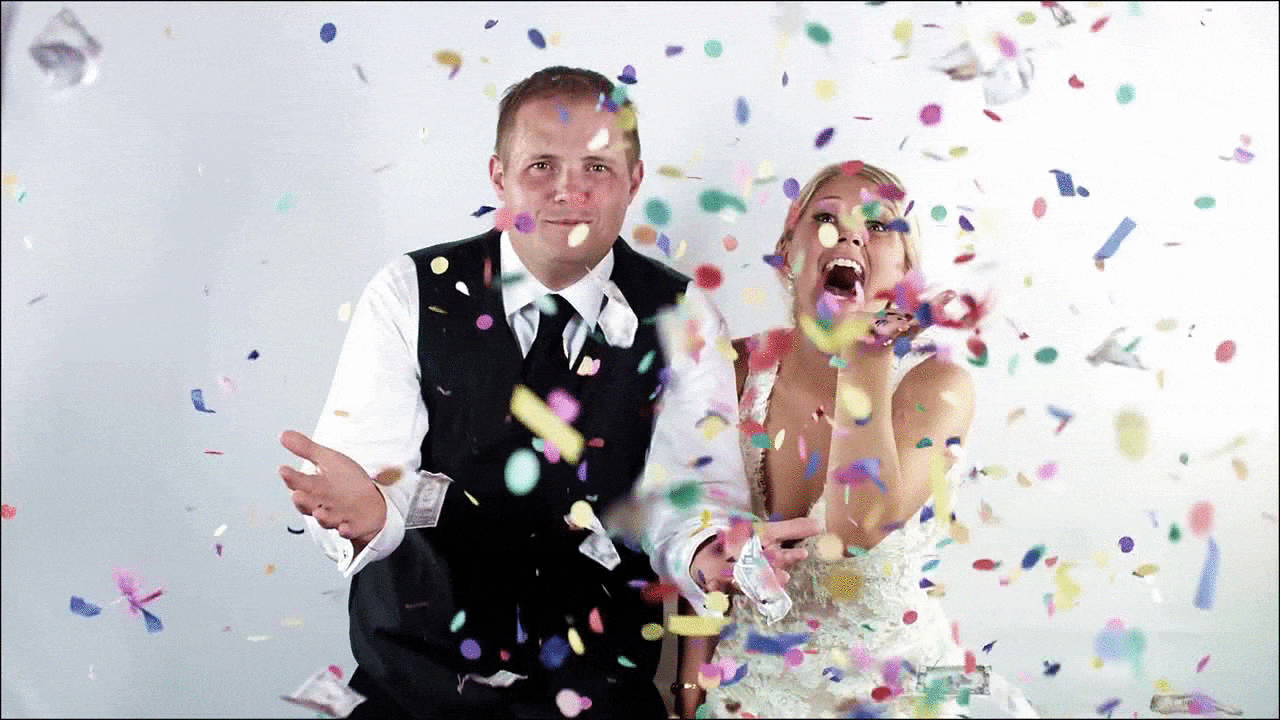 Photo Credit: SloMoLounge
As the name suggests, a slow motion photo booth is a newer type of photo booth that captures video footage of guests performing an action in – you guessed it – slow motion. Needless to say, this type of photo booths provides a far more unique and engaging experience for guests. Since they capture fun and memorable moments in slow motion, there's a significant novelty factor which makes them stand out from regular photo booths. Additionally, slow motion photo booths are perfect for capturing action shots, such as guests jumping, dancing, or throwing confetti. This can create exciting and dynamic footage that guests will love.
Slow-mo booths create a form of entertainment that can keep guests engaged and entertained throughout the entirety of your event. They create a lively and fun atmosphere, adding to the overall enjoyment of the event.
---
180-degree Photo Booth: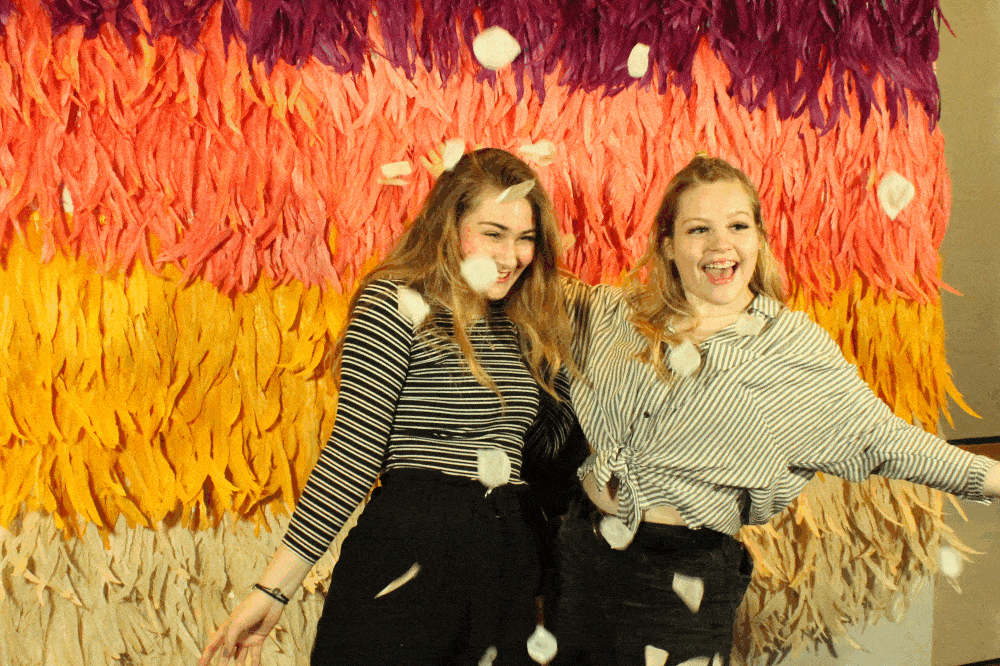 Photo Credit: Ovation Events
We all remember the famous bullet-time scenes in the original Matrix movie, right? Well, this super-cool 3D effect can be recreated using a 180° photo booth. Multiple cameras are set up in a semicircle to capture photos from slightly different angles then photos are stitched together to create short, animated GIFS or "frozen in time" photos that can be displayed on screens to view during events or uploaded to social media sites.
---
360-degree Photo Booth: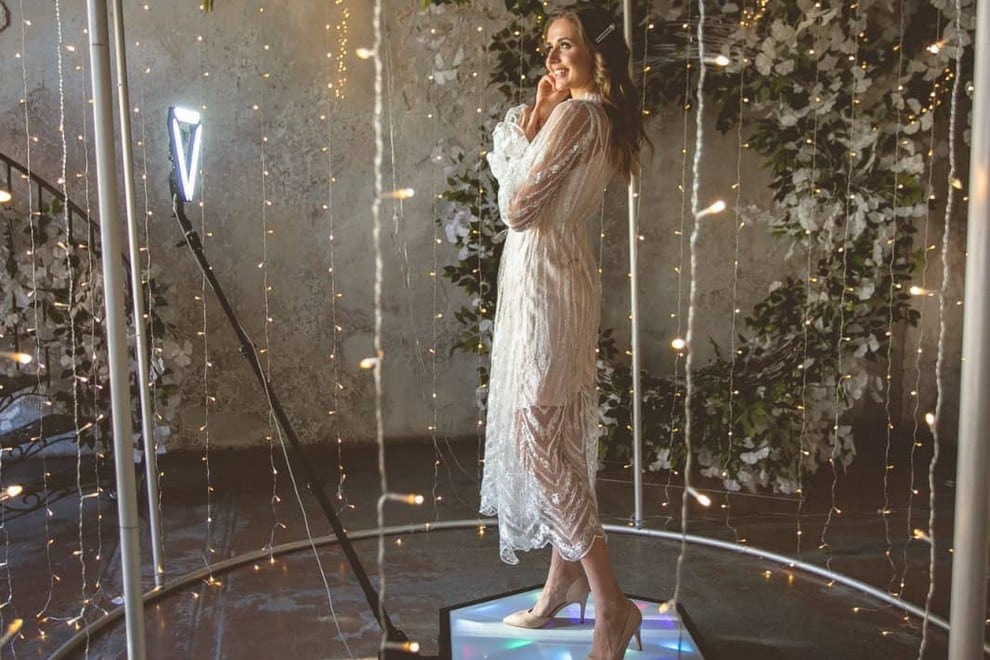 Photo Credit: LOL Photo Booth
Similar to the 180° photo booth, a 360° photo booth captures every angle of your subject (or product) to create a highly engaging and immersive guests experience. Once the footage is captured, software is used to stitch together the images or videos into a seamless 360-degree view. The resulting footage can be viewed on a monitor or screen in real-time, allowing guests to interact with the camera and see themselves or their products from every angle. Some 360 photo booths also incorporate additional features such as green screen technology, allowing for customizable backgrounds, and augmented reality elements, which can add a fun and interactive element to the experience. Images can be displayed on screens during the event to help keep guests deeply entertained.
---
Photo booths have grown from cute add-on to an essential event necessity, and for good reason. With the ability to capture fun, memorable moments and provide guests with a unique and enjoyable experience, photo booths have evolved to offer a range of options to suit different preferences and needs.
From traditional photo booths that print out instant photos to high-tech options like slow-motion, magic mirror, 180 degree, and 360-degree booths, there's a type of photo booth for every event and occasion. These different types of photo booths offer a range of features and advantages, including customizable backdrops, social media integration, and high-quality footage, making them a versatile and entertaining addition to any event.
Whether you're looking to capture memories with friends and family or create a memorable marketing tool for your business, photo booths offer a fun and engaging way to do so. With the wide range of options available, there has never been a better time to add a photo booth to your next event.