A banquet hall is a popular choice for a wedding venue. And with good reason! They're a great option for couples who have a large wedding guest list and would like to host their celebration in a city or a suburban area. After all, a banquet hall is a pretty easy choice when it comes to having everything you need underneath one roof: catering, staff, chairs and tables, and a dance floor. But is having a banquet hall wedding the right choice for you? Let's find out! Here are the pros and cons of having a banquet hall wedding to help you decide! 
PRO
Experienced staff at your fingertips!
It always helps to have support around you on your big day. Staff at banquet halls are fully adept at handling large-scale events like weddings, so you can rest easy knowing your wedding is in safe hands, including everything from the servers to bartenders to crowd management. Some banquet halls even have a wedding coordinator, which is another bonus.
See also: The Big Difference Between Wedding Planners and In-House Coordinators
CON
They book up quickly!
If you're on the fence about selecting a banquet hall, then you might not have the luxury of time. Many banquet halls get booked out at least a year in advance (yes, even during covid!). Additionally, some banquet halls, depending on how large they are, might hold another big-scale event on the day of your wedding. So if you were looking for a private function, a banquet hall might not be for you.
PRO
Seasons don't matter!
One of the best features of a banquet hall wedding is that you don't need to worry about the time of year in which your event is. Banquet halls are seasonless so they are perfect for winter or summer weddings, and everything in between. You will not have to worry about rain or snow ruining your big day, plus you'll be perfectly warm (or cool) and comfortable no matter what it's like outside!
CON
It can cost more than you think!
While it's true that banquet halls can have everything under one roof — including vendors, furniture, staff, and even sometimes décor and florals — it doesn't come without a cost. Additionally, most events (not just for banquet halls) often incur additional expenses outside of standard fees such as valet parking, additional hours worked by staff, and so forth. When inquiring with banquet halls about the possibility of hosting your big day, make sure you ask about any additional costs that may be necessary.
PRO
You have everything you need!
This includes everything from tables and chairs to linens to a bar to a dance floor. In this respect, you can relax knowing that all of your needs are taken care of underneath one roof without having to search for multiple vendors.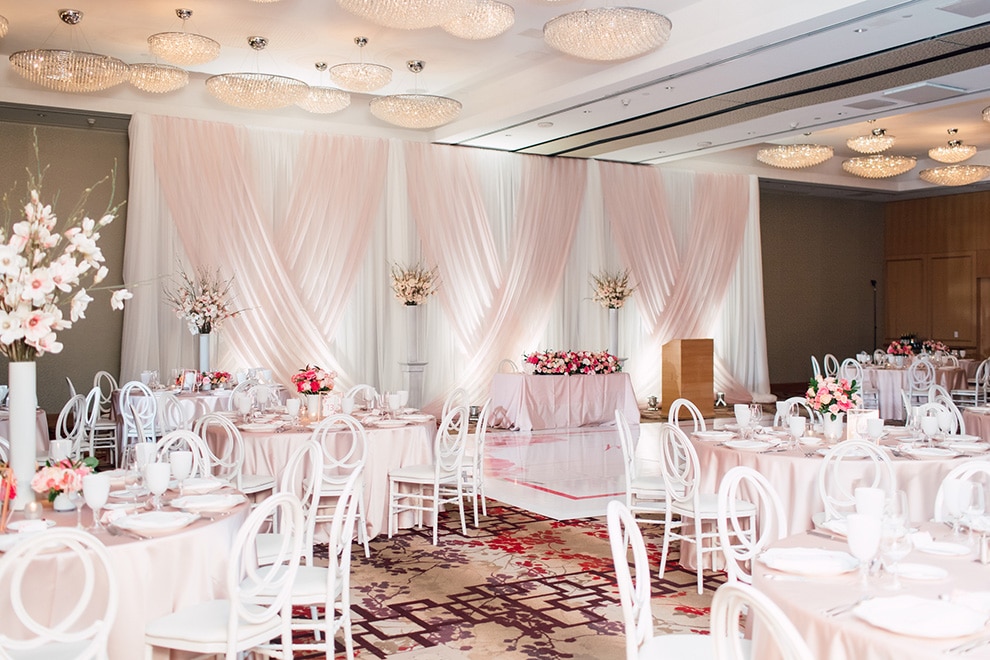 Photo Credit: Purple Tree Photography
CON
It's been done!
If you are looking to have an utterly unique wedding experience, then hosting your big day at a banquet hall might not cut it. That being said, you certainly can make the day your own through the details that you pick, if your focus is having your wedding be as unique as possible, you may wish to look at an alternative event space.
PRO
Banquet halls have a stunning ambiance "baked in"!
Because banquet halls were purpose-built for special events, you're also free to decorate the space as much (or as little) as you like. If you don't want to decorate too much, the good thing is most banquet halls are already nicely appointed, guaranteeing you a picturesque evening.
CON
There's less flexibility!
Most banquet halls are not as flexible when it comes to arrangements of furniture, including tables and chairs and the dance floor. They might even have a certain way of serving food and drink. So if you wanted a bit more of your own unique personal touch with your wedding, a banquet hall might not be the best fit.
It's important to remember: as with many personal decisions in life, there's no "right or wrong" answer when it comes to planning your wedding. Banquet halls typically offer a relatively turnkey event solution suitable for the majority of event types. This is what makes them such attractive and go-to options. Of course, it's for this exact reason that you may not want to host your wedding at a hall. If uniqueness and customization are what you're after, you may instead wish to consider one of the hundreds of alternative event spaces in Toronto.