As wedding planners, we spend most of our working lives working behind the scenes. We're like puppet masters in a sense; pulling all the strings for the big show, all while skillfully remaining hidden behind the stage curtains. Not so this past Friday, as the The Wedding Planners Institute of Canada (WPIC) planned a fabulous kick-off event to celebrate … well.. us!
The WPIC's annual kickoff is our alumni's much anticipated annual gala event combining everything we planners thrive on: professional development, the latest in event decor, design and innovation, fun prizes, and sumptuous catering.
This year, The Faculty Club – a lovely hidden gem in the heart of downtown Toronto – hosted this year's party and we certainly enjoyed the gracious hospitality. The talented team at Grayson Photography followed along the gala event to capture the lovely detailed photos below.
Vendors Featured in this Article
This year's gala featured several different rooms all showcasing the talents of multiple design and decor teams. Since most of us wedding planners are social creatures, contests were arranged in each room: the decor installation with the most likes on instagram won an overall prize for best design. This year's winner was Coordinate This Design & Decor Inc., with a beautiful paper flower design. I also loved the use of acrylic stands with pearls and floral to accent the fireplace and hearth. The entire venue looked fantastic in part due to the club's priceless historic artpieces, gorgeous light fixtures, and charming moldings and window coverings. This was complimented nicely by Linen Closet's stunning sparkling sequin linens, and decor from Opulence Wedding Design, Janet Lange Art & Design, DT Floral & Décor, Les Fleurs Royales, and Ettridges Decor.
During cocktail hour, planners milled through the upper and lower levels of the The Faculty Club, learning more about this historic venue all while sampling delicious passed canapes. Each room featured different activations like the innovative (and suitably appointed) photobooth from Social 6ix Photobooth Co. I really loved the concept of this booth – it was a play on "every wedding planner's worst nightmare", complete with a disheveled bride and groom, a tilted cake, and spilled wine! On the main level, the live band Sidecar entertained guests as they entered, setting a soothing, ambient tone throughout the course of the evening.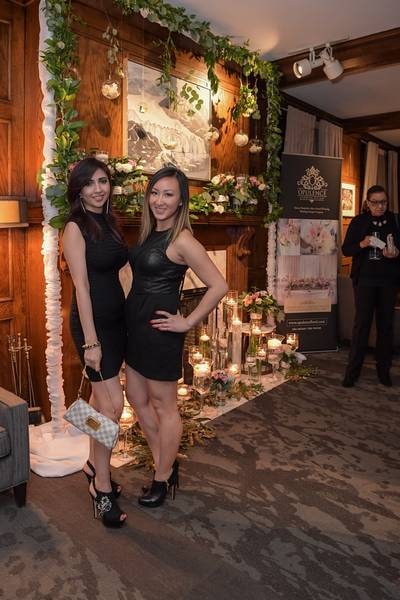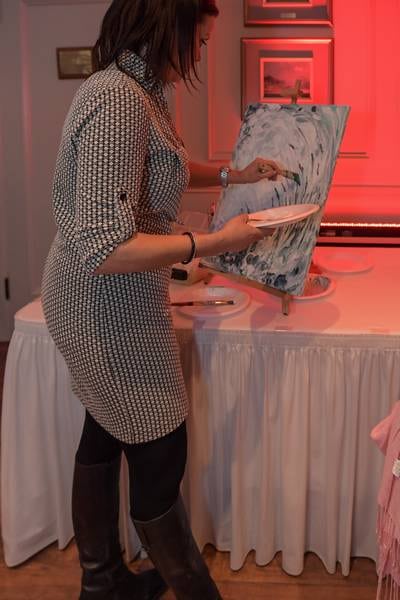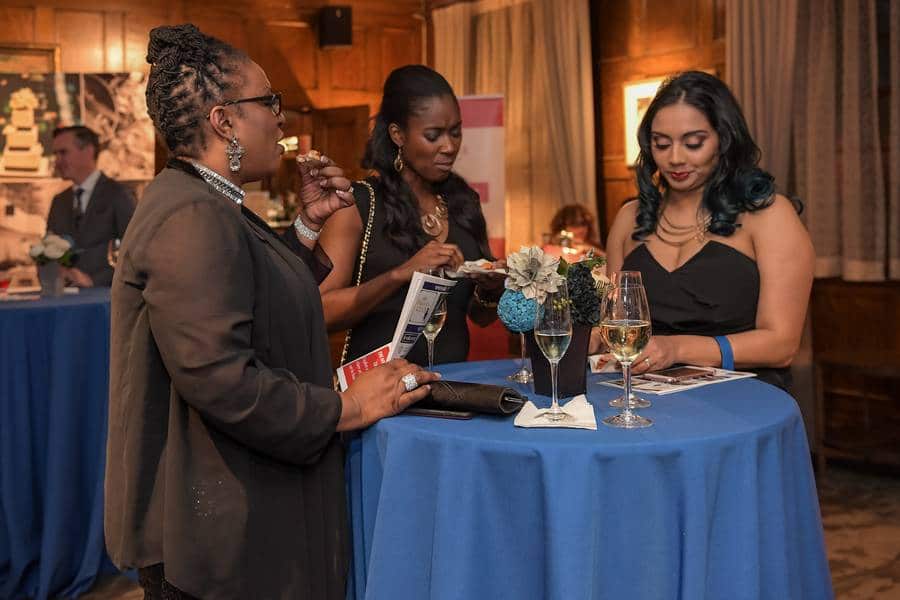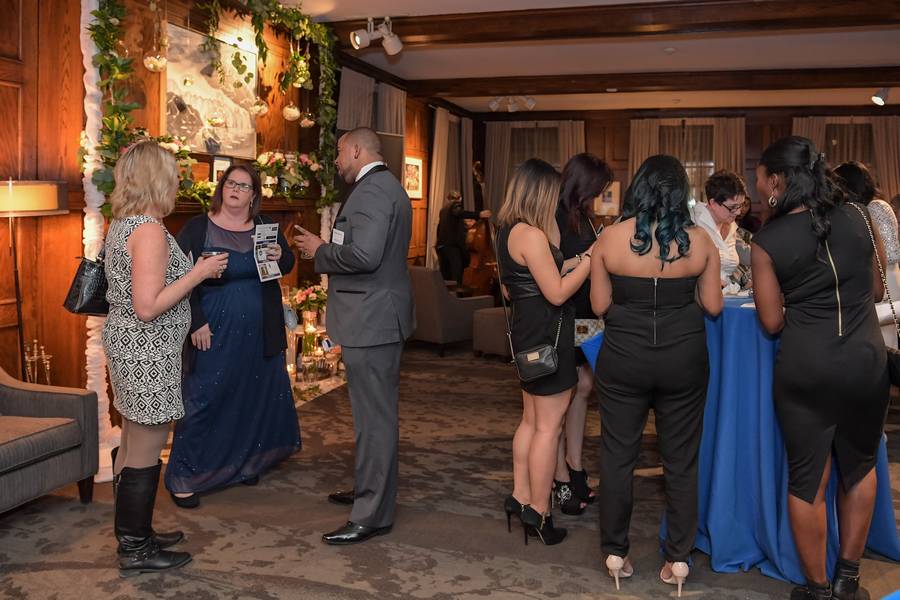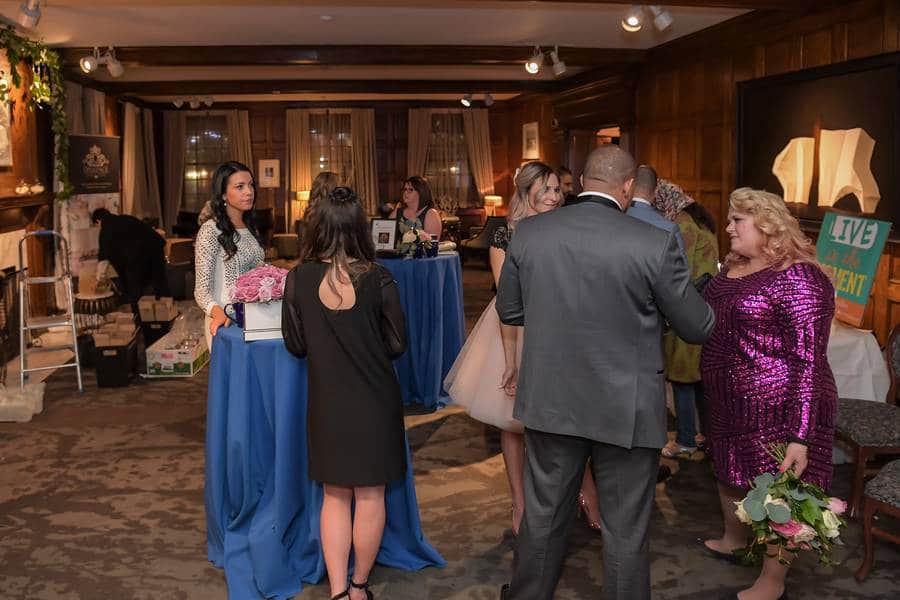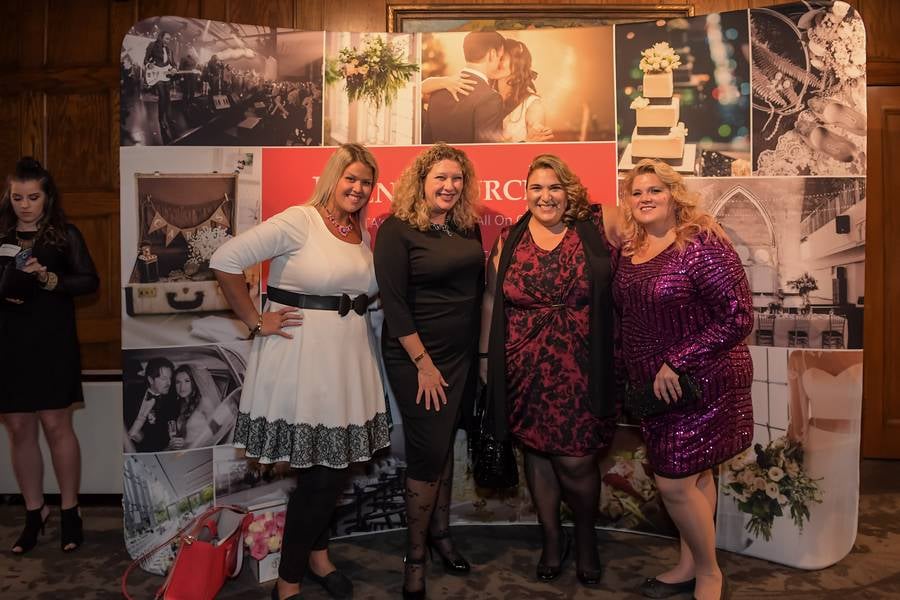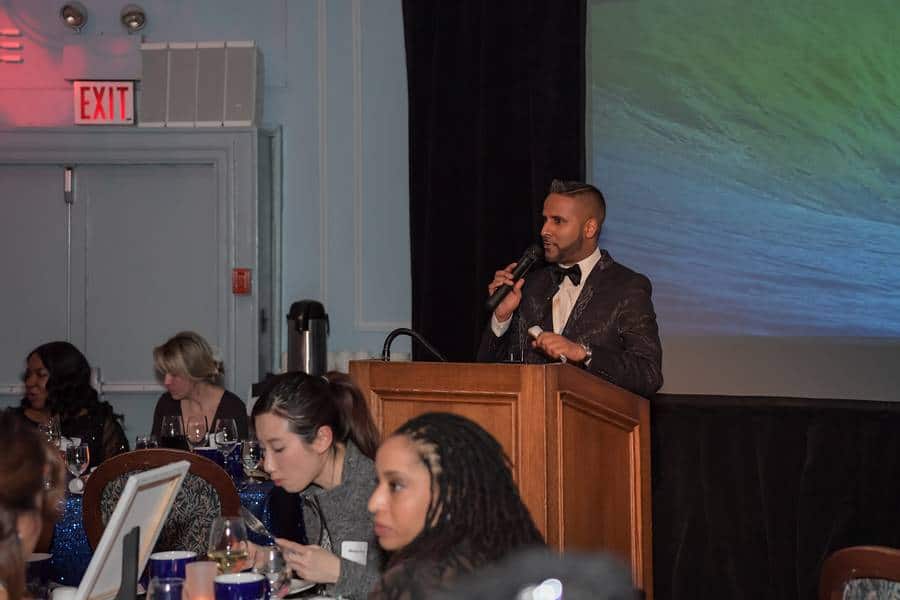 Donovan Fernandes of I'm All Talk did a fabulous job as the event Host!
The WPIC places a huge emphasis on continuous education, and no gala would be complete without speakers to discuss the latest trends of the event world, and to provide some always welcomed encouragement as we head into another busy season. Sam Fleming, of Evolved Entertainment, provided an insightful talk on the transformative power of room lighting. This was reinforced by the fab lighting and custom gobo in the ballroom, provided by Sam's talented team. Our keynote speaker, Heidi Allen of the Positive People Army, spoke about the importance of being your authentic self in business dealings, and celebrating both the small and large wins as we power through our entrepreneurial journeys. Her story of finding her path inspired many in the audience, and everyone was clamouring for a chance to chat with her after the speech.
Naturally Captured captures a great recap video of the event.
As a wedding planner, I can tell you, we attend many fabulous events, but not as guests. This is why I always look forward to the WPIC Kick Off. It's lovely having an evening dedicated to my own enjoyment and professional development. Hat's off to the WPIC regional representatives for planning this event perfectly, and a huge thank you to all of the vendors, and the Faculty Club for treating us all to a wonderful evening!