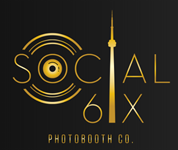 Social 6ix Photobooth Co
Vendors Similar to Social 6ix Photobooth Co
Big thanks to the staff at Social6ix. They are more than just a photo booth, they are an excellent addition to any wedding or event. We picked their Luxury package, which was perfect for our wedding and would recommend to anyone looking for a photo booth for their wedding. Carmen is professional, responsive and adds a unique touch to the photo booth experience. I would recommend them to anyone looking for their guest to have a memorable moment at your event. Everything was perfect. Thank you Social6ix for making our big day so memorable!!
Nadia Ghate
December 2017
We hosted our wedding this past September at the Liberty Grand in Toronto. My husband and I were so nervous about everything coming together especially finding the right entertainment for our guests. We decided to go with the Social 6ix because of their customized photo booth and amazing customer service. Social 6ix did a phenomenal job for our wedding photo booth and we are so happy we got to work with the Social 6ix team. Our guests were raving about how much fun they had and were so happy they got to take home a memorable keep sake form our special day. The photo quality was amazing, the back drop and photo template was customized with our names and hashtag and matched our decor perfectly. The best part of it was that they took the courtesy to grab my husband and I to take a moment and make sure we enjoyed the photo booth on our busy day. We are so happy we were able to capture so many great memories. Thank you Social 6ix for capturing the moments we will never forget. #itsGhateBeLove

Erinn Bickle
November 2017
Choosing Social6ix to be a part of our big day was one the best decisions we made in our entire wedding planning process. From concept to delivery they were friendly, attentive, and went above and beyond to provide us with a completely personalized experience. Their graphics team was absolutely incredible and made any small idea we had into a professional and quality reality. We were thoroughly impressed with the final product. Personalized props, custom template, and individually styled backdrop. The Social6ix team gave us incredible visuals while ensuring that they matched the overall style of our wedding. When the big day finally hit, thats when the real magic happened! The owners and their bubbly and hilarious personalities made the photo booth the top desired spot at our reception. They had a smart layout that was perfect for subtle crowd control of our growingly wild guests. While the team was snapping photos of our not-so-thirsty party goers, other guests left us beautiful (and often hilarious) video messages while they waited in line. Social6ix later compiled all of these messages for us in the form of a video guestbook (that was quickly shared will many of our friends). The moments that they captured are hilarious mementos of the big party that happened at our wedding. It is easy to say that the booth was hands down, one of the favorite parts of the night for us, and many of our guests. We have both experienced many photo booths over the years at many different kinds of events, and this was hands down the best, most beautiful, and most fun photo booth experience. A sincere thank you to the incredible and unmatchable Social6ix team!
Choosing Social6ix to be a part of our big day was one the best decisions we made in our entire wedding planning process. From concept to delivery they were friendly, attentive, and went above and beyond to provide us with a completely personalized experience. Their graphics team was absolutely incredible and made any small idea we had into a professional and quality reality. We were thoroughly impressed with the final product. Personalized props, custom template, and individually styled backdrop. The Social6ix team gave us incredible visuals while ensuring that they matched the overall style of our wedding. When the big day finally hit, that's when the real magic happened! The owners and their bubbly and hilarious personalities made the photo booth the top desired spot at our reception. They had a smart layout that was perfect for subtle crowd control of our growingly wild guests. While the team was snapping photos of our not-so-thirsty party goers, other guests left us beautiful (and often hilarious) video messages while they waited in line. Social6ix later compiled all of these messages for us in the form of a video guestbook (that was quickly shared will many of our friends). The moments that they captured are hilarious mementos of the big party that happened at our wedding. It is easy to say that the booth was hands down, one of the favorite parts of the night for us, and many of our guests. We have both experienced many photo booths over the years at many different kinds of events, and this was hands down the best, most beautiful, and most fun photo booth experience. A sincere thank you to the incredible and unmatchable Social6ix team! <3
Mr. & Mrs. Howard

Social 6ix Photobooth Co has been mentioned inside these other vendor profiles: