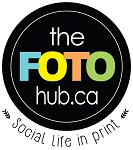 The Foto Hub is a full service photofinishing shop that specializes in public and private events. Our unique luxury RV will roll up to your event in style. Engage your guests in capturing the special moments. We work with you in creating a custom template and hashtag. Simply share the specific hashtag with guests and our professional printers take it from there. All images posted to Instagram and Twitter will be printed onsite. No distracting photobooth lineups. You will be amazed with the candid shots that are produced. The more guests you have, the more potential photographers there are roaming the festivities. Now hosting the coolest video game parties. Check out www.TheGamingRV.ca for details.
My son and his friends loved the Gaming RV. They had an awesome time, and it was everything they expected. Stuart and Shaun were really helpful, and the kids felt comfortable and asked for whatever they needed (all the games they loved were available and they made sure to keep the multiple player games loaded for a better experience). The RV is clean and spacious, and I would definitely use their service again. It's a perfect party idea and with no clean-up after it was an added bonus!

Stuart and his company the Gaming RV were a last minute addition for my son's 7th birthday party. My son loves video games. What a pleasure that the Gaming RV was fully loaded with all my son and his friends favorite video games. The truck is roomy, comfortable and clean. It is modern and fully equipped with the latest technology. From Minecraft, Super Mario, NBA2K15 and Zelda. It is the most awesome experience!!! The kids were all fully engaged. All 17 of them. Yes the truck equipped my son and his friends. Stuart and partner were also likeable, approachable and friendly. Thanks to the Gaming RV my son will never forget his 7th birthday. I will never forget it as well. Thanks for making the memories and his dream birthday party come true!!!! I highly recommend The Gaming RV/The Foto Hub for your event!!!
The Foto Hub was a central part of the fun at our camp's visitors' day this year. They were professional, dynamic and a pleasure to work with from start to finish. Our families loved this new addition to their experience and you could see happy faces all over our site sharing pictures with one another. I would not hesitate to use The Foto Hub for any event - large or small. I am giving a two giant thumbs up recommendation.
Had Foto Hub for my son's birthday party. The video game bus was a HUGE success! The photos were just extra amazing fun! Stuart and his team were excellent. Cannot recommend them enough! Great people! Great party! Happy kids!
We had The Foto Hub at a family event ths past fall. So pleased with the service. Our guests couldn't beleive that the RV was onsite just for us. Great memories were captured and shared.
The Foto Hub has been mentioned inside these other vendor profiles: