We have all heard the old adage of it being bad luck for the groom to see the bride before the ceremony. This tradition came from a time of arranged marriages and was a tool to keep the groom from changing his mind before actually getting married. However, a few years ago, the first look became popular as couples began seeing each other before the ceremony to sneak a few pics and maybe a kiss (or three).
But how do you decide if the first look is right for you? Here is a list of pros and cons from the emotional to the practical to help you decide.
---
PROS
1. An epic, private moment just for the two of you
A lot of people don't realize how little privacy you actually get on your wedding day. Having a first look with your partner allows the two of you to share an intimate moment and ease any nerves you might have.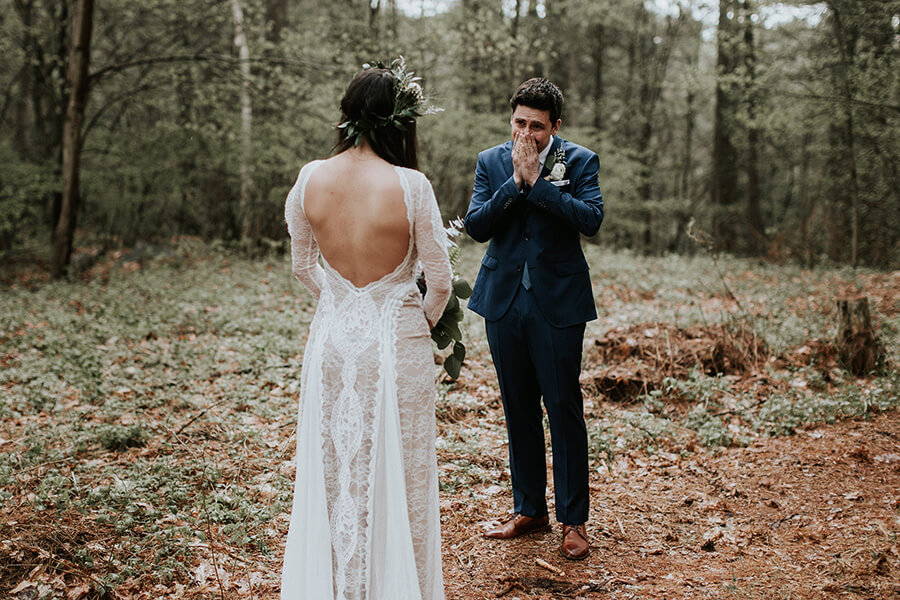 Photo Courtesy of Brandon Scott Photography
BONUS: If your partner isn't super emotional, this allows them to feel the feels and maybe shed some tears without having to do so in front of all your guests.
2. You get more time for photos
Doing a first look before your ceremony opens up so much more time for photos. True, you may have to get up and dressed a little earlier, but you won't have to endure a marathon of posed photos and will get some awesome candid moments.
BONUS: Many couples say that their first look photos are often their favourites from the day.
You May Also Be Interested In
3. You get to enjoy cocktail hour
Doing the bulk of your photos before the ceremony frees up time to actually enjoy cocktail hour and spend time with your guests before dinner… what?! Yup!
BONUS: You can actually get to eat some of the hors d'oeuvres you spent hours picking out.  
---
CONS
1. You lose the classic aisle reveal
The music starts and all your guests rise, all eyes are on you, but your focus is only on your partner at the end of aisle. For some couples, this is the moment they remember the most from the day, and if you do a first look earlier in the day, it could take away from it.
BONUS: You get to share this awesome moment with your closest friends and family.
2. Your partner might not want a first look
To piggy back on the previous point – your partner might not want to do a first look before the ceremony, but still want to make you happy. Check in with your fiancée to see what their thoughts are before deciding as a couple what you want to do.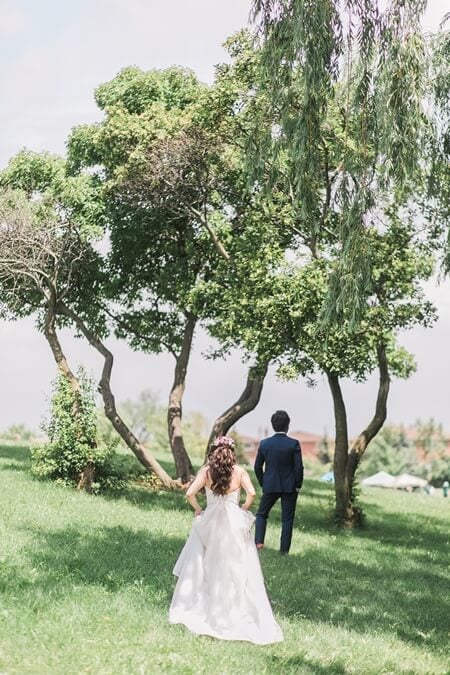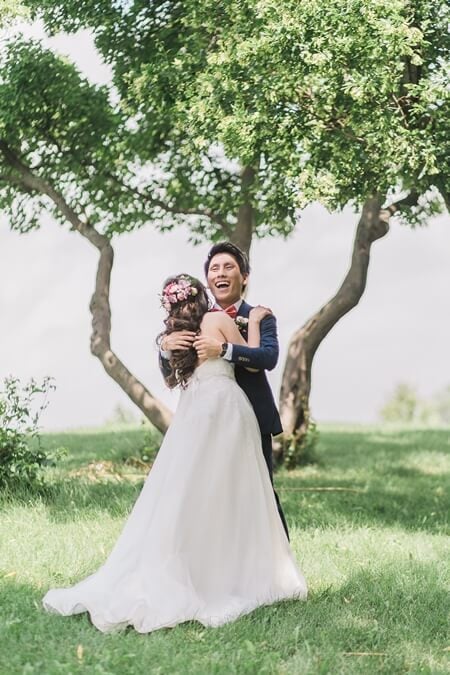 Photos Courtesy of Rhythm Photography
BONUS: Deciding something as important as this together will bring you closer as a couple.
3. First looks can feel staged
Unless you've been living under a rock, you will have seen all sorts of first looks on Pinterest. Let's be honest, some of them feel super staged and cheesy because the couple loses sight of what should be an epic moment between the two of them.
---
Ultimately, you need to do what is right for you as a couple. Have an open and honest conversation about whether or not a first look is something you want to include in your wedding day. Whatever you choose, remember that at the end of the day, as long as you get to marry the love of your life, it's a pro.