It sounds like a cliché, but the simplest definition of marriage is joining two people in love into one. Each person is individually unique and brings their own beliefs and cultures to the union. In the beginning of the relationship, the passion and love make any differences in these concepts seem insignificant. But, as the wedding ceremony is planned, the differences are much more obvious and complicated.
If you are from very different cultures or religions it can make planning your wedding tricky. How do you embrace each other's differences the way you embrace each other?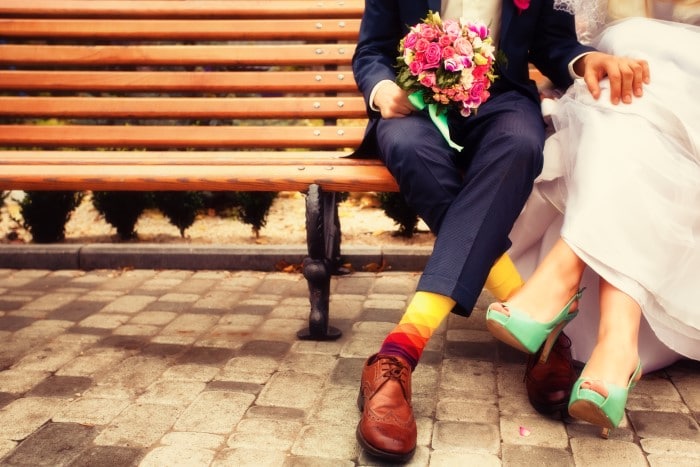 Same Kind of Different
On one of my websites, the Inspired Bride we feature a real wedding everyday and it's always so much fun to read their story on how a couple met and got to their big day. Believe me when I tell you that "Everybody has a different story, a different path of life and of course very different families". This usually leads to different ideas and expectations on what a wedding should look like.
Remember what's Important
In the whirlwind of wedding planning details, it's easy to get tripped up over disagreements about differences in a couple's beliefs and culture. Tensions and emotions can rise when you're trying to plan the wedding of your dreams while making family and friends comfortable and happy too. Couples can begin to feel pulled apart when they most need to bond together.
In the midst of all these conflicting feelings, you need to focus on the two of you and what you want the most. But, always remember that a marriage is not only the merging of a couple, it's also the merging of two families. In that respect, you should make sure that both partners and families are represented in the ceremony and celebration whenever possible.
Compromise Now, Compromise Later
Your wedding plans are one of the first situations where you are making important decisions together. These decisions are not for "me and you", but for "we and us". Deciding what aspects of your faith and culture you want in your wedding will be the first of many decisions over the course of your marriage. Look at this situation not as an obstacle, but as a lesson in learning to respect and value each other.
Families and friends can require your compromise too. When faith or cultures are in conflict, it can lead to an unfortunate clash. The last thing you want is hard feelings between families on your wedding day. When handled well with grace and tact, it can show both families what is special about the person their loved one chose as a life partner.
Blending and Balancing Different Beliefs into a Beautiful Melody
Before becoming engaged, you and your partner's beliefs were like musical solos. They stood alone and independent. When you marry, you become a symphony. What made you special individually does not change, but blends together into something even more amazing.
To make this blending work, so that you end up with melody rather than discord, you should remember some important tips:
When planning your ceremony, decide what is critical to each faith and culture. Seek the guidance of your officiant or religious leader to help you understand what may be required and what is optional.
I highly recommend seeking pre marriage counseling shortly after announcing the engagement. No matter how connected you may seem to be, friction and differences will eventually arise. In many ways, pre-marital counseling is like a stress test before being subjected to real life pressure that can be more damaging down the road. Pre-marital counseling will help reveal things (both good and bad) about each other so you are both fully aware on what you are getting into.
Strive to make both families comfortable in your plans. But, remember that in the end it's your special day. Sometimes you cannot make everyone happy. Know when to accept that fact.
Prayer or meditation are wonderful ways to center yourself and shut out the wedding planning "noise". Do this alone, or as a couple. The process can help you be calm, get centered, and be better prepared to handle conflicts as they arise.
Work to blend the beliefs and cultures together seamlessly. Rather than having a "mine" and "yours" different set of rituals, find ways to combine and link the two throughout the ceremony and reception.
For example:
Respect Traditional Dress: Some faiths have requirements for traditional clothing or accessories for the ceremony. If one partner has strong feelings about honoring the traditional dress, work to respect that tradition. Or, at least try to incorporate some aspects into your wedding attire.
Honor Common Traditions: Research your faiths and cultures and what they have in common. Focus on and highlight those similarities. Some examples might be the exchanging of gifts/rings, the lighting of candles and lamps, or traditions such as breaking objects following the vows.
Find Meaningful Readings and Scripture: Look for scripture or readings for the ceremony that lean towards unity, peace, love, and understanding. Involve family members in the readings to make both sides feel they are being joined as you are.
Explain and Educate: When something is unfamiliar, it can be uncomfortable. Make sure that guests understand the rites and customs as they occur. This can be done either by the officiant, a well-spoken family member of friend, or in the ceremony program.
Remember that your wedding day is important but it is only one day in your lives together. Compromise and bend when you can and stay true and strong when you must. By showing sincere sensitivity to each other, family, and guests, most people will be appreciative of the effort. Ultimately those that truly love you will continue to do so regardless of technicalities over tradition and culture. At the end of the day, remember to enjoy yourself!