With the growing popularity of winter weddings, we wanted to gather some of Toronto's top floral designers to share their favourite trends for this romantic – and chilly – season. With the overwhelming choices of colours, textures, and blooms in the frosty months, it's no wonder why we refer to it as a wonderland! Read on for all your winter wedding floral inspiration!
---
Romantic "Vintage" Inspired Bouquets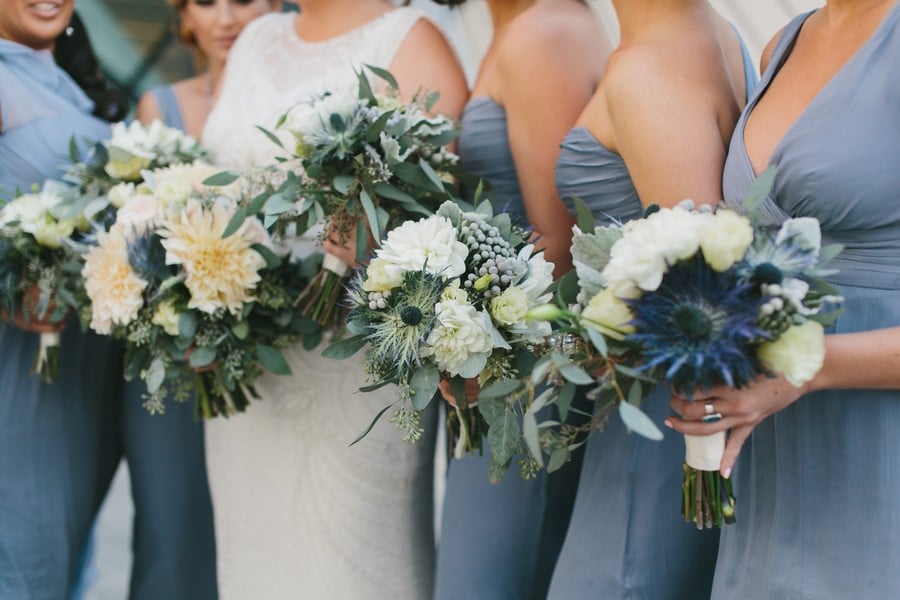 Photo Courtesy of Mango Studios
"The winter wedding floral trend that we are still seeing a lot of this year is white, blush, and silver. A lot of our brides are moving away from heavy greens and we are creating a style that we like to call 'slightly organic'. For the last couple of years we have seen a lot of "vintage" trends as girls are now looking for wedding flowers that are more romantic. It is interesting to me because I am going on 10 years of business and I am noticing that what was old is now new again. Like anything, flowers follow trends and we are going back to a style we were doing 8-9 years ago."
– Amy Saleh, Pink Twig Floral Boutique
---
The Cascading Bouquet
"Cascading Bouquets are back in 2016! Clients are looking for modern, yet romantic floral designs for their wedding day. Say goodbye to the classic hand tied bouquet when you can have one of these stunners! A gorgeous addition to a winter wedding."
– Daniela Miceli-Perri, Wild Theory Floral and Event Design
---
The Addition of Winter Greens to a Cascading Bouquet
"I love all the sparkle, texture, and warmth that a winter wedding can bring! There are so many options in the winter months that you simply can't get in the summer. A floral trend I see emerging for winter weddings this year is the use of natural greenery that we cannot get year round among fresh flowers!"
– Tanya List, Tanya List Designs
---
Stunning Succulents and Wildflowers
"In the winter we all crave the lush elements of the summer, and this year's winter wedding season is no different – it's all about succulents and wildflowers! To accomplish the look, we bring the outdoors inside by crafting a rustic and 'just picked from the garden' look along with a palate of lush textures to complement this season's floral trend."
– Gemma Carling, WilBe Bloomin, Kensington Market
---
Rich Colours and Tons of Variety
"Despite the cold winter months, winter weddings can contain an abundance of warm and unique flowers to utilize in the design. With floral production being world wide, we florists have so many options at our disposal. The sky is the limit! Instead of the typical white wedding, consider a rich, jewel toned palette with a wide variety of different types of flowers, accented with the Pantone Colour of 2016, Rose Quartz. The soft pink paired with lots of interesting greenery will ensure you'll create a memorable look you'll absolutely love."
– Ashley Plainos, Ashton Creative
---
Lush Foliage Garland Centerpieces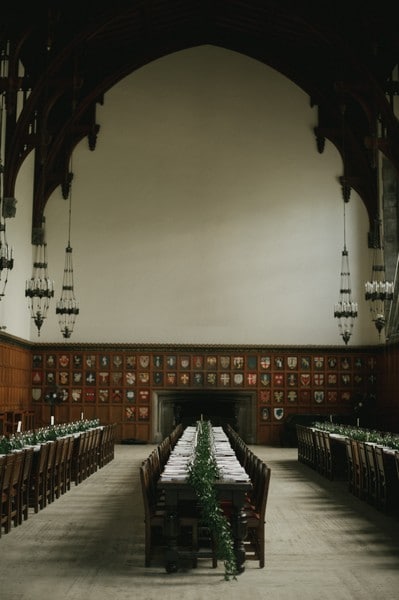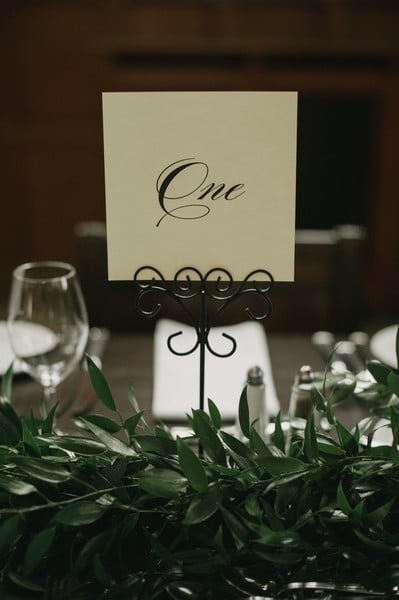 Photos Courtesy of Daring Wanderer
"This year, couples are raging about lush foliage garlands with mixes of eucalyptus and winter greens. We are so deprived of all things green and fresh at this time of year and it is a great way to warm up any space."
– Tellie Hunt, Coriander Girl
---
Organic and Rustic Elements
"For our winter brides, we are finding a floral trend to include more natural/organic elements that traditionally would not have been part of bridal work in the past. Our bride's are attracted to our garden-inspired 'not typical' bouquets. These include elements such as pine cones, cotton, and the amazing variety of wintergreens that we have access to at this time of year."
– Jenn Cannon, Sweetpea's
---
Peony Florals Aren't Just For Summer
"Once thought relegated to the hallowed days of summer, the peony has been making its rounds of the winter season, much to the delight of late-in-the-year brides. We've begun to consistently see beautiful blooms coming up from the South Americas in the winter months. They're at a premium price because they're an import, but for the bride that dreams of the feathery, fluffy peonies, she now can have them. For winter, we love the simplicity of white. For us, it's pristine – ethereal even. The key is to create a textural palette of floral; right now, we're styling peonies, garden roses, and white snow berries with unexpected surprises like white, Queen Protea and even real cotton blooms."
– Paulina Sazon, Fete Floral & Events
---
Edible Accents
"For me, incorporating fruits, nuts, and herbs is a great way to add colour and texture to winter weddings. I've noticed that intimate winter weddings are more popular nowadays, so this trend should grow. Its a great little surprise for your guests that they'll appreciate over the course of the evening."
– Jill Gallucci, The Rose Mint
---
A Mixture of Textures and Harmonious Colour Combinations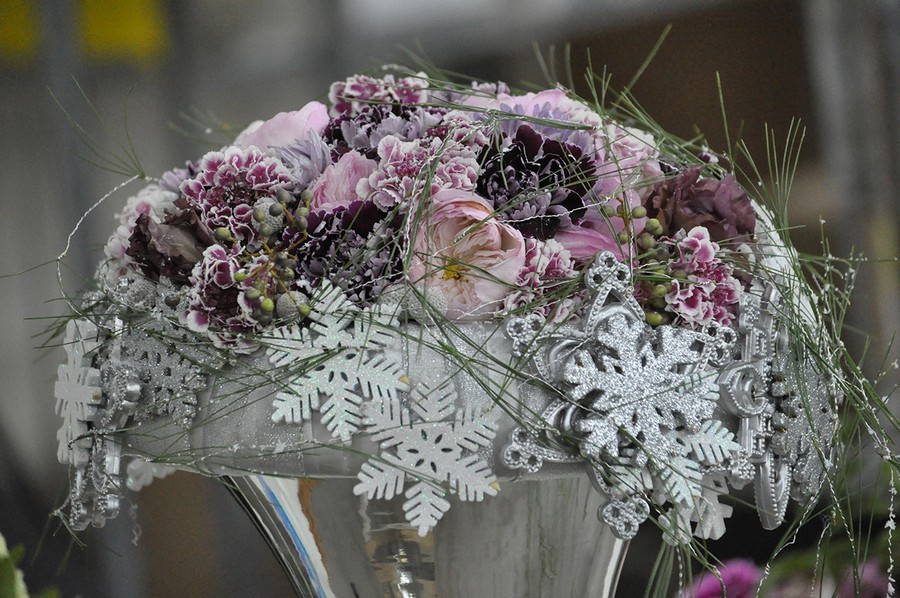 Bouquet Design by Tomas De Bruyne
"I see a mix of textures and harmonious colour combinations inspired by light pinks and pale blues trending for winter weddings this year. For the first time ever, a blend of two shades (Rose Quartz and Serenity) is chosen as Pantone Colour of the Year for 2016. We will see this shade in fashion, furniture, home decor, and floral design. The pairing of colours sits in perfect harmony, creating a subtle, soft, and peaceful mood. Meanwhile, a mix of texture compensates for the light pastel colour selection and adds interest."
– Beata Kaas, Kaas Floral Design
---
Non-Floral Elements Among Fresh Flowers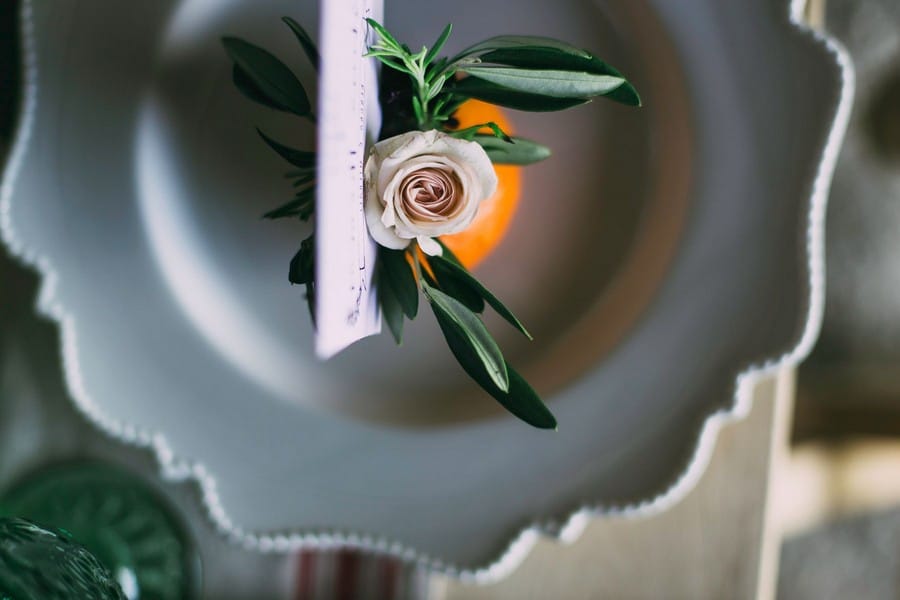 Photo Courtesy of The Love Studio
"The winter trend that I am in love with and have seen come full circle over the years, is the use of non-floral elements among the fresh flowers. Using items such as citrus, figs, walnuts, herbs and artichoke are such an interesting way to add colour, texture and interest to your floral pieces. We used a small citrus olive branch, rosemary, and a sweetheart rose as a place card holder in this picture."
– Laurel Munro, Mint Floral Co.