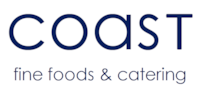 Coast is meant to make one feel as though transported to a fabulous coastline where you indulge in freshness, love and simplicity. Chef Eduardo De Berardinis and wife, Ilde De Marco, provide excellence in catering any event, from serving delicious, healthy and creative classic and favourite dishes, to planning and setting up all the details. They pay keen attention to ensure the highest quality standards no matter the occasion.
Cristina & Family
March 2023
What makes the Coast family unique is that the service is as personal as it is professional. We entered their restaurant doors a couple of years ago for an 'early' dinner to accommodate our active 2 year old. And we were definitely accommodated! Up ran the littlest member of the Coast family - Charlotte - and the rest is history. Not only has the food been amazing and so wonderfully prepared, but they make it all look so effortless. Since that time we had Coast cater two of our milestone events, with absolutely no request being too big or detail too small. Ilde was WONDERFUL with any assistance she could provide with decor and suggestions, and also went out of her way to receive and store one of our cakes outside business hours. The best part? All ages, allergies and tastes accommodated with no question. Our guests loved it. We loved it. Can't wait for the next love-fest, for which Coast will definitely be a part if they will have us.
Yvonne Legierski
March 2023
Ilde and Eduardo's Team created an amazing 50 th birthday event for my husband. Decor, menu, service was beyond my expectations and it was done in my home setting. Nothing is impossible for them. The food presentation, quality and flavour was top notch. In addition we visit their restaurant as often as we can and continue to use their catering services as needed for smaller parties. I wish that sites as this had an option for public to connect with a person writing the review to truly hear the authenticity of the rating.
With best regards to All!
I would give Coast 10 stars if I could. Chef Eduardo and Ilde are very passionate about food / culture / and their customers. Coast catered our wedding reception and exceptional would be an understatement.
There was rain in the forecast and Ilde ensured us it would all work out even though our stress was through the roof. It rained at 4 and Ilde and her staff raced to dry tables and kept our guest relaxed while we had to pivot the dinner plan. What would of been a logistical nightmare turned into a unforgettable evening. I am forever thankful for this ❤️
Don't even get me started on Eduardo's cooking. He is an incredible chef that pours all his soul into each dish he creates. My husband is Italian from Abruzzo and swears by Eduardo's seafood.
I'd highly recommend Coast for any event as they truly care and will give you an event that you will forever cherish.
Coast Fine Foods & Catering has been mentioned inside these other vendor profiles: