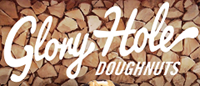 Glory Hole Donuts
Vendors Similar to Glory Hole Donuts
This vendor does not yet have any EventSource reviews. Be the first to leave one!
Worth every penny just wish they didn't sell out all the time. Im not too sure how they get the doughnuts that soft and delicious but they truly are superb. My favourite part are all the fun flavours that are unique and I've never seen before.
Shelli Armstrong
June 2020
Went to Toronto from the states and saw this donut shop while we were walking. when I say the best donut I've ever had... BEST DONUT IVE EVER HAD. I STILL talk about it. The buttered toast one is AMAZING. Literally tastes exactly like cinnamon sugar toast from when I was a kid. Can't wait to come back to get one!
A small donut place that serves fantastic donuts. They have a unique selection to pick from and I believe they change their selections now and then. The donut is chewy and flavourful. It's not overly sweeten. The cashier is nice and cheery. The only table they have for you to eat at though, is kind of not clean but that is the only thing bothering me.
Man! The ladies that work here are so genuinely nice! Really enjoyed the interaction my daughter and I had with them! It's a quaint little place, few tables, some memorabilia, a beautiful flower wall and these delicious donuts!!! My daughter went for the birthday cake one! She thoroughly it!!
best donuts Ive had! Went around 1230pm on a Saturday and they had lots left. Number 1 choice was strawberry cheesecake then raspberry pistachio. I would give it 5 stars but $4.45 for a donut is just too much. Its a nice treat once in a while!
Glory Hole Donuts has been mentioned inside these other vendor profiles:
Blog Posts featuring Glory Hole Donuts