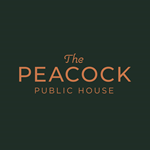 Peacock Public House
Profile information for "Peacock Public House" could not be found.
Vendors Similar to Peacock Public House
Maureen Ballentine
June 2019
Buck a Shuck Wednesday...delicious and fresh. The hot sauce is very very hot. Best burger in town. Kevin is a cheerful and efficient server. Thank you Kevin!
Was here for a wedding reception. Food was great and service was even better! Attentive and kind staff serving all kinds of drinks. The meal was a roast beef with mashed potatoes, beams, and carrots and was absolutely delicious! Can't wait to come back for a meal and some drinks.
Great place. Had a reservation for a big group (40 ppl). Initially we were downstairs and it became a bit crowded, so the manager gave us the option of reserving the back section for us or letting us go upstairs once the party left. The back section was nicely set up (dining area) but we opted to go upstairs. We have our own bartender a projector where they were playing the game and a very comfortable and well set up area. Amazing place for casual drinks or booking, do recommend
Awesome spot! We came for Wednesday oyster night (buck-a-shuck) and they were so delicious I felt like it was too good to be true. We also ordered the fried chicken and I'm calling it now, Top 5 fried chicken in the city! The decor is also beautiful.
Sarah Tambur
February 2019
GREAT new spot! This space is so beautiful! Worth coming just for the view of the bar from the upper level - trust me. Came here for brunch with some girlfriends and the food was amazing. All the staff were so helpful and fun, they really made our experience special. Came back for drinks and dinner another night and the staff was amazing again and dinner was delicious. Definitely a new fave on my list!
Peacock Public House has been mentioned inside these other vendor profiles: