Ruth's Chris Steakhouse Niagara Falls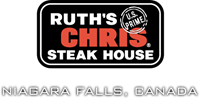 Located on Fallsview Blvd and conveniently attached the the Fallsview Casino by a glass walk-way, Ruth's Chris Steakhouse in Niagara Falls is a multi-use venue space comparable to no other. With a capacity of 750 people, 4 separate private-dining rooms and the newly added two-story Grande Ballroom, Ruth's Chris in Niagara Falls serves as the premium venue for any event; spanning from Weddings, Private Birthday parties and celebrations, to Corporate Business conferences. Guests can enjoy the world-renown food quality and service that one expects from Ruth's Chris, intertwined with Niagara's newest and most elegant state-of-the-art venue space.
This vendor does not yet have any EventSource reviews. Be the first to leave one!
Derek Leung
December 2020
3 stars is about right. For the average person, only real reason to come here is because you were given a voucher from the hotel you're staying at..Otherwise, probably would recommend keg both for quality and value...We got a $100 off voucher with the condition that you order 2 entrees. We ended up ordering the 12 Oz new York strip and the lobster Mac and cheese. The lobster Mac was a grand slam. It had lots of lobster chunks in it and was super creamy and cheesy.Ironically the steak left much more to be desired. There were huge tendons in the steak and the cut itself wasn't nearly as good as a new York strip from the keg.The 2 entrees after the voucher and tax came to $80, which isn't bad for what you get. Would I come without the voucher? Probably not..
Suzanne Busyactive
November 2020
Very nice pleasant atmosphere. Yes it's pricey but it's also classy. They follow the rules and the staff are pleasnt respectful and well mannered unlike another place up the road.The food was absolutely delicious! Anyone moaning about good quality food is likely used to eating junk.I had the veal pasta, spinach appetizer it was big enough, the sauce and meal was absolutely delicious well presented and cooked perfectly. As most places give a meal big enough for two that I end up not being able to eat fully and take some home, but this was perfect and it came with a nice warm bread roll.I will definitely be coming back.
Went for a romantic dinner. Atmosphere and tables were great. Server was friendly. Recommended the rib-eye as it would melt in our mouths. Also ordered calamari to start and julienne potatoes and grilled asparagus as our sides. Calamari was tasty. Fries were great. Asparagus was also great. Steak arrived over cooked ( we had ordered mid rare). Sent back for new steaks. The new rib-eyes were cooked perfectly but were tougher to eat. Tendons throughout the meat and some gristle. No way these were USDA Prime cuts. No marbling as suggested by the server. Based on the prices charged... would not plan to go back.
Bella Kleiman
September 2020
Not clean, very slow, food is OK at best, waste of money !! to to TGI beside it (its not much better but faster and at a quarter of the price...)
If you have the money its a must go.
Ruth's Chris Steakhouse Niagara Falls has been mentioned inside these other vendor profiles:
Toronto Saxophonist Igor Babich
Company Overview
Company Overview
Contact Information
Title:Director of Sales & Events
Venue Features
On-Site Ceremonies
Wheelchair Access
Free Parking
Audio/Visual
Wi-Fi
Unique View
Catering Information
On-Site Catering
Off-Premise Catering
Kosher Food
Map
6455 Fallsview Blvd, Niagara-on-the-Lake, ON L2G 3V9