Spotlight Audio Visual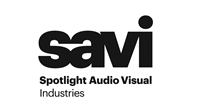 SAVI provides clients with audio and video production services and rental solutions in and around Toronto. Putting your event in the spotlight is our goal. We accomplish this by helping you design a unique, one of a kind event. Our team of event producers make your vision a reality. Top of the line sound systems, projectors, screens, and lighting help your event stand out from the rest. We have a dedicated and experienced team of technicians and stagehands who are committed to serving you, our client.
David Burkholder
November 2020
Amazing AV Team! They made my event go smoothly. They are very knowledgeable and can answer any questions you have for them. They walked me through from start to finish, highly recommend
Michael Robert
October 2019
Very knowledgeable and helpfulCrew was open to input and direction during setup, and catered to our needs quickly and effectively.Understood and serviced our needs courteouslyKnowledge was invaluable for planning and executing our event
They handled our daughters wedding and they were amazing. The people are ultimate professionals and with their creative talent and knowledge they delivered an wonderful experience. I highly recommend them.
Erin Douglas
September 2019
SAVI did all the production and A/V for my wedding this past weekend and it was absolutely perfect and beautiful. Their whole team was super professional and amazing to work with. I would hire them again in a second. Thanks so much for everything!
It's been an absolute pleasure to work with SAVI. They truly understand how to eloquently put together event production services from beautiful lighting (pretty much any style and colour I wanted), to unbelievable audio elements (DJ, mics), to even providing me with some cool options to make the evening that much more special (fog upon entrance, fog around dancers, customized stage, music). These guys are my go-to!
Spotlight AVI is amazing to work with. Always professional and knowledgeable. They make Production such an easy and stress-free part of our events.
Equipment is always in top shape and their staff are the best in the industry.
I look forward to working with them again very soon.
We worked with David from Spotlight a few years back on a wedding and they were such a delight. Their correspondences were always filled with enthusiasm and you can tell they are super passionate about their work.
Spotlight Audio Visual has been mentioned inside these other vendor profiles:
Company Overview
Company Overview
Pros I Know
Deals & Packages
What services are included with this Package:
20 state of the art LED uplights with 20hr battery life.
Any colour choice including warm and cool white.
Setup and tear-down of all equipment
Delivery and pick-up
---
Here's the Fine Print:
This package is exclusive to eventsource.ca visitors. To redeem, you must mention you found this package on eventsource.ca
This package is exclusive to EventSource.ca visitors. To redeem, you must mention you found this package on EventSource.ca.
Map
346 Millway Ave, Toronto, ON L4K 3W1