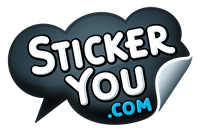 We provide the easiest solution to making custom products that make you stick. Design online or upload your images and make high quality stickers, labels, decals, transfers, or tattoos instantly.
This vendor does not yet have any EventSource reviews. Be the first to leave one!
Nicole Howard
January 2021
StickerYou is a great manufacturer of stickers! The shipping is quick. I've have a few issues with quality, a couple of scratches and sticky surfaces, but they are very helpful. They respond to emails quickly to questions. Overall I highly recommend StickerYou
Leslie Bivens
January 2021
We use StickerYou for all of our pie shop branding. The stickers are high quality and look amazing. The customer service and shipping times are great! Highly recommend.
Toby Northen
January 2021
As a motovlogger with a YouTube channel, and other social media accounts, I am constantly sending and swapping stickers with other people. StickerYou provides great stickers! They are excellent quality and color! I am always getting compliments from sticker recipients on the quality feel of my stickers. Thank you StickerYou.com!!!!
Ivanna Santiago
January 2021
Ive been using stickeryou for about 5 months and I love it. The products always come looking great, its super easy you use, the quality is great and the shipping is really fast. I use mainly the temporary tattoos and they stay for a few days, easy to apply also their stickers are really good quality.
Melany Nazarian
January 2021
Great quality and price for what you get! Being from a different country (ordered from CA, USA) I thought shipping would take long but thankfully it didnt. I repurchased from StickerYou but the second time they printed an orange border on my labels that were confirmed beforehand that it wouldnt print. However customer service quickly resolved the issue, reprinted and sent me the correct labels. Overall Im very happy with the work and will be ordering again in the future.
StickerYou is probably one of the most USEFUL event novelties out there. If you're looking to add that special touch to your next occasion, personalized labels are the way to go. The team offers full-colour printouts in the logo/design of your choice, making your gifts and party favours stand out from the rest. Get in touch with StickerYou for all your labelling needs. You certainly won't be disappointed :)
StickerYou has been mentioned inside these other vendor profiles:
Company Overview
Company Overview
Contact Information
Title:Sales & Marketing Manager
Map
6A-219 Dufferin Street, Toronto, ON