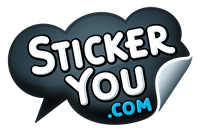 We provide the easiest solution to making custom products that make you stick. Design online or upload your images and make high quality stickers, labels, decals, transfers, or tattoos instantly.
This vendor does not yet have any EventSource reviews. Be the first to leave one!
Alicia Dekker
August 2020
Customer Service was amazing! Prompt answers, fast shipping, amazing products - this company knows the meaning of customer service! Thank you so much for your awesomeness! I will be back!
Susanna de Broekert
June 2020
I was a bit disappointment by the quality of the die-cut. As you can see in the image it was cut quite thin in some places and not in others. I had expressed my concerns about this prior to placing my order and was assured that the "Bumpy edges on the preview or a generally awkward looking cut is fixed during our quality control" so I was disappointment with the end result. I had asked them to send me through a preview before cutting and sending the final product, which they did, but it went to my junk mail and I didn't see it :( and they sent it anyway.The freebie StickerYou.com sticker they sent me has the neat type of die cut that I was expecting from their advertisements.I'm sorry to have to write this bad review because otherwise the quality, price and costumer service was good.
Courtney Montague
April 2020
I love StickerYou. They have upped their game with their custom service.Kurlysha Lander was kind, responsive and very efficient. Great experience!!
Steven Baldassarra
January 2020
Kurlysha was awesome! Help a lot and responded quickly and informatively to all my questions. I ordered woven Velcro patches and they look great! Definitely recommend StickerYou. They have reasonable prices and a seamless simpleProcess to create your image.
Mike Spagnola
December 2019
We've been using StickerYou for a few years now for many different things for the business. The quality is great, and the service is amazing. The website is easy to use and we always get our product in great time and exactly as expected.Usually hand delivered by the father of StickerYou(?) definitely adds a really nice personal touch.
StickerYou is probably one of the most USEFUL event novelties out there. If you're looking to add that special touch to your next occasion, personalized labels are the way to go. The team offers full-colour printouts in the logo/design of your choice, making your gifts and party favours stand out from the rest. Get in touch with StickerYou for all your labelling needs. You certainly won't be disappointed :)
StickerYou has been mentioned inside these other vendor profiles:
Company Overview
Company Overview
Contact Information
Title:Sales & Marketing Manager
Map
6A-219 Dufferin Street, Toronto, ON