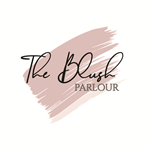 The Blush Parlour
Profile information for "The Blush Parlour" could not be found.
Vendors Similar to The Blush Parlour
I hired The Blush Parlour for my wedding with 1 Bride, 5 Bridesmaids and 2 Moms. I was blown away by their quality of work, their speed and their attractiveness to any concerns we had. They ensured I was done early and had time to visit with each girl as they had their hair or make up done. We finished early, which was great as my photographer arrived early.The hair and makeup lasted all day and night!!!!
I love Shira! First I was a bridesmaid and got my hair and makeup done by her and Angie and it looked amazing, and then I was a bride, with makeup and hair by Shira and Angie again. Their work stayed flawless all day and looked great in photos. More importantly, however, they were really lovely open personalities and really added to the sense of celebration. Shira was really great and listened to my requests and feedback, and was very sweet and patient with me as well as laid back (though with a firm hand - she definitely gave me a lecture on my skincare routine at my makeup trial, and I have upped my game since then with great results). I really felt like I became friends with these two dolls. Would recommend in a heartbeat!
Michelle Daides
June 2019
I have had The Blush Parlour team handle hair and make up for several of my corporate video/commercial shoots. They arrived on time, were super friendly, collaborative and most of all they are so talented. With little direction, all of our actors were camera ready and looked amazing. Shira specifically knows her makeup and knows how to make people look and feel good. I highly recommend hiring the Blush Parlour for any professional video or photo shoot. Looking forward to working with you again!
Thank you so much for this beautiful experience.Shira and her team made me look and feel like a princess. The best blow out in town!!!I love this place!
Had the most informative and fun evening of learning about beauty basics - wanted to know how to look fresh and minimalistic - I am delighted! Shira is so knowledgeable and helpful. I am leaving feeling beautiful! Highly recommend!!
The Blush Parlour has been mentioned inside these other vendor profiles: